Fried chicken is pretty magnificent. Actually, I believe you can make anything taste good if you fry it in a good enough batter. We're pretty good at deep frying things here in Wisconsin, but I prefer to eat healthier when we're eating at home.
I'm pretty sure I've figured out the perfect batter for chicken. This popcorn chicken recipe is amazing, like seriously amazing. I should probably win a medal for this simple, delicious popcorn chicken. We could happily eat this every week. It even looks fantastic, fried up to golden brown perfection.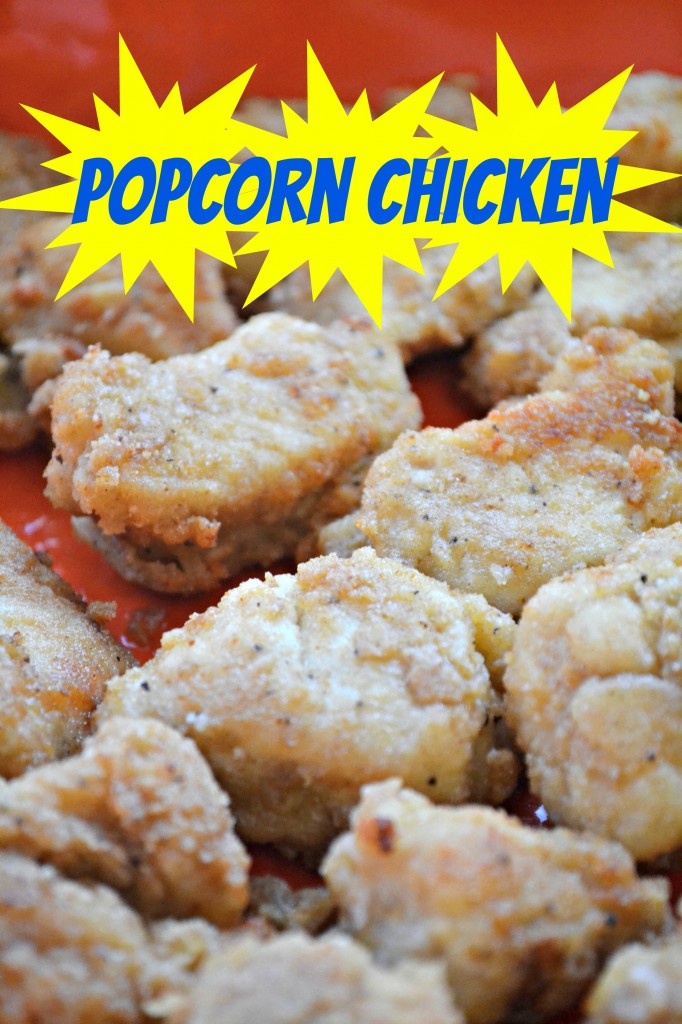 Oh yeah, I mentioned that I like to eat healthy when we're at home, which is why this popcorn chicken is pan fried in guilt free olive oil (and you would never know from tasting it!) I also use white whole wheat flour for the batter, it's a heavier flour that makes a perfect golden brown coating.
I also get whole chicken breasts for popcorn chicken, this way you still have the skin to work with, which is the best part of the chicken as far as nutrients and taste. You also get a whole lot more meat to work with. I only have to use 2 chicken breasts this way, if you're using boneless skinless chicken breast you would probably have to use 3-4 breasts to get the same amount.
You also won't lose your place in the top 5 on Top Chef is you use whole chicken breasts…just say no to boneless skinless chicken!
Your kids will absolutely love devouring this popcorn chicken, but you definitely won't want to share. These taste fantastic alone (normally half of the first batch is nibbled on before the 2nd batch is even done frying.) These are even better when you dunk them in your favorite dipping sauces.
This popcorn chicken tastes so good you would think that it has to be unhealthy for you, but it's not. Throw out those frozen dinosaur nuggets, you'll never settle for those again.
| | | |
| --- | --- | --- |
| Homemade Popcorn Chicken and restaurant style chicken strips | | Print |
Ingredients
2 whole chicken breasts
1 egg, beaten
¾ cup white whole wheat flour
2 teaspoons garlic powder
1 teaspoon onion powder
1 teaspoon sea salt
½ teaspoon black pepper
½ teaspoon hot paprika
¼ to ½ cup extra virgin olive oil
Instructions
In a medium sized bowl; combine flour with 2 teaspoons garlic powder, 1 teaspoon onion powder, 1 teaspoon sea salt, ½ teaspoon hot paprika, and ½ teaspoon black pepper. Set aside.
Cut chicken breast into bite sized chunks.
Heat olive oil in a skillet on the stove top using medium heat.
Dredge chicken in beaten egg, then in flour mixture.
Place battered chicken in hot oil, cook for 2½ minutes. Flip and repeat. Both sides should be golden brown. (You might have to fry in multiple batches.)
Edited to add: I used this same recipe to make chicken strips, and it was just as good! Everything is the same, even the cook times. I ate so many of these for lunch that I didn't eat dinner that night. These taste great with your favorite dipping sauce! This was such a fun lunch to make for just Aliceana and I, I think I need to keep chicken breasts on hand so I can whip these up whenever I have a craving for fried food.
What kind of dipping sauce do you use for chicken? Let me know in the comments!
I'm all about the Sweet and Sour or BBQ sauces.