This post is part of a sponsored conversation, I've partnered with U.S. Cellular to bring you tips on how to protect your phone from the sun and water this summer.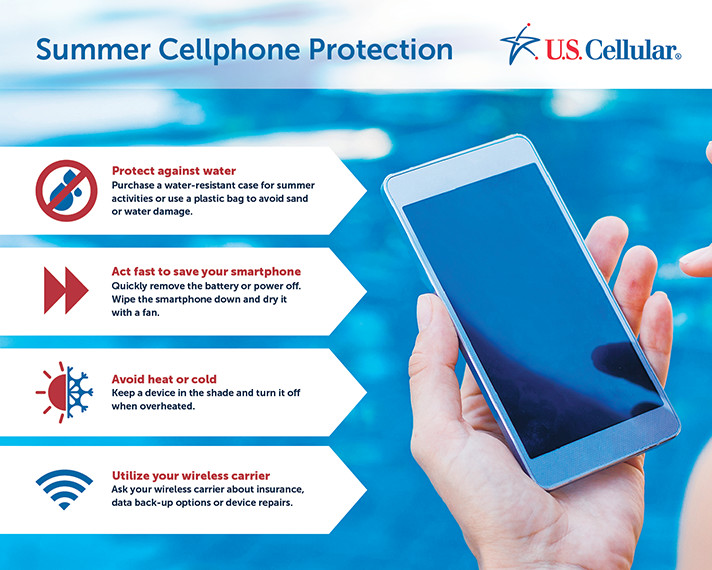 We wear sunscreen to protect ourselves from the sun, but have you ever thought about what those harmful rays can do to your smart phone? I'm sure there have been a few instances this summer where your phone has been soaking up rays, and you can feel it when you go to grab it. Ouch. I do this too often in our backyard, yep I'm guilty.
Those sun rays are hurting your device too.
First off, make sure you are insuring your phone. I know it's an extra cost, but it's worth it in the long run. It's always a good idea to consider insuring your device, especially if you are prone to accidents. Many wireless carriers offer device protection that includes device replacement, tools to back up data and malware protection. As they say, it's better to be safe than sorry, and U.S. Cellular can help.
What effects do sun and water have on your device?
Many manufacturers recommend keeping a phone between 32 and 95 degrees Fahrenheit to avoid temperature damage. If a device overheats, the internal components may become damaged which can cause data loss, dead batteries, and in some extreme cases, the lithium battery may leak, bubble up, expand or explode and ruin the device completely.
Water damage can happen frequently during the summer months. Liquid gets inside of the phone's casing and corrodes the internal electrical components, causing the phone to short circuit and stop the phone from working. There are those pesky pools and beaches to worry about here too.
How to keep your phone safe this summer
Smartphone users should consider purchasing a separate water-resistant case for summer activities around water. Cases such as an OtterBox, DryCase or LifeProof are great options to consider for your iPhone 7 or Samsung Galaxy S8 that will still allow normal use of the phone. A less expensive home remedy is to utilize a plastic bag, which will keep a smartphone sealed and safe to avoid damage, including sand or dirt.
If disaster strikes and a smartphone does fall into the water. Turn off the phone immediately and remove the battery, if possible. After, place the phone near a fan, not heat, to dry and use rice or desiccant packets to help absorb moisture.
Users should keep smartphones out of direct sunlight or in a car unattended where temperatures can reach over 150 degrees. If a device overheats, the internal components may become damaged which can cause data loss or dead batteries.
Always utilize your wireless carrier if a disaster arises. For peace of mind, ask about insurance or data backup options when purchasing the device. Later, if you suspect the phone is not working due to water or heat damage, take the phone to the wireless carrier, who can sometimes fix it when home remedies haven't worked. Download backup apps now, not later, you'll thank yourself.