It's that time of the year, Girl Scout cookies, they're everywhere. I was having a hard time getting my hands on a box of Samoa, and then decided that I would just go without for another year. Of course after I decided to pass on the cookies this year I've been able to find them everywhere. Everywhere. They're basically stalking me. I even found Girl Scout cookies in our local hobby shop (AKA the nerd store.)
I've been passing up on them, at $3.50 I know I'll eat the entire box of Samoa in a couple minutes and feel guilty about the splurge. I've also been meaning to make cheesecake lately. So why not combine the craving for cheesecake and Samoa into one beautiful dessert? Samoa Cheesecake had to happen.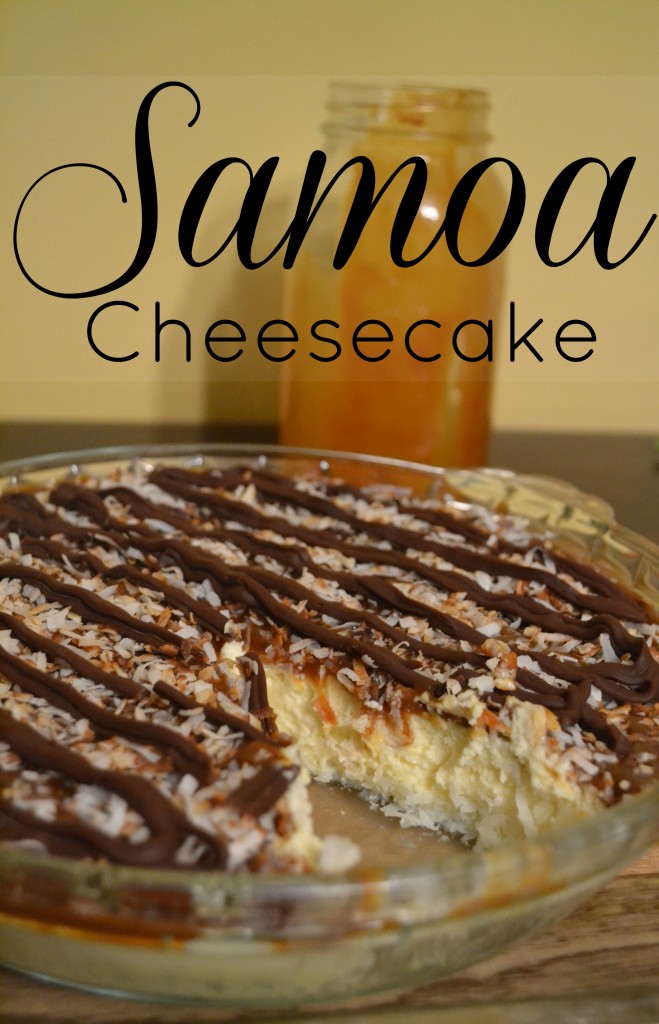 I made a basic cheesecake with a coconut crust, topped it with homemade caramel sauce, toasted coconut, and a drizzle of chocolate on top. It definitely tastes better than a cookie, and it lasts a whole lot longer too. Even as delicious as it is, I can't eat an entire cheesecake in one sitting.
Samoa cheesecake makes me happy. I think it will make you happy too.
Don't be afraid to make cheesecake from scratch, it's not nearly as scary as everyone makes it out to be. The key to baking the perfect cheesecake is to make sure the outsides of the cheesecake are firm, while the center has a little bit of wobble to it.
When you're melting the sugar (Yes you can melt sugar, it's so cool to watch!) to make caramel sauce make sure you already have the butter and heavy whipping cream measured out and ready to go by the stovetop.  Be ready to whisk, whisk, whisk!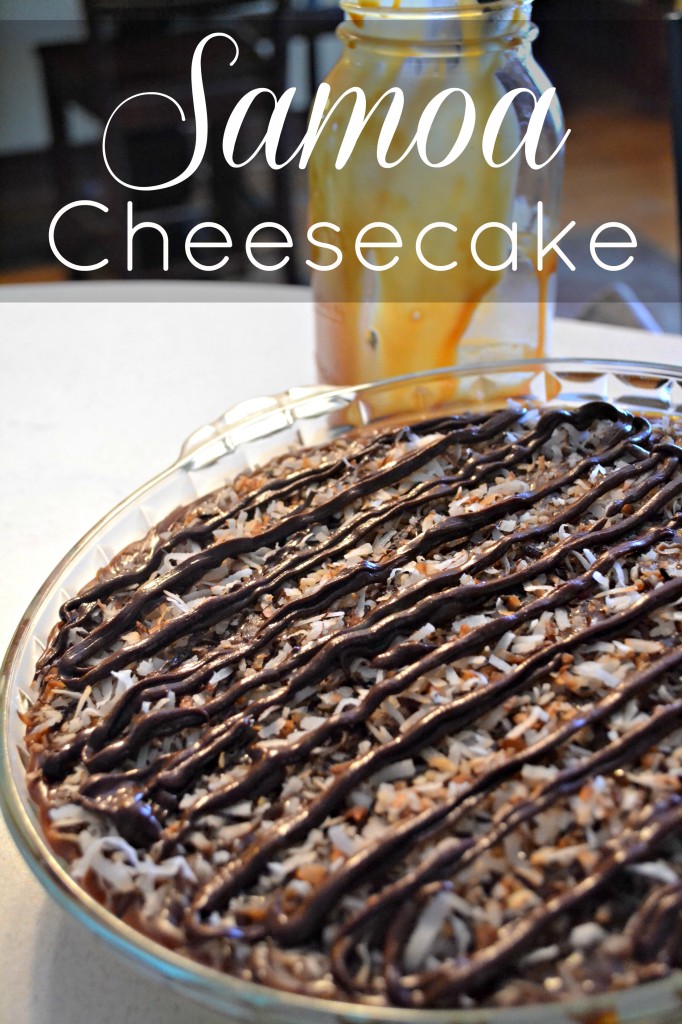 Ingredients
Coconut Crust
1 ½ cups shredded coconut
3 Tablespoons cold butter

Cheesecake
16 ounces cream cheese, softened
½ cup sugar
½ teaspoon vanilla
2 eggs

Caramel Topping
1 cup sugar
6 Tablespoons butter
½ cup heavy whipping cream

Toasted Coconut
1 cup coconut flakes

Chocolate Drizzle
½ cup chocolate chips
2 Tablespoons butter
Instructions
Butter a pie dish or springform pan. Preheat oven to 375*.
In a medium bowl cut 3 tablespoons cold butter into 1 ½ cups of shredded coconut until combined into a dough consistency. Press mixture into the bottom of your pan and bake for 15 minutes. Reduce oven temperature to 325*.
To make the cheesecake, use a stand mixer or electric beater, beat cream cheese for 2 minutes, scraping down at sides when needed.
Add sugar and vanilla, beat until well combined. Add eggs one at a time and continue beating until you have a smooth batter.
Pour batter on top of coconut crust. Bake at 325* for about an hour, or until center is almost set and cheesecake is only a little wobbly.
Meanwhile, make the caramel sauce by heating 1 cup of sugar on the stovetop using medium heat. Whisk vigorously as sugar starts to melt, once sugar is melted and turns amber in color carefully add 6 tablespoons butter. Continue whisking until butter is melted.
Remove from heat, slowly add heavy whipping cream. Whisk until smooth, let cool for 5 minutes then transfer to a glass jar. Let the caramel cool in the glass jar until room temperature.
In a small skillet on medium heat add 1 cup of coconut and heat, stirring occasionally until most of the coconut has turned golden brown in color.
Once cheesecake is baked and at room temperature pour warm caramel sauce on top of cheesecake. Spread into an even layer.
Sprinkle toasted coconut evenly on top of caramel.
In a small microwavable bowl, melt ½ cup chocolate chips and 2 tablespoons butter by microwaving in 15 second increments, stirring each time until completely melted. Stir until smooth and drizzle on top of toasted coconut.
Refrigerate at least 4 hours before enjoying!
What kind of Girl Scout cookie do you day dream about?
Written by, Brittany, the geek behind the blog. I share lots of recipes, my thoughts on the latest tech gadgets, my favorite geeky games, and snippets of life as a Work-at-home mom.