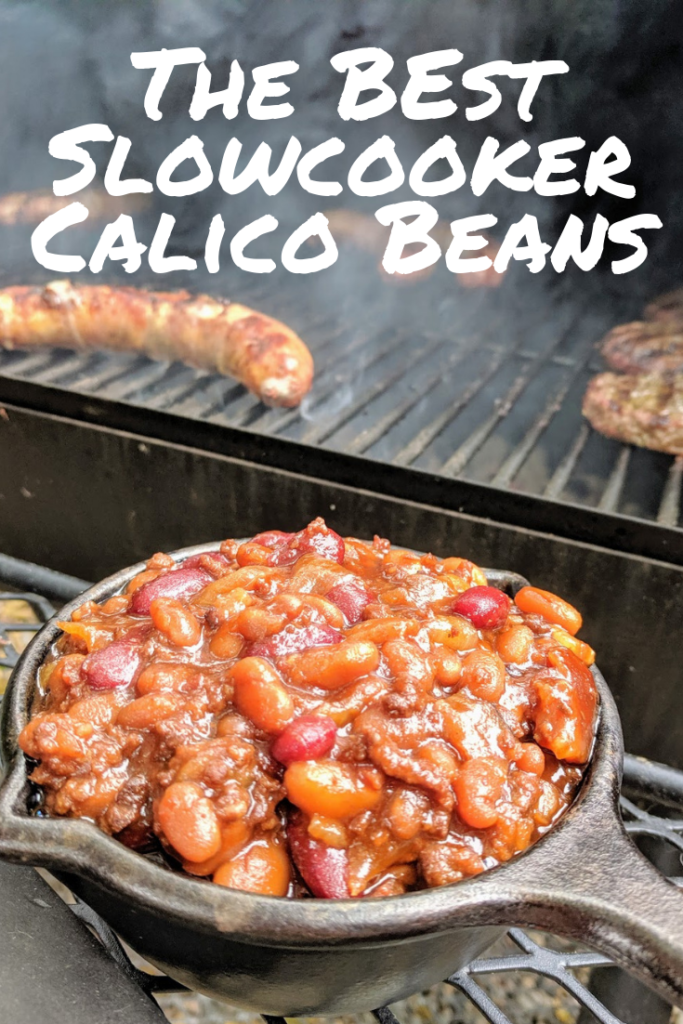 A couple weeks ago, I was creating our meal plan for the next two weeks like usual. Father's Day happened to fall into those weeks and I knew we were going to celebrate AJ's favorite way; grilling! I didn't know what he wanted to grill, but I thought of the perfect side right away. It was time to dig out my Slowcooker Calico Beans Recipe.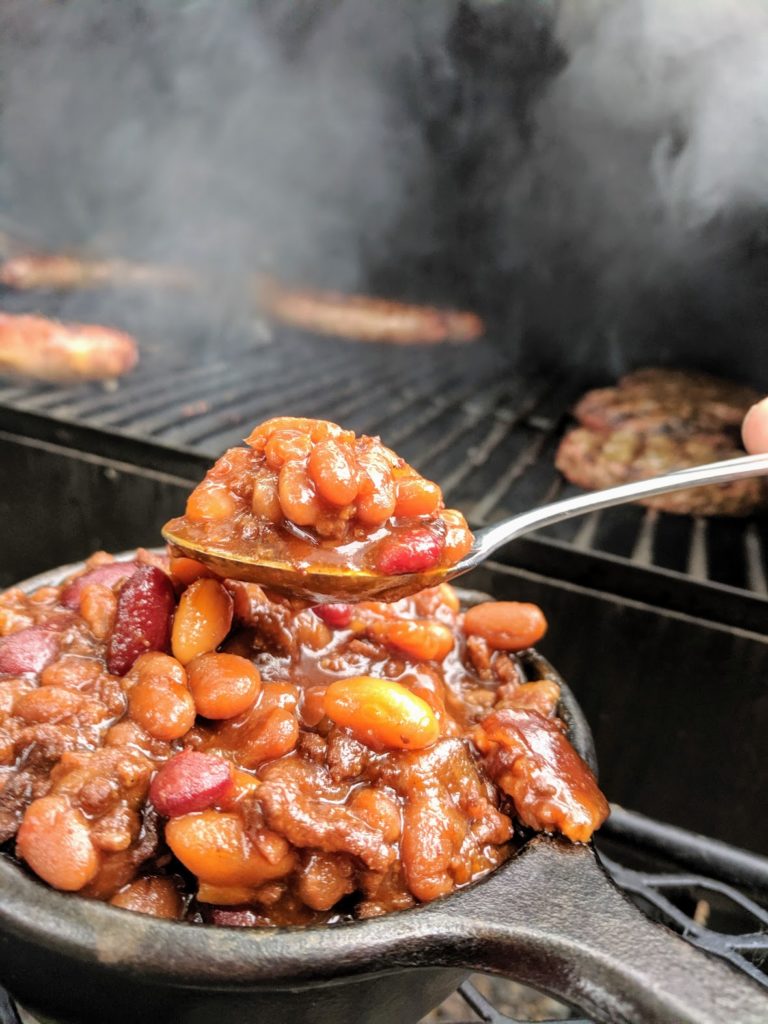 When I brought out my giant family recipe book and turned it to that page, AJ was beyond excited. There's something magical about celebrating with these beans. They make an appearance every time we have a family gathering. I think part of the appeal for AJ, was that I was making these for a day when we were celebrating with just our little family of 3. This recipe feeds a small army. We're going to have leftovers for days, and I think we're going to reheat some with bacon and eggs this morning for breakfast.
In case you were wondering, we ended up making a traditional Midwestern barbecue. Brats, hamburgers, beans, and potato salad.
These beans consist of baked beans, kidney beans, Great Northern beans, large chunks of bacon and onion, ground hamburger, all slowly cooking in a mixture of ketchup, lots of brown sugar, a dash of salt and ground mustard, and a splash of vinegar. I bought most of my ingredients from Trader Joe's, like their black forest bacon. I did use Bush's baked beans though, because you can't replicate that flavor anywhere else.
I love this recipe, because it's a tiny bit of work in the beginning and then you just sit there and smell all of those glorious flavors working together all day long.
Start out by chopping an onion, and slicing raw bacon into chunks. Personally, I left the bacon pieces pretty big. Then combine hamburger, bacon, and onions and cook on medium high until hamburger is browned and the bacon is cooked through. Drain the grease and add to a slowcooker with the remaining ingredients, stir and cook on low all day long. It really only needs 3 hours, but I let it cook from breakfast until the afternoon
Here's the official recipe

| | | |
| --- | --- | --- |
| Slowcooker Calico Beans Recipe | | Print |
Prep time:
Cook time:
Total time:
Ingredients
1 pound ground hamburger
½ pound raw bacon, chopped into bite sized pieces
1 cup chopped onion
1 cup ketchup
1 can Great Northern beans, drained (or butter beans)
1 can red kidney beans, drained
2 cans Bush's Original Baked Beans
2 cups brown sugar
½ teaspoon ground mustard
1 teaspoon salt
1 tablespoon white vinegar
Instructions
Brown ground hamburger with onions and bacon.
Drain ground hamburger mixture.
Combine ground hamburger mixture with remaining ingredients and stir well.
Cook on low for 3 to 5 hours, stirring occasionally.
What recipe do you use to celebrate? Let me know in the comments below! Don't forget to pin this recipe to save it for later!
Written by, Brittany, the geek behind the blog. I share lots of recipes, my thoughts on the latest tech gadgets, my favorite geeky games, and snippets of life as a Work-at-home mom.