Last week we were on vacation, and my cell phone was plugged into the charger on the desk across the room instead of the bed side table. So in the morning I would get up, get ready, hang out with my family and then realize…I hadn't touched my phone at all that morning. It was crazy how different my morning was when I didn't wake up and check my Facebook, Twitter, Inbox, and Instagram feed all while having the brain capacity of a squinting zombie staring at a too bright phone screen in a dark room. I'm way too dependent on my smartphone on a daily basis, and it's bad. I've partnered with U.S. Cellular to share just how dependent people are when it comes to smartphones. Psst. You can get the free Parent Child Agreement here, to help keep your kiddos safe with their devices. All opinions and words are my own.
We're living in a time where people are more attached to their smartphones than ever before, and it's only increasing over time. In a recent survey more than 60 percent of smartphone owners said that they couldn't make it more than a few hours without checking their phone.
In 2015, 65 percent of smartphone owners said they would never leave their phone at home compared to 48 percent in 2013, with the most important reason being text messaging.
We used our own experiment with AJ and Instagram, he was obsessed with his Instagram feed, constantly checking it no matter where we were. Then I turned off his notifications and, I have a husband that sometimes pays attention to what's going on around him again! Imagine that. 
In our own personal lives we've used smartwatches to cut down on phone time. Notifications pop up on your wrist and you can decide whether it's important enough that you need to reply right away or if it's spam and can be completely disregarded. We all know the second that phone is in your hand you're going to end up surfing on social media or launching an unnecessary app for no reason, it just happens.
Here are some surprising things that people would give up over their smartphones.
Chocolate (72%) ¾ Americans love their candy bars, consuming nearly 10 pounds of chocolate each year. But more than seven out of 10 people would choose to forgo chocolate instead of giving up their smartphone.
TV (65%) ¾ People in the U.S. spend almost three hours a day watching television, according to the Washington Post. However, 65 percent of respondents would abandon their favorite shows in order to stay connected to their smartphone.
Caffeine (63%) ¾ What if six out of 10 coworkers went through the day without their first cup of coffee? That would be the situation if they had to choose between caffeine and their device.
Pets (50%) ¾ People don't have to choose between their phone and their pet, which is a good thing for half of the nation's fuzzy friends. According to respondents, 50 percent of pet owners would give up their animals before parting ways with their smartphone.
Food (33%) ¾ Final meal or one phone call? One third of smartphone owners would go hungry rather than give up their device.
I think these smartphone users are crazy, I would never give up my pets over a phone, I would live in the stone age with my Trio if I had to Who else would I play hide and seek with  under the covers first thing in the morning?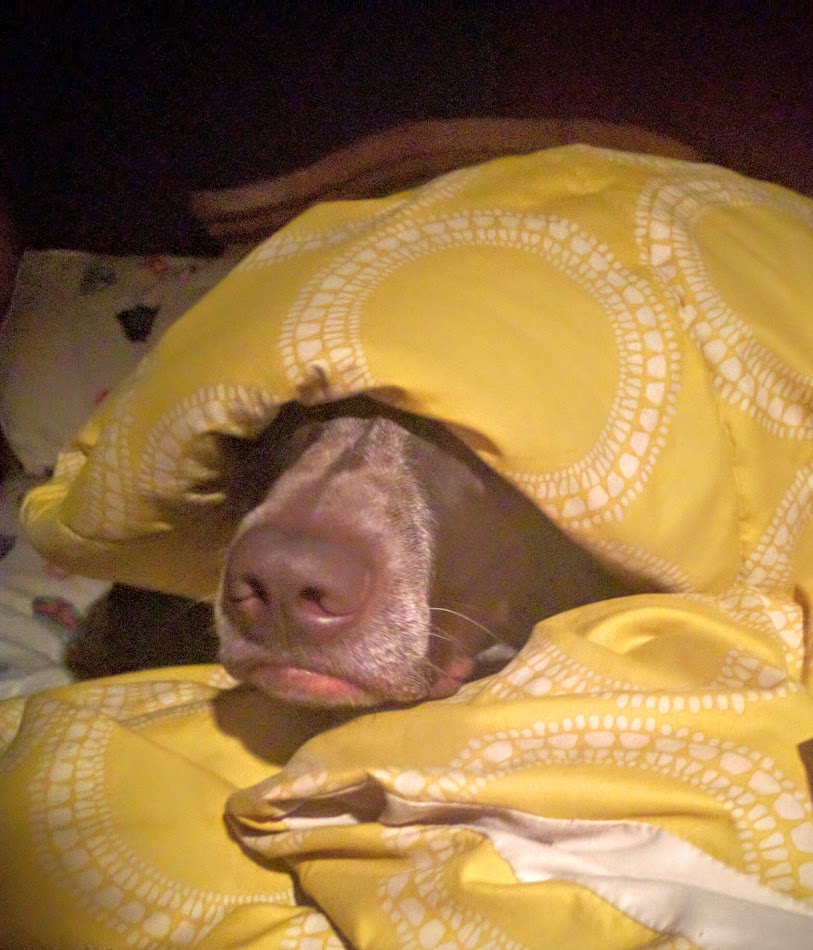 Yes, Trio is my favorite, he's a complete baby and he was my first dog that I had from a puppy. Also, he's basically my spirit animal. Aliceana is also my favorite daughter. 😉
What do you think, what would you give up to keep your smartphone?