I guess I should warn you that there are season 1 spoilers, but guys, if you've avoided them for 4 years, then you're an internet recluse. 
Guys. Screw the Lannisters.
Seriously. I hate that whole group of jerk faces.
Except Tyrion Lannister, I don't hate him, and I feel like he might also be in the "Screw the Lannisters" club. Tyrion is the kind of guy you could easily picture yourself having wine with, exchanging stories, and getting kicked out of the pub together.
Anyway, we're almost done with season one. We're at the part where Ned got the axe, or the really big sword or whatever.  Goodbye Boromir. Again.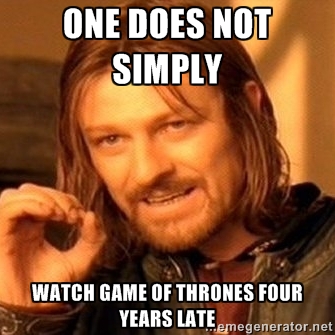 I've got to say it's weird as Hell watching the show this many years later. Social media is a huge part of maintaining this site, and I follow like minded-geeky people, so literally I know how every single character dies on this show. Heck, I was just at Concert Against Humanity and we literally SANG A SONG about how all the characters die. Thanks Paul and Storm.
Watching the first few episodes I was mentally thinking,
"Oh, I know you! You're going to die this way!"
or
"It's probably going to be really satisfying when you die this way, jerk face."
It's good though, because you know not to be attached to any character. I did let myself slip. I said "Nobody better touch those wolves! I'll stop watching." That same episode one of the wolves was met with a fateful end, and I kept watching.
When Boromir…I mean Ned, died. We knew it was going to happen, that was obviously where he was going to be executed, and it still brought shock in maybe a different way. If you're watching and you've lived a completely clueless spoiler free life you would be shocked that Joffrey called for the execution last minute.
When we watched I was more shocked that Cersei tried to talk Joffrey out of it. So the spoilers don't completely ruin the show, you just see it in a different light.
All in all though, it's a seriously awesome show with so many layers of epicness. You have great characters (and awful characters, well written though), and so many storylines woven into one beautiful gory, sex-filled show.
I'll keep you updated on how this show ends up ruining my life, or at least how it gives me extreme lack of sleep.
When did you start watching Game of Thrones?