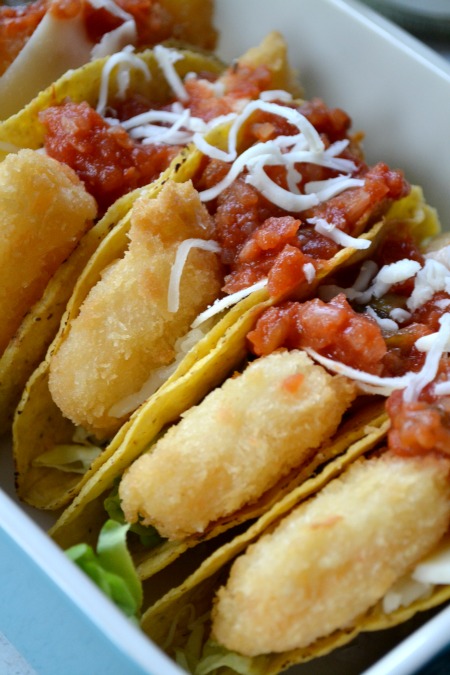 Simple meals are definitely winning here lately. In fact, when I came up with this recipe, we were about…2 minutes away from Trader Joe's and I remembered that we didn't have a meal plan.
I was stumped, but I thought, uh…shrimp tacos sounds like a fun option to make at home. So one of our favorite quick to put together meals was born.
Super simple shrimp tacos that everyone will love.
You'll love them because they're simple. You'll feel like you just found Princess Peach's impossible to find castle when you bring this to the table.
Trader Joe's always has such quick easy to grab options. It's a busy family's piece of nirvana, even if we do have to drive an hour each way to get there. We're secretly city people, so we might just do all of our shopping in Milwaukee instead of our tiny town.
It also gives us a great excuse to visit the zoo or a museum on a weekly basis. Who doesn't love that?
Back to the food, how easy is it really? Start off with taco shells, prepared according to directions. Add in some butter lettuce, cooked shrimp nuggets (breaded tail off shrimp,) your favorite chunky salsa, and cheese! We used shredded colby and fresh grated parmesan and romano.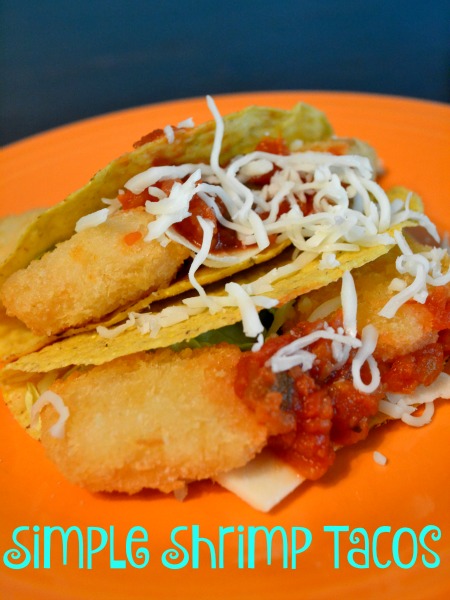 | | | |
| --- | --- | --- |
| Super Simple Shrimp Tacos | | Print |
Ingredients
6-8 taco shells
1 package shrimp nuggets (we buy these at Trader Joe's, but breaded tail off shrimp from any store will work!)
¼ package butter lettuce
chunky tomato salsa
½ cup shredded colby cheese
¼ cup freshly grated parmesan romano cheese blend
Instructions
Prepare taco shells and shrimp nuggets according to package instructions.
Assemble your tacos, I do this in a short baking dish so I can prop all the tacos up to fill all at once.
Start with butter lettuce, then sandwich in your shrimp (2 pieces to each taco,) next add the salsa and cheese.
Serve immediately and do a happy dance, you just put an impressive looking dinner on the table with very little effort.
Written by, Brittany, the geek behind the blog. I share lots of recipes, my thoughts on the latest tech gadgets, my favorite geeky games, and snippets of life as a Work-at-home mom.