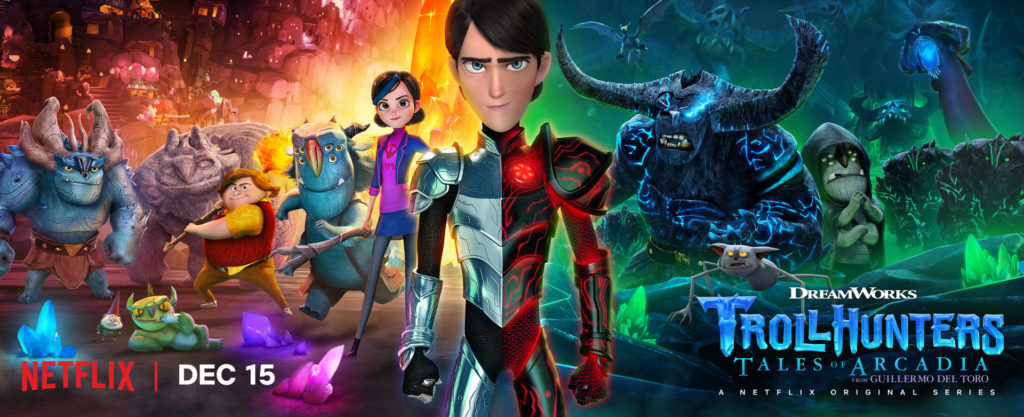 I feel like we've been waiting an eternity for today, the day that part 2 of Trollhunters is available only on Netflix. Let the family binge watch commence.
Trollhunters part 1 was so much more than I ever expected from a cartoon, it made me laugh and legitimately cry. A lot.
I'm also ridiculously thrilled about the new voices added to the cast. Part 2 features new voices Mark Hamill, Lena Headey and David Bradley, who join Kelsey Grammer in his Emmy-winning role as Blinky, Steven Yeun (Steve), Anjelica Huston (Queen Ursurna), Jonathan Hyde (Strickler), Amy Landecker (Barbara) and Charlie Saxton (Toby).  The late Anton Yelchin, who completed recording through Part 2, voices the lead role of Jim Lake, Jr.
Here's a snippet of season 2.
In Part 2 of the epic saga DreamWorks Trollhunters, ordinary teen-turned-Trollhunter Jim Lake Jr. faces new challenges in his continued battle to protect his hometown of Arcadia and the fantastical Troll world he inherited. Jim's risky decision to enter the Darklands unearths startling discoveries, forcing him and his friends to face gripping consequences as they race to end the battle against evil.
This global family viewing event from acclaimed filmmaker Guillermo del Toro will bring viewers of all ages together, debuting only on Netflix, Friday, December 15.
Who else will be binge-watching this during the holiday season?