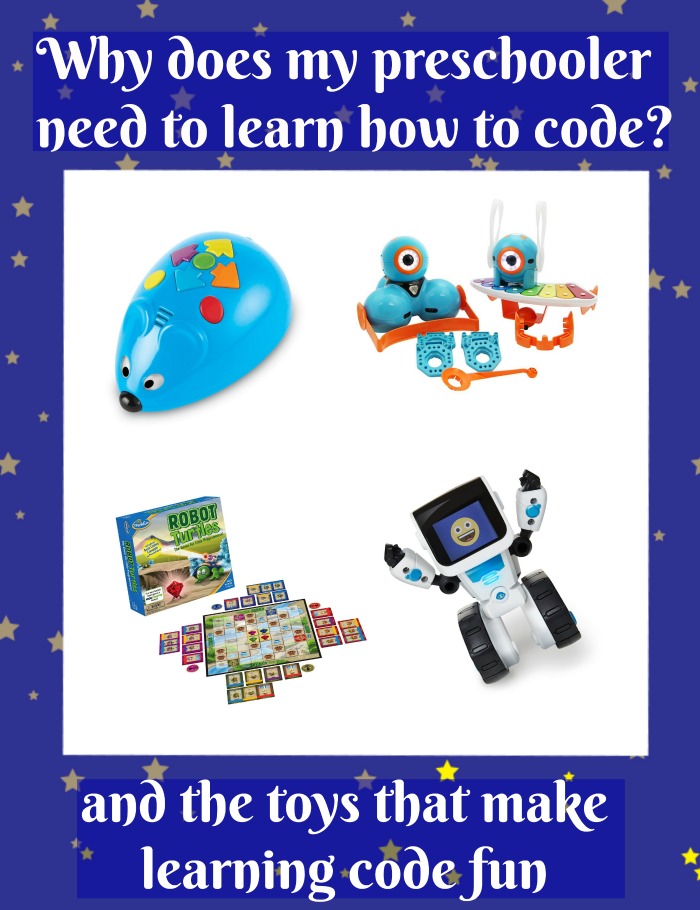 STEM has been a buzz word on every top toy list for the last couple years, and this year the science, technology, engineering and math toys have definitely gone in the direction of coding this year. This brings up two good questions for parents of preschoolers when shopping in these categories.
Why should I teach my preschooler to code?
Are these toys really teaching them any skills that will help them in the future? (I mean, most of these just look like seriously fun games.)
There are so many reasons why you should teach your kids to code, or let the toys teach for you. First off, as the world of technology advances you want your kid to be one of the Silicon Valley billionaires so they can take care of you. Ok, seriously though, check out this info graphic below from Kodable. It has great statistics, did you know that 60% of math and science jobs are computer related? (I'm willing to bet that number is going to go up significantly.) Over the next 10 years it's projected that there will be 1.4 million coding jobs to fill with only 400,000 students pursuing coding related jobs?
Coding is just a good skill in general. As your preschoolers grow up and get ready for the job market they'll want a website to post their resume, or they'll start a blog, pursue an online business, or do something web related at some point of their life. That's when it gets to the point of; getting a crappy out-of-the-box website made with a template, pay someone else thousands to make a decent looking website, or be able to do it themselves to set them apart from the boring out-of-the-box templates in the market place all while saving some serious cash.

So we get that coding is good, and that your littles are going to be able to code circles around the coding skills you learned from your MySpace days (that's where everyone learned to code, right? I had the best MySpace layouts.) Will these toys on the market actually help them code circles around you? And how do they work?
At the preschool level most coding games, apps, and toys are really simple concepts. Most of these products follow the same basic format of getting an object from point A to point B using commands.
Typically these are played on a grid, and your child has to decide whether to go straight or turn. Then as the puzzles get more complicated roadblocks pop up and more commands are introduced. Loops and functions are then introduced to save them time as they enter commands. Wait a minute, is your kid coding circles around you yet? They just made a loop and function. Yep, they've surpassed my level. Here are some popular coding toys with explanations on how they help teach your preschoolers to code.
One game that puts an interesting spin on coding is Robot Turtles
. In this game the parent acts as the computer and your child verbally dictates the commands to the parent who acts like a computer even if you know the turtle is going to run off the board. Your child then yells "BUG" and hits a pretend cardboard button when they realize they made a mistake and you restart. This game introduces a bunch of new roadblocks and special abilities as you advance through levels, or you can stay at the level you're at if you'e not ready to advance.
When we were at the Chicago Toy& Game Fair we had a chance to play with the Learning Resources Code & Go Robot Mouse
. This is an amazing little game, because it provides the best visualization. You push the series of commands into the little robot mouse and then press the enter button and he follows your string of commands. You can buy him alone or with a course
that he can navigate through to find a piece of cheese.
Aliceana is receiving COJI the Coding Robot
for Christmas. She wants it because it's an adorable robot. I want her to have it because it's an adorable robot that works with a coding app creating a really fun experience with games and commands. He's pretty reasonably priced and a really cute size, and he reacts to your kids decisions in the app.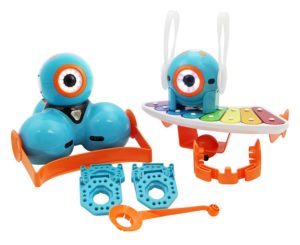 If you're ready for a more functional codable robot you're looking for Dash and Dot
. I haven't had any hands on experience with these guys, but they sound and look impressive. Your kids can program Dash & Dot
to do anything you imagine. Deliver a message to a friend, have a dance party, and even navigate through an obstacle course.
Coding is an essential skill in this digital age, when your kids are Silicon Valley billionaires they'll remember that coding robot you bought them that Christmas long ago, and that's a great return on your investment.
Written by, Brittany, the geek behind the blog. I share lots of recipes, my thoughts on the latest tech gadgets, my favorite geeky games, and snippets of life as a Work-at-home mom.