I need easy go-to meals to survive the week. I love cooking, but sometimes you need to throw together noodles, sauce, and cheese and call it a meal.  I used my homemade marinara recipe for this particular batch, because the pandemic has been keeping me away from Trader Joe's pizza sauce.  I started with al dente ziti, then normally add in pizza sauce, browned hamburger with onions, and top with mozzarella and pepperoni. We've experimented with this recipe a lot. We thought that adding more pizza ingredients would be fun, but it became too muddled with the flavors. The classic pizza sauce, mozz, onions, and pepperoni is definitely the way to go, and it looks cute!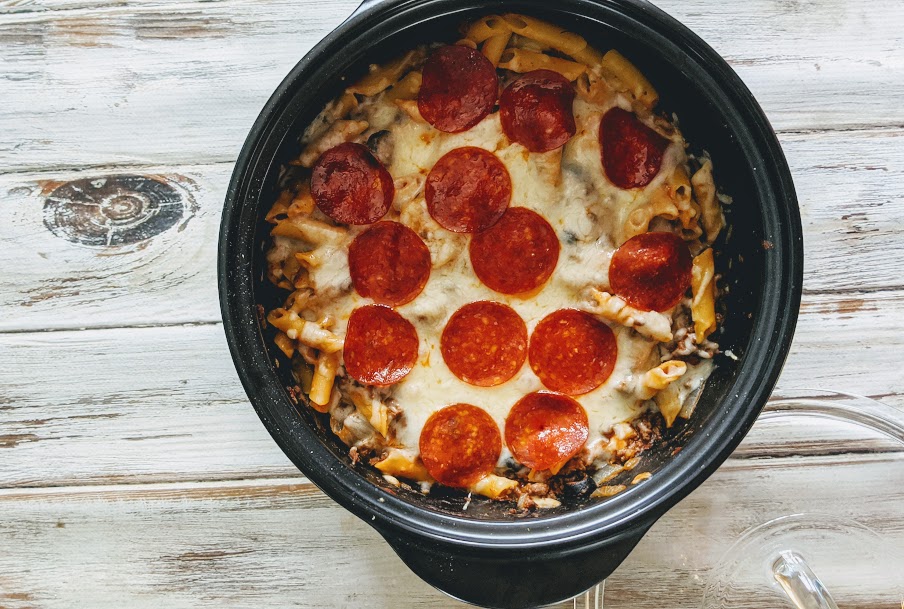 Here's Gator with quarantine hair, don't care!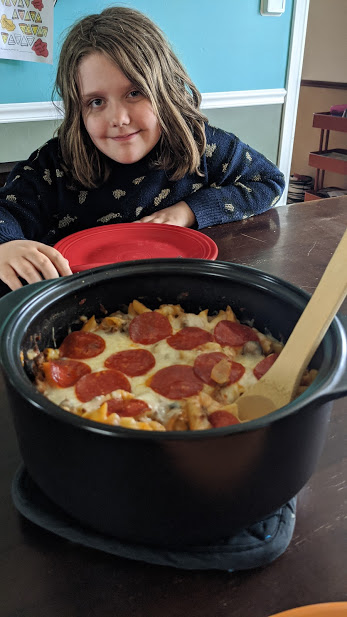 I used the Pampered Chef RockCrok for this recipe, it's made of clay and can easily go from stove to oven (it can even go on the grill!) the best part? I put the Rockcrok, full of caked on cheese and sauce in the dishwasher, and it came out perfectly clean. I definitely wasn't expecting that, this is a recipe that would require a good soak in the sink for clean up with any other dish. I'm so in love with it that I just ordered the Rockcrok grill pan too.

| | | |
| --- | --- | --- |
| Baked Pizza Ziti Recipe (weeknight meal for picky eaters) | | Print |
Ingredients
16 ounces ziti
1 pound hamburger
½ onion chopped
2 cloves garlic
12 ounces pizza sauce
6 ounces mozzarella cheese
pepperoni
Instructions
Preheat oven to 350*
Brown hamburger with onion and garlic in Rockcrok, meanwhile cook pasta in boiling water until al dente, drain.
Combine browned hamburger mixture with pasta and pizza sauce, heat on medium until sauce is heated through.
(optional) Mix in a handful of mozzarella for good measure.
Top with remaining mozzarella and pepperoni, transfer your Rockcrok to the oven to bake until cheese is melted and browning.
Written by, Brittany, the geek behind the blog. I share lots of recipes, my thoughts on the latest tech gadgets, my favorite geeky games, and snippets of life as a Work-at-home mom.