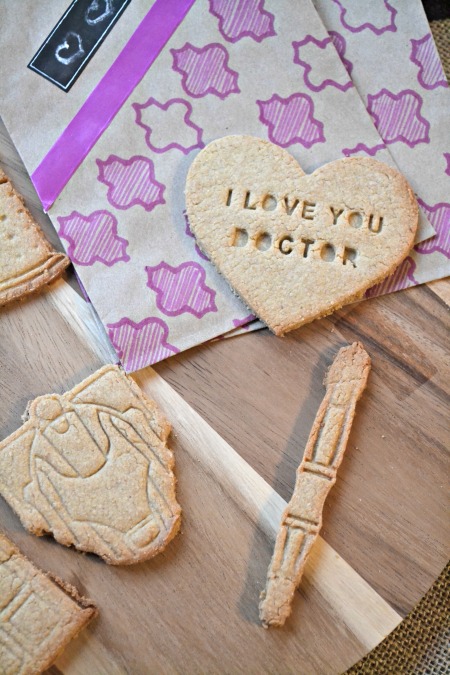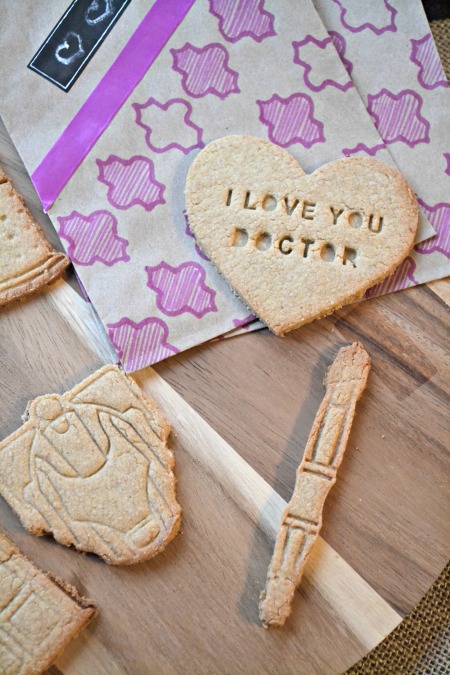 Valentine's Day is all about showing your love, whether that be for your significant other, your kids, or getting through the holiday with your fellow single friends. Being a geek is all about being so so passionate about the things you love, and sometimes those things might just include Doctor Who. Share the love, this post contains affiliate links for simple shopping!
I just had to make shortbread cookies using my adorable Doctor Who cookie cutters that AJ gifted me for Christmas. How cute are these cookies? He got the set from ThinkGeek and you can make a Tardis, Sonic screwdriver, Cyberman, a evil Dalek, and K-9.
I also had to play with my cookie cutters and imprinter that you can use to imprint anything on a cookie. I decided to go the Valentines route and simply put, "I love you Doctor."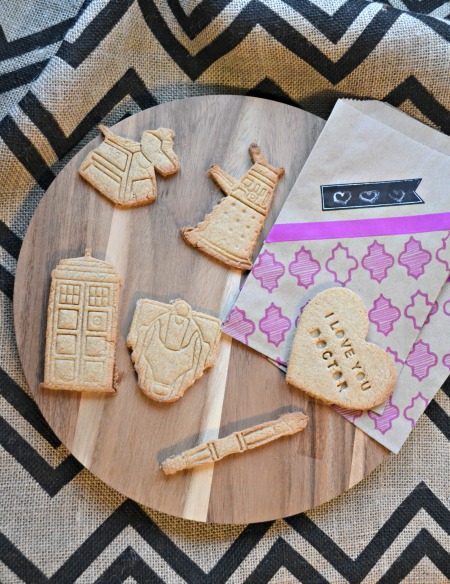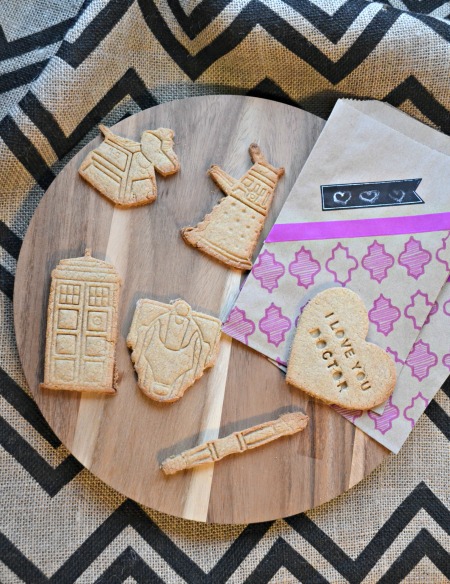 We often have the debate of, which enemy is scarier. The Daleks or the Cybermen?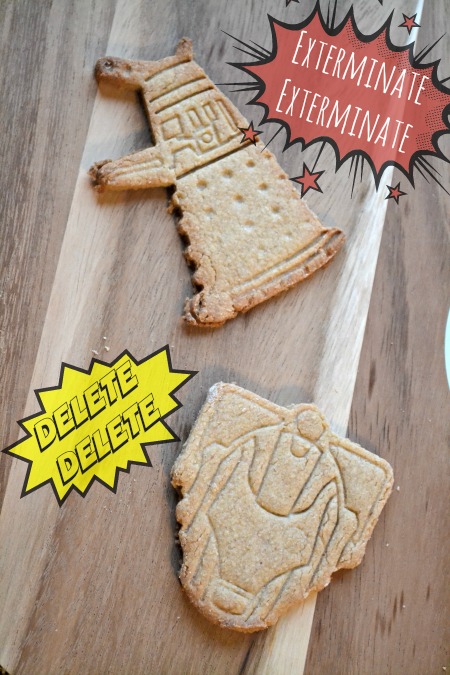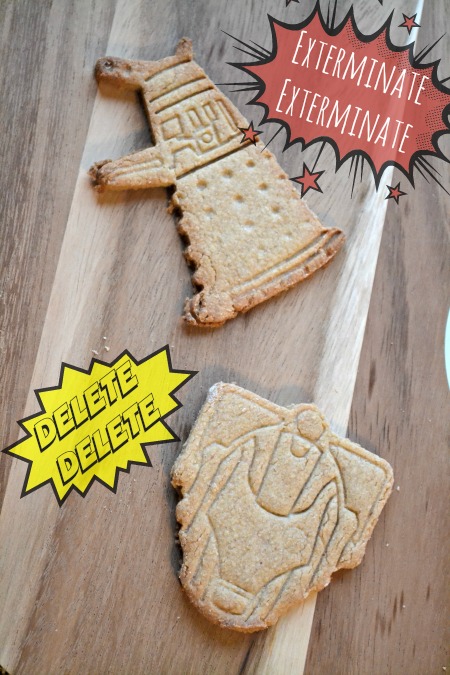 The truth is we can't decide, they both have their scary points. Now if it was against the old Cybermen, like the ones in the alternate universe during alternate Jackie's birthday. I wouldn't be that scared. The Cybermen in season 8, yeah I wouldn't want to mess with those, they're basically at Dalek level now. Plus the Cybermen army keeps on growing. Still, one word from a Dalek has me shaking in my slipper socks much like when I hear the phrase "Bad Wolf."
So we'll just leave it at the fact that deciding the scariest enemy on Doctor Who is much like deciding who your favorite Doctor is. Every time you think you're close to deciding you realize that every doctor is truly freaking perfect in their own little way.
I made some more "I love you" cookies, I was on a roll. We had one for each of our family members. Then I made a few that said "I love you. I know." because Star Wars.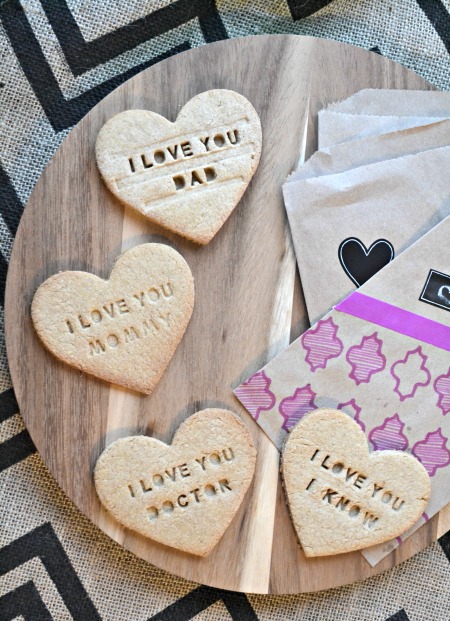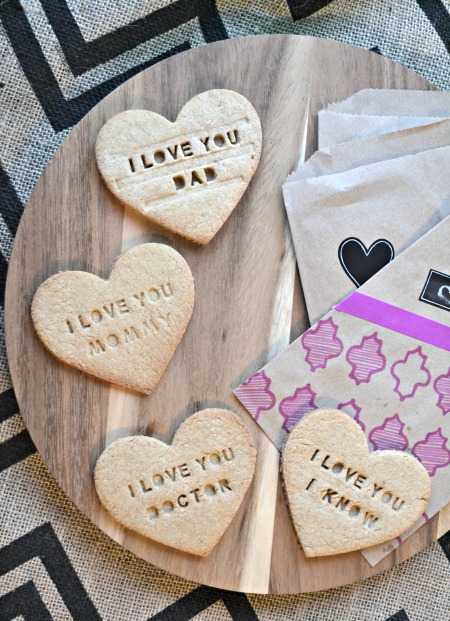 I'll share the recipe that worked for making these cookies perfect, I'm not a huge fan of shortbread, but it really sets the imprints well. Next time I'll try sugar cookies and see if I can get that to work.
Prep time:
Cook time:
Total time:
Ingredients
1 cup butter
½ cup light brown sugar
2 teaspoons sugar
½ teaspoon salt
2 eggs
1 teaspoon vanilla
3 cups flour
Instructions
Beat butter, sugars, and salt together until smooth.
Beat in eggs and vanilla.
Fold in flour, you might have to use your hands to completely incorporate it and knead it into a dough.
Cover dough with plastic wrap and chill in refrigerator for about an hour.
Preheat oven to 400*.
Roll dough about ¼" thick and use your cutters and imprinters to cut out shapes.
Place cookies on a greased or parchment paper lined baking sheet.
Bake at 400* for 10-12 minutes, or until brown around the edges.
Notes
This recipe makes an extremely crumbly dough, you'll have to knead with your hands a lot. I used white whole wheat flour, so my cookies are probably a little darker than if I had used white flour.
If you need Doctor Who cookie cutters in your life, you can buy them here (I feel like $15 is an awesome price for these.)
Calling all geeks! Shop at ThinkGeek for all of your geeky needs, seriously I just saw a bouquet of unicorn plush (in lieu of flowers) and I'm obsessed, now you know what to buy me if you love me!
Plus, a free t-shirt deal, win-win! It's a proven fact that free shirts are the best kind of shirts ever, seriously free shirts are my favorite swag ever and basically part of my mom uniform.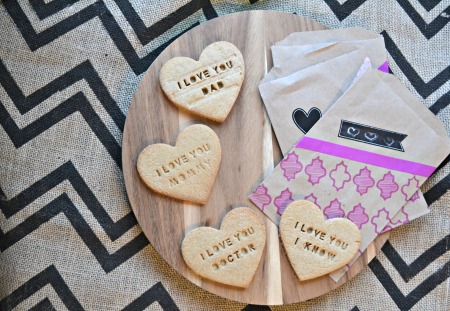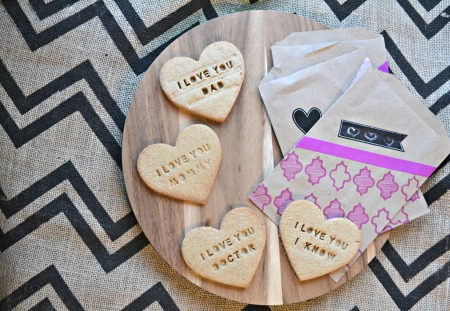 If you would want to make your own shortbread cookies with custom phrases, you can purchase the set here. You can make the messages on scalloped rectangles and stars too, but obviously we were in heart mode since Valentine's Day is really sneaking up on us!
Written by, Brittany, the geek behind the blog. I share lots of recipes, my thoughts on the latest tech gadgets, my favorite geeky games, and snippets of life as a Work-at-home mom.