I love carbs, and carbs are so much better when they're covered in a delicious sauce. I've been making my own tomato based sauce for months, and recently I added sugar as an ingredient to turn it into a marinara sauce and I'll never go back. Seriously, homemade easy marinara sauce recipe is the best.
One of the reasons why I love this easy marinara sauce recipe so much, is because it's so versatile. I use it as a pizza sauce as well as a pasta sauce. It would be great for dipping too.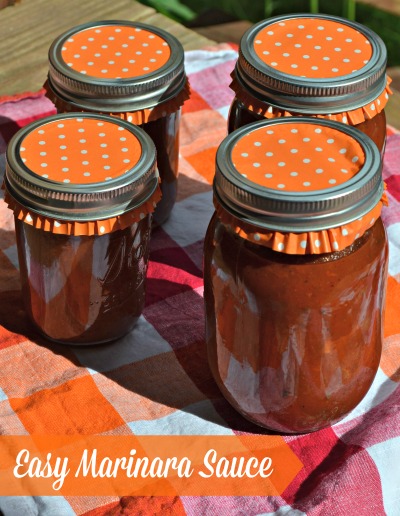 Aliceana is staying at Grandma's while we're in California this week, so we canned some marinara sauce to send along with her (along with her other favorite organic snacks and meals.) Yes, I'm that mom now.
We're packing her tons of food for two reasons. First off we want her to eat healthy even when we're gone and Grandma thinks that cookies are a food group. Also, because Aliceana eats more than I do a lot of the time, it costs a ton to feed that hungry little girl for an entire week.
Since this is such a versatile recipe I can send it along with some whole wheat pasta and homemade pizza crust for two easy meals.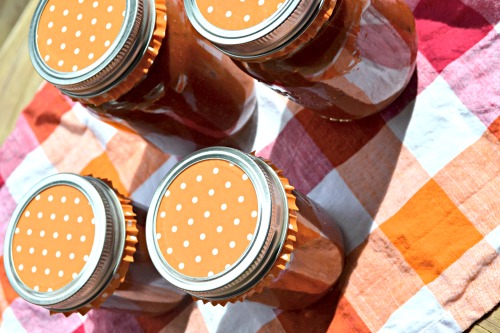 To make this sauce I start out by sauteing onions and garlic in olive oil. I then add tomato sauce and my favorite spices. I've included the recipe below, but the secret to this recipe is to add a little bit of seasoning at a time and taste the sauce until you're satisfied with the flavor.
| | | |
| --- | --- | --- |
| Easy Marinara Sauce Recipe | | Print |
Ingredients
½ tablespoon extra virgin olive oil
1 clove garlic, minced
¼ small onion, minced
16 ounces tomato sauce
1 tablespoon sugar
½ tablespoon salt
½ tablespoon pepper
dash of oregano
dash of basil
dash of thyme
dash of sage
Instructions
In a sauce pot, add olive oil, garlic, and onions. Cook on medium until you can hear garlic and onions start to simmer.
Immediately add tomato sauce, reduce heat to low.
Stir in seasonings gradually to taste. Let simmer, stirring occasionally until heated through.
Let me know what you're planning on using this easy marinara recipe for in the comments below!
Written by, Brittany, the geek behind the blog. I share lots of recipes, my thoughts on the latest tech gadgets, my favorite geeky games, and snippets of life as a Work-at-home mom.