Double Chocolate Peanut Butter Muffins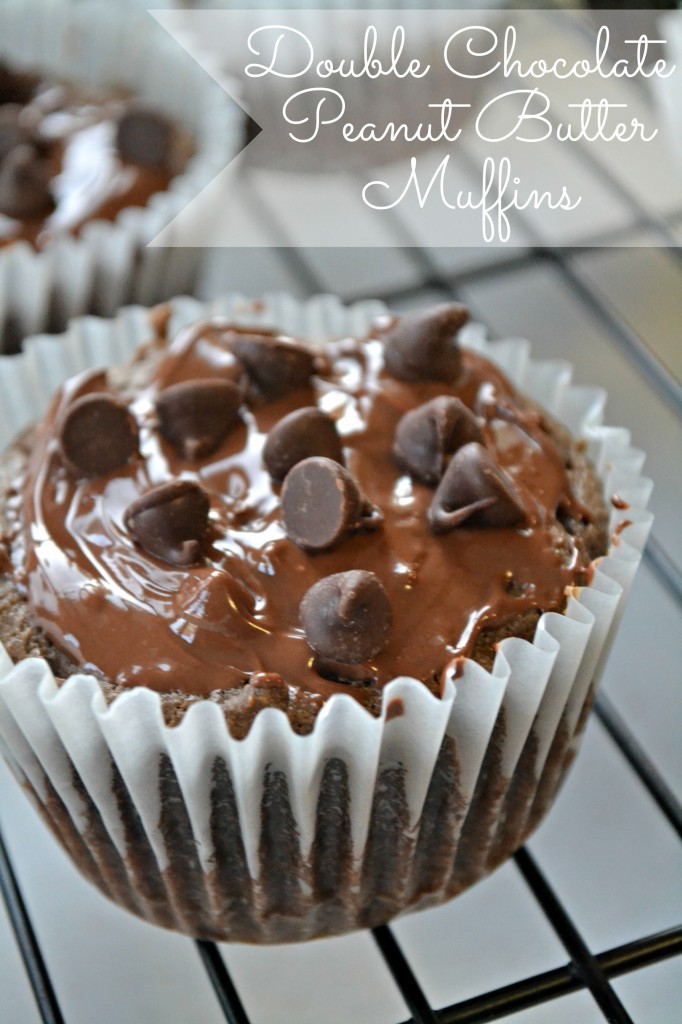 ½ cup peanut butter
⅓ cup butter, softened
¾ cup brown sugar
¼ cup sugar
2 eggs
2 teaspoons vanilla
1¾ cups flour
¼ cup cocoa
1½ tsp. baking powder
½ tsp. baking soda
⅔ cup milk
1½ cups chocolate chips
Topping
½ cup chocolate chips
2 Tbsp. peanut butter
Preheat the oven to 350*. Grease 12 muffin cups or line them with muffin tins.
In large bowl or mixer, combine ½ cup peanut butter and softened butter and beat well.
Add brown sugar and sugar and beat until light and fluffy. Next, add eggs and vanilla beat until smooth.
Add flour, cocoa, baking powder, and baking soda continue stirring. Add milk, stir until batter is smooth.
Fold in chocolate chips. Divide batter into the 12 prepared muffin cups.
Bake for 12-15 minutes or until muffins spring back when touched in center. Remove to wire racks to cool.
In a microwave safe bowl combine ½ cup chocolate chips with 2 Tbsp. peanut butter. Microwave in 20 second intervals, stirring after each time until smooth. Top muffins with peanut butter chocolate topping and garnish with additional chocolate chips if you need an extra dose of chocolate.
Recipe by
The Domestic Geek Blog
at https://www.thedomesticgeekblog.com/double-chocolate-peanut-butter-muffins/