Samoa Cheesecake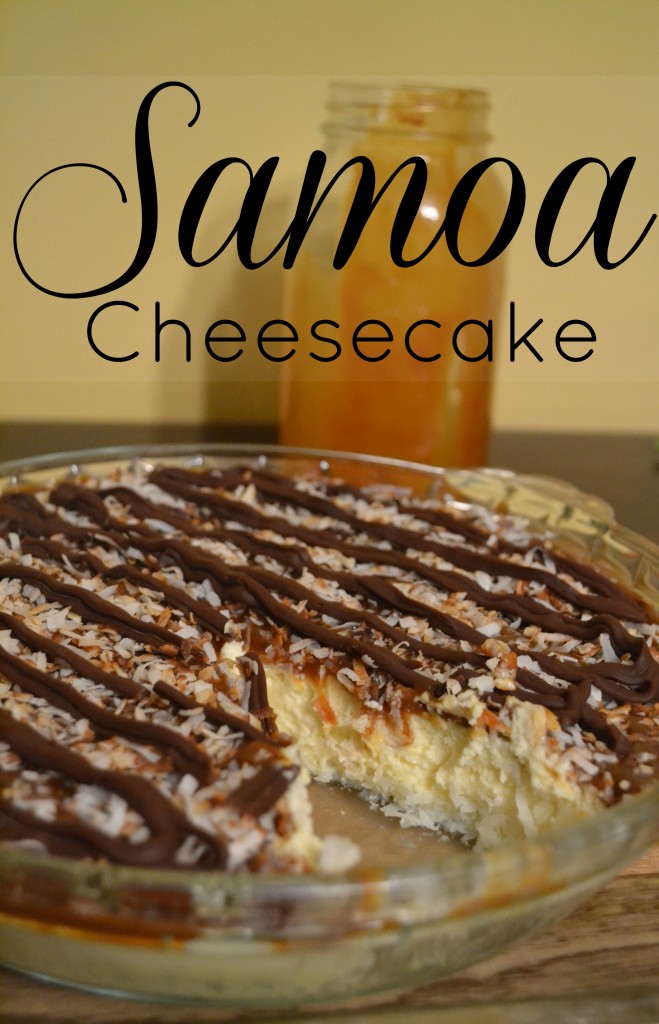 Coconut Crust
1 ½ cups shredded coconut
3 Tablespoons cold butter
Cheesecake
16 ounces cream cheese, softened
½ cup sugar
½ teaspoon vanilla
2 eggs
Caramel Topping
1 cup sugar
6 Tablespoons butter
½ cup heavy whipping cream
Toasted Coconut
1 cup coconut flakes
Chocolate Drizzle
½ cup chocolate chips
2 Tablespoons butter
Butter a pie dish or springform pan. Preheat oven to 375*.
In a medium bowl cut 3 tablespoons cold butter into 1 ½ cups of shredded coconut until combined into a dough consistency. Press mixture into the bottom of your pan and bake for 15 minutes. Reduce oven temperature to 325*.
To make the cheesecake, use a stand mixer or electric beater, beat cream cheese for 2 minutes, scraping down at sides when needed.
Add sugar and vanilla, beat until well combined. Add eggs one at a time and continue beating until you have a smooth batter.
Pour batter on top of coconut crust. Bake at 325* for about an hour, or until center is almost set and cheesecake is only a little wobbly.
Meanwhile, make the caramel sauce by heating 1 cup of sugar on the stovetop using medium heat. Whisk vigorously as sugar starts to melt, once sugar is melted and turns amber in color carefully add 6 tablespoons butter. Continue whisking until butter is melted.
Remove from heat, slowly add heavy whipping cream. Whisk until smooth, let cool for 5 minutes then transfer to a glass jar. Let the caramel cool in the glass jar until room temperature.
In a small skillet on medium heat add 1 cup of coconut and heat, stirring occasionally until most of the coconut has turned golden brown in color.
Once cheesecake is baked and at room temperature pour warm caramel sauce on top of cheesecake. Spread into an even layer.
Sprinkle toasted coconut evenly on top of caramel.
In a small microwavable bowl, melt ½ cup chocolate chips and 2 tablespoons butter by microwaving in 15 second increments, stirring each time until completely melted. Stir until smooth and drizzle on top of toasted coconut.
Refrigerate at least 4 hours before enjoying!