Reese's peanut butter cup crust mini cheesecake recipe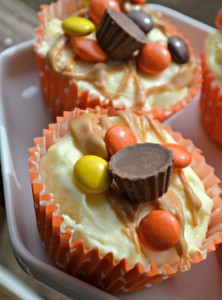 No-Bake cheesecake mix
1-1/3 cup milk
12 Reese's peanut butter cups
Reese's pieces
(optional) Reese's minis
⅓ cup Reese's peanut butter chips
3 Tablespoons peanut butter
Line cupcake pan with paper liners, put an unwrapped Reese's peanut butter cup in each liner.
Mix milk with cheesecake mix according to directions. Spread cheesecake on top of each peanut butter cup.
Refrigerate for one hour or until set.
Melt Reese's peanut butter chips and peanut butter together in microwave, at about 15 second increments. Stirring in between.
Drizzle peanut butter mixture over the top of each cheesecake.
Garnish with Reese's pieces and Reese's minis.
Recipe by
The Domestic Geek Blog
at https://www.thedomesticgeekblog.com/reeses-peanut-butter-cup-crust-mini-cheesecake-recipe/