Hearty Chicken and Pumpkin Soup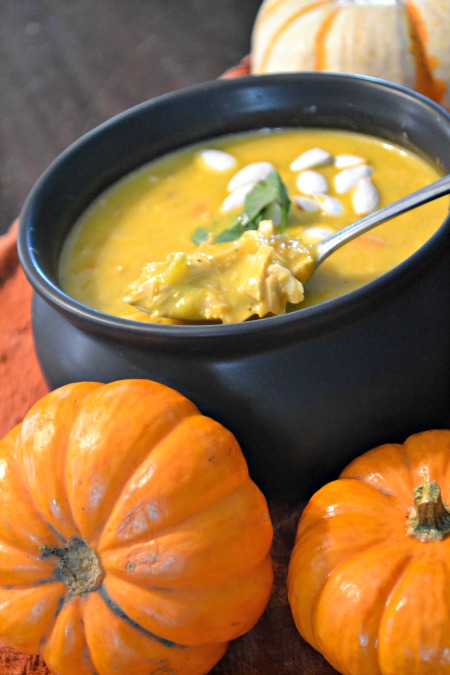 10-12 cloves minced garlic, divided
2-3 chicken breasts
6 tablespoons extra virgin olive oil, divided
1 cup finely chopped onion
1 cup diced celery
1 cup diced carrots
32 ounces chicken broth
15 ounce can pumpkin puree
½ cup heavy cream
salt and pepper to taste
¼ cup finely chopped fresh cilantro
1 cup shredded cheddar cheese
In a slowcooker add whole chicken breasts with 2 Tablespoons olive oil and 5-6 minced cloves of garlic. Let cook on low heat at least 6 hours, until chicken is cooked through and can be shredded with a fork.
Heat 4 Tablespoons olive oil in large pot over medium heat. Add onion, celery and carrots, stirring and cooking for about 10-20 minutes, until vegetables are softened.
Add 5-6 cloves of minced garlic and cook for 1 minute or until garlic starts to "speak."
Stir in chicken broth, pumpkin and cream.
Add chicken and cilantro.
Season with salt and pepper to taste.
Once soup has heated up enough to melt cheese, add a heaping cup of cheese.
Serve hot with pumpkin bread for the ultimate Fall comfort food.
Recipe by
The Domestic Geek Blog
at https://www.thedomesticgeekblog.com/hearty-chicken-and-pumpkin-soup/