When I'm just making dinner for Aliceana and myself, I like to keep it extremely simple. We don't need anything extravagant and by dinner time we're both exhausted. It's time to turn on a short cartoon and whip up something quick. One of my new favorites to make on our girls nights is this easy four ingredient mac and cheese. Everyone loves mac and cheese, and it's even better made from scratch.
I have to be honest, I wasn't sure how this 4 ingredient mac and cheese would taste, because one of the ingredients is sour cream (I've also made this recipe with heavy whipping cream, but I was all out since we made homemade whipped cream the night before.) I'm obsessed with the end result with that little extra tang that the sour cream provides and I'm so glad that I made it this way. We were even excited to eat this as leftovers, it was that good. This is probably the creamiest mac and cheese you'll ever have, and it's oh so cheesy!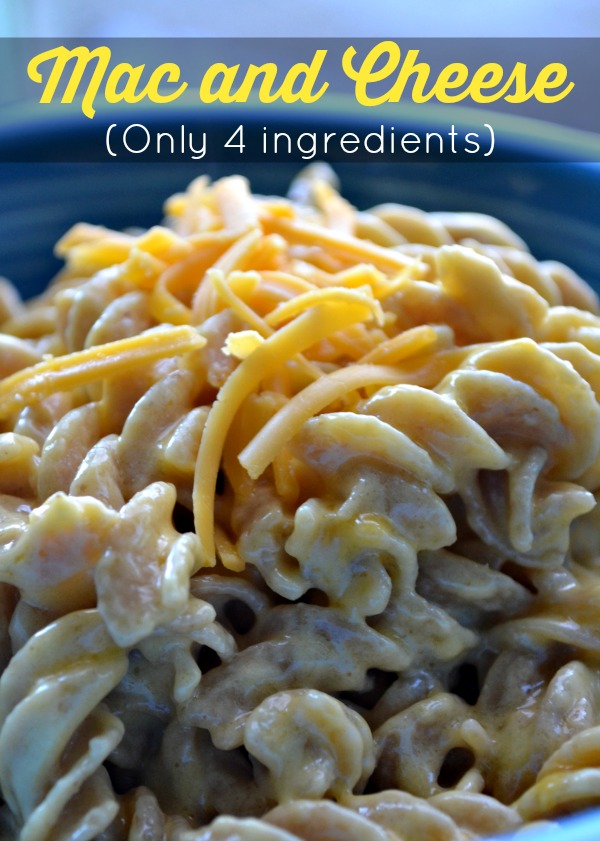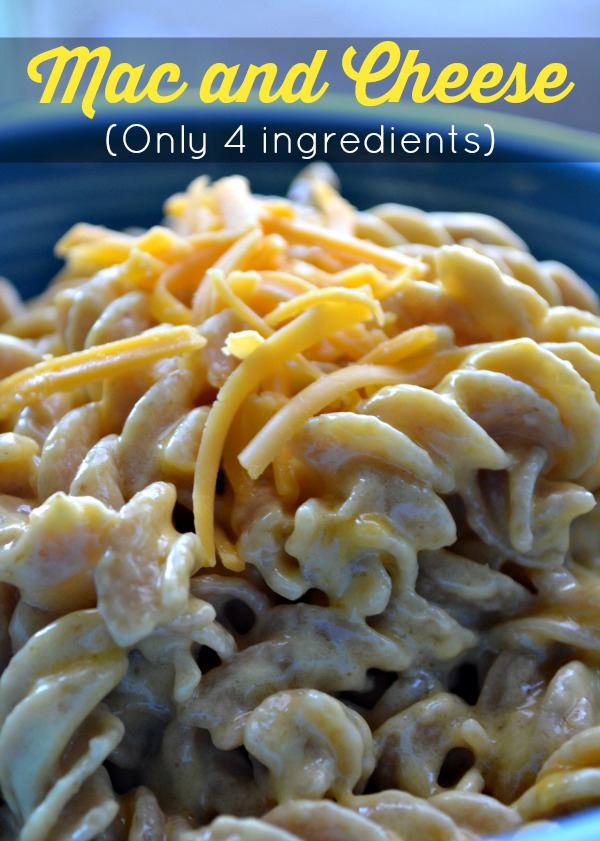 I used wheat pasta to make this a little healthier, and you can't even tell (other than appearance of course.) If you're concerned that your little ones won't eat this mac and cheese because it's not bright orange like the processed brands are (and you don't feel like blind folding them to eat dinner, as fun as that might be, ha!) I've read that you can grate carrots and add them to the boiling pasta to create an orange mac and cheese. I'm sure your kids will love this even without that orange color though, because really that's just a lot of work to fool your kids!
It's a family tradition to "soup-up" our mac and cheese with extra ingredients. Normally we add to the boxed macaroni and cheese, but hey why not kick up the real thing a few notches too? My favorite is adding a little bit of ground hamburger that I've browned and seasoned with salt, pepper, and garlic powder.  The secret is to completely finish making the four ingredient mac and cheese before adding any extra ingredients.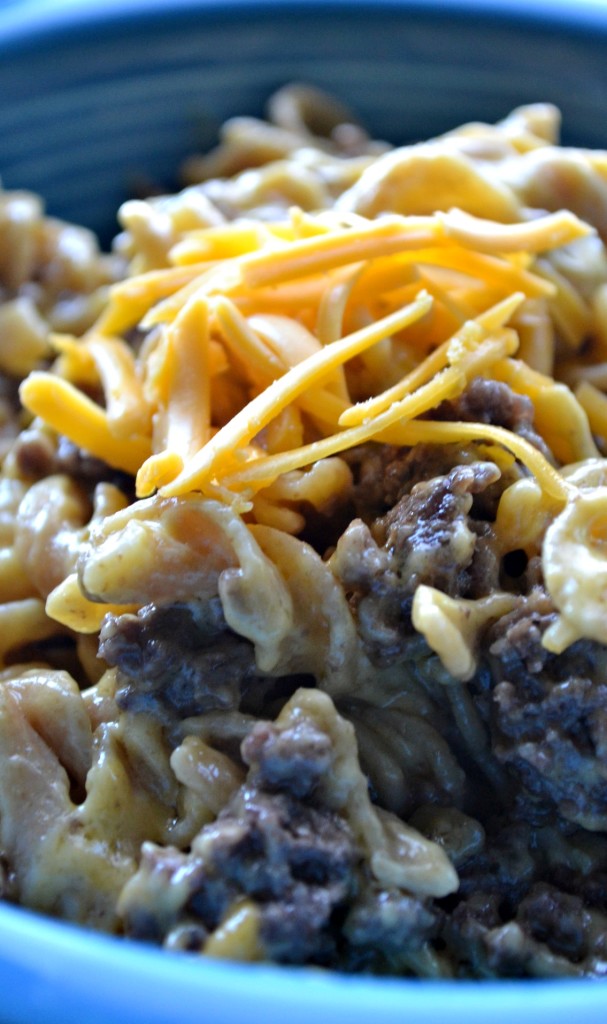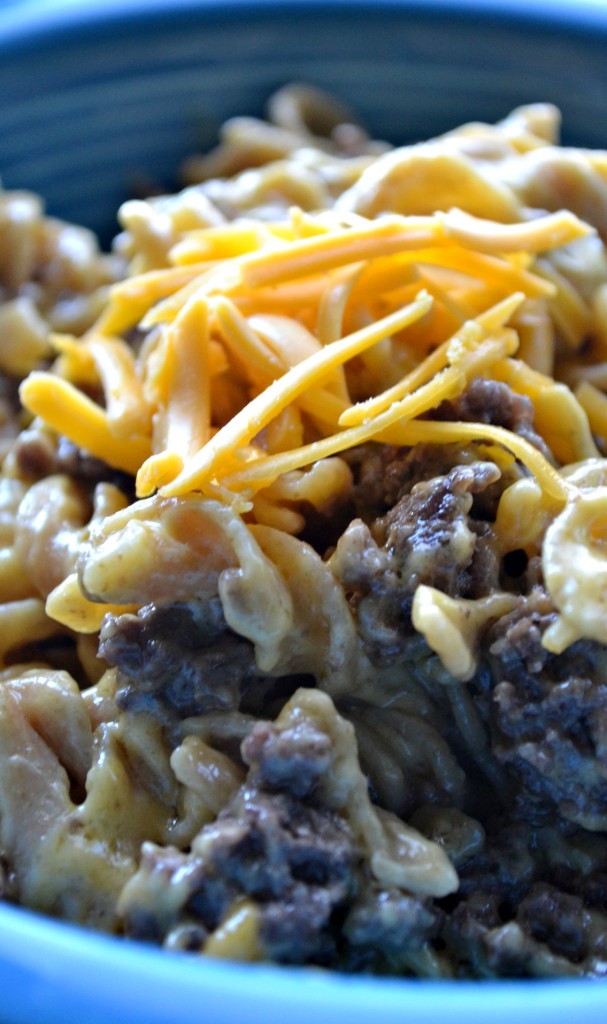 Now  that we've added seasoned hamburger our mac and cheese is more filling. Plus, it's going to go a lot further, which is awesome because, like I said before, these leftovers rock! AJ has yet to try this out when it's not reheated leftovers and I'm pretty sure this is still one of his new favorite meals.

I love that I found a new recipe for this easy four ingredient mac and cheese. Lazy weeknight meals are my favorite!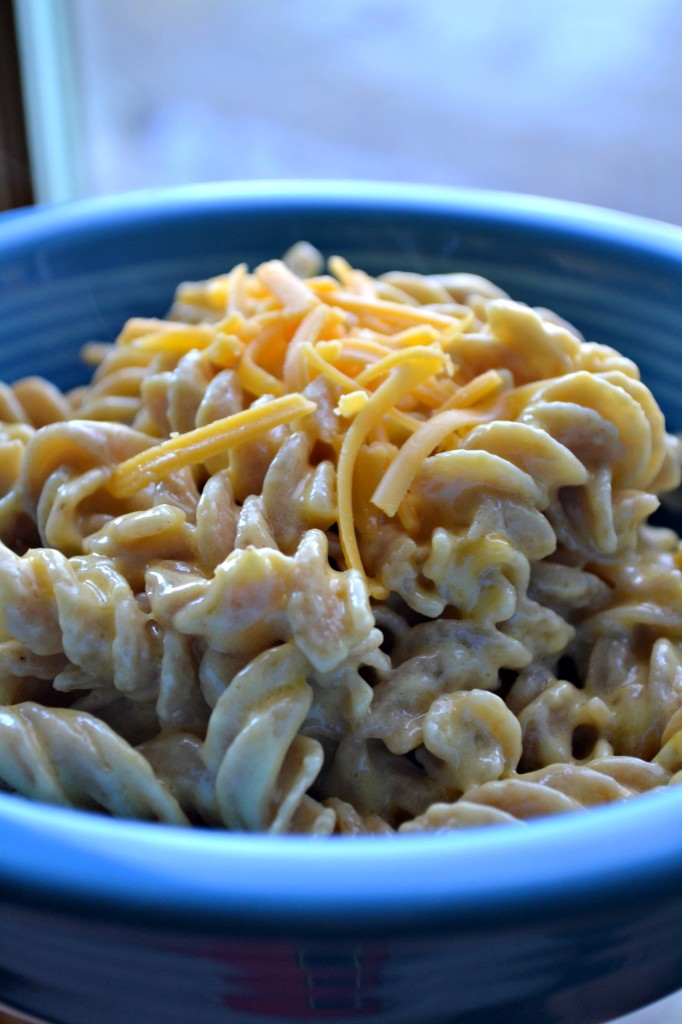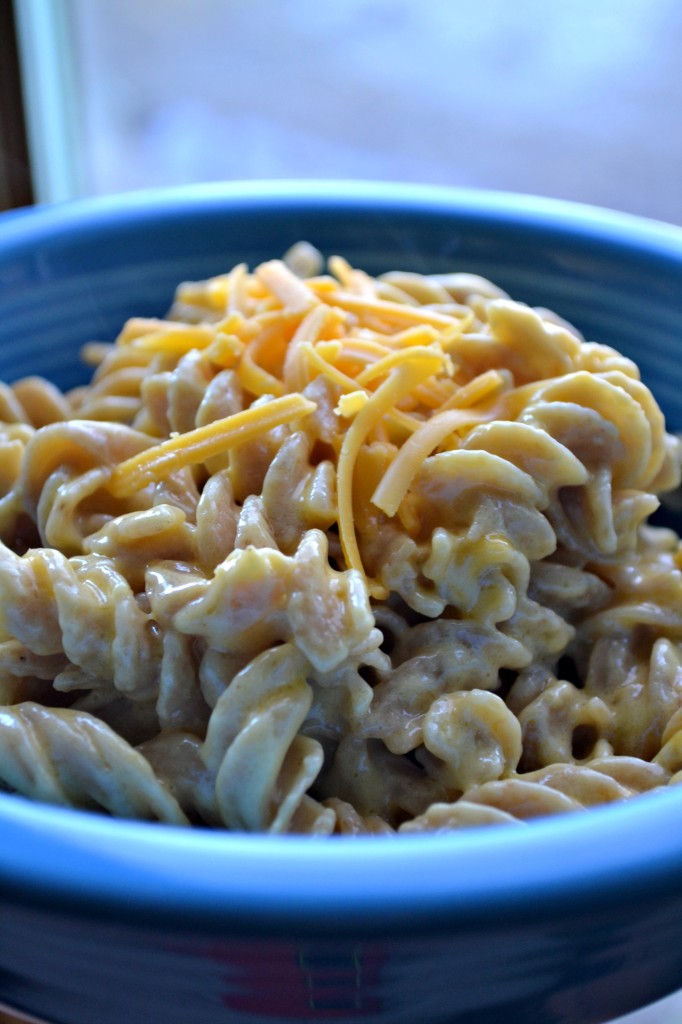 One quick tip, grate your own cheese! I use my food processor to make the job quick! If you buy block cheese it'll melt so much faster and more evenly. Trust me, I'm from Wisconsin, I know my cheese.

 
| | | |
| --- | --- | --- |
| Four Ingredient Mac and Cheese | | Print |
Ingredients
12 ounces Rotini (I use wheat)
½ cup butter
6 ounces sour cream
10 ounces cheddar cheese, shredded
Instructions
In a large stock pot prepare pasta according to package.
Once pasta is drained and returned to pot, reduce heat to medium-low and add butter. Stir until butter is completely melted.
Add sour cream and stir until coated.
Gradually add cheddar cheese and stir until completely melted.
Add salt and pepper if desired, serve immediately and enjoy!
How do you like to eat your mac and cheese? Do you add anything to give it your own tasty spin?
Written by, Brittany, the geek behind the blog. I share lots of recipes, my thoughts on the latest tech gadgets, my favorite geeky games, and snippets of life as a Work-at-home mom.