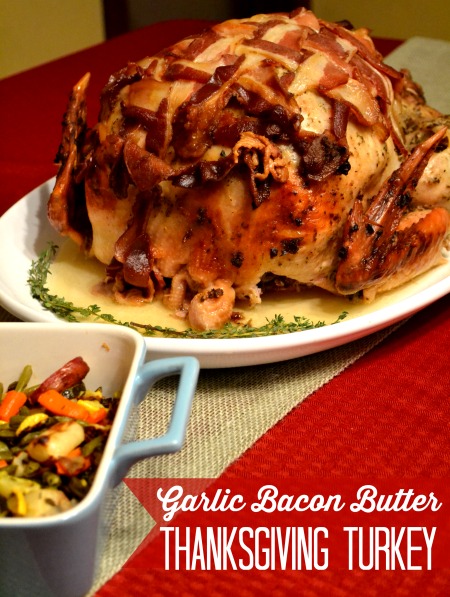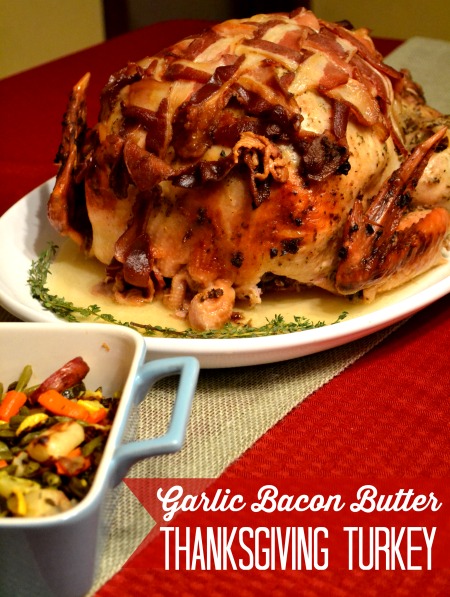 This year we held a little Thanksgiving gathering early, since it was so early I started calling it Fakesgiving. Even though it was only the beginning of November we still got to spend time with family that we're thankful for and we still had way too much food. The highlight of our meal was of course our delicious Garlic Bacon Butter Thanksgiving Turkey.
Our go-to turkey recipe was normally just olive oil and Italian herbs, well this year we decided to take it up a few notches and spread a homemade bacon butter all over the turkey, and wrap the turkey in a bacon weaved blanket. It was the most moist and flavorful turkey that I've ever tasted.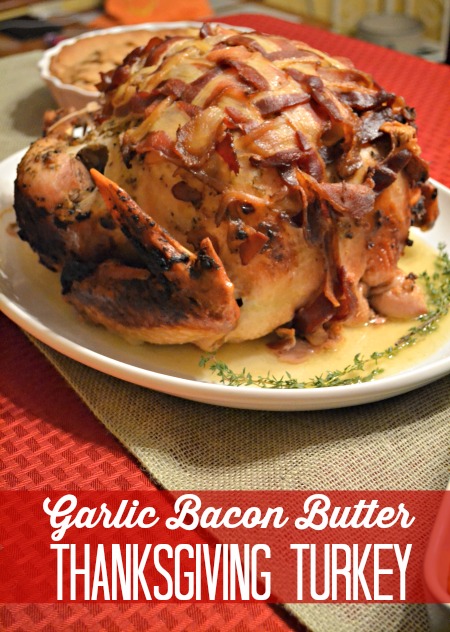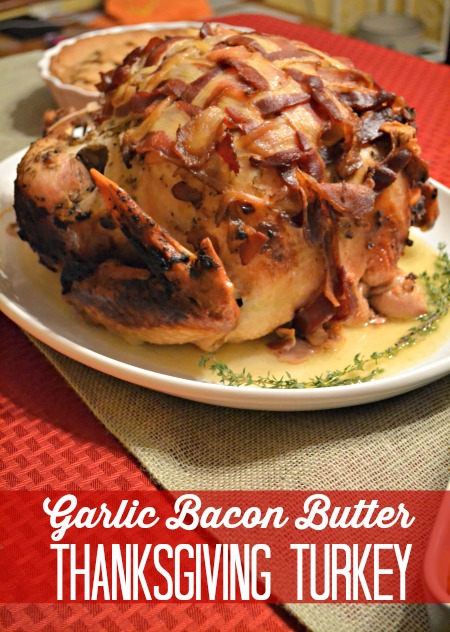 There are a few reasons why our Garlic Bacon Butter Thanksgiving Turkey  turned out so moist and delicious, first the garlic bacon butter. We used toes of garlic, butter, and raw bacon and seasonings to make a delicious rub for the turkey. We made sure to slather it under the skin, on top of the skin and even inside the cavity for the best taste. It's important to know that you can not eat this butter until after it's cooked on the turkey.
We also decided to use a roaster oven to cook our turkey, this way it was able to cook slower at a lower temperature all day long. It also meant we had free oven space all day to bake pies and side dishes. Oven space is like gold on Thanksgiving.
The third reason why this turkey turned out perfect was the bacon weave top. It helps prevent the bird from being dried out, it also looks and tastes amazing. Get ready to use your grade school weaving tactics again! Over and under, over and under..
This was definitely the best turkey we've ever made, and I'm thinking that this will be our new go-to Thanksgiving turkey recipe.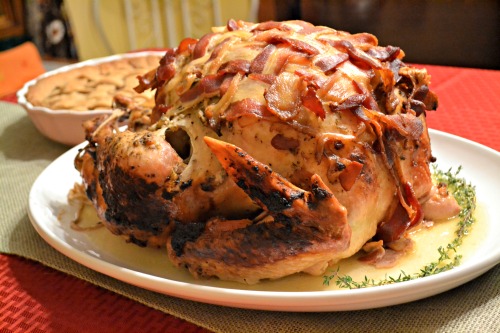 | | | |
| --- | --- | --- |
| Garlic Bacon Butter Thanksgiving Turkey | | Print |
Ingredients
1-2 pounds raw bacon
Turkey, thawed and pat dry (innards removed)

Garlic Bacon Butter
3 toes garlic
½ pound of butter
½ pound of raw bacon
2 teaspoons thyme
1 teaspoon basil
oregano
sage
Instructions
DIRECTIONS
In a food processor blend garlic bacon butter ingredients until smooth.
Slather a thick coat of garlic bacon butter under the skin of the turkey, in the cavity of the turkey, and on top of the skin of the turkey.
Weave bacon on top of turkey starting from the bottom and working your way up to the top. Tie legs together with kitchen twine.
Roast turkey in the roaster oven at 400* for an hour, reduce heat to 325* until turkey reaches 165* internal temperature (this took about 3 hours to cook our 20 pound turkey, check your packaging for guidelines on how long it will take.)
Let turkey rest for 20 minutes before carving.