We have included some affiliate links in case you need anything to help you make these awesome biscuits!
When I go to Red Lobster I'm mostly going for the garlic cheddar biscuits. I'm sure I'm not alone. Years ago I found a copycat recipe using Bisquick and I've been using it ever since. Then there's the box mix (which is almost as good) that you can actually buy in stores now, my Aunt brings them to every get together. Now that we cut out processed food I knew I needed to figure out how to make these completely from scratch.
So I made garlic cheddar biscuits from scratch,  I used white wheat flour and freshly grated cheese (we use this food processor for all of our shredding) and it was delicious. This is a perfect way to get your picky eaters to eat whole wheat, the garlic and cheese do a great job at covering up the wheat taste.
I love how simple these garlic cheddar biscuits are to make, just mix the ingredients and drop them on a cookie sheet. When they're done brush them with melted garlic butter and you have the tastiest, most savory biscuits that you'll ever make from scratch.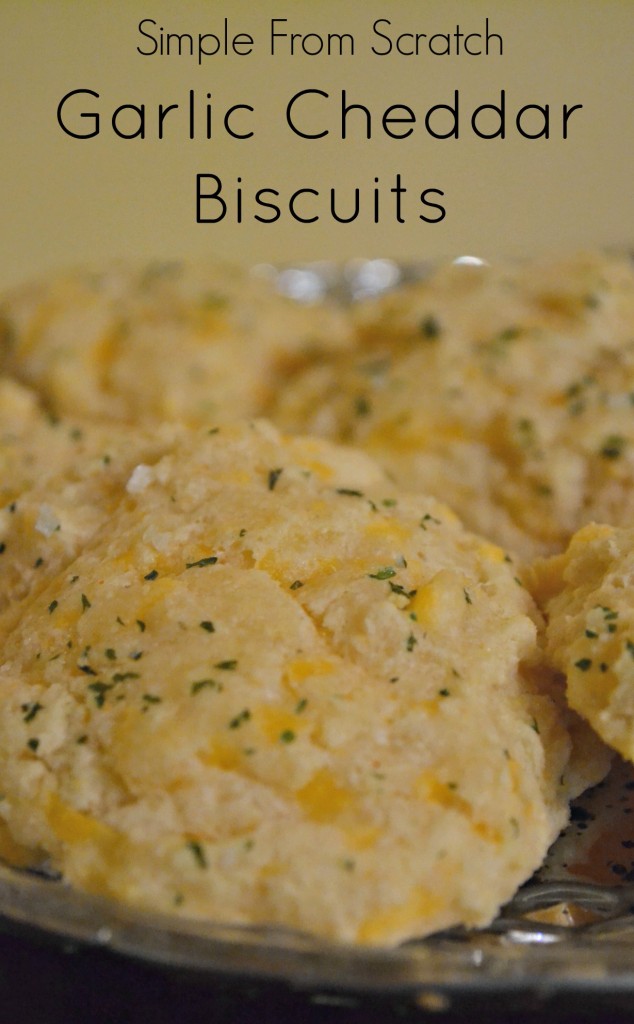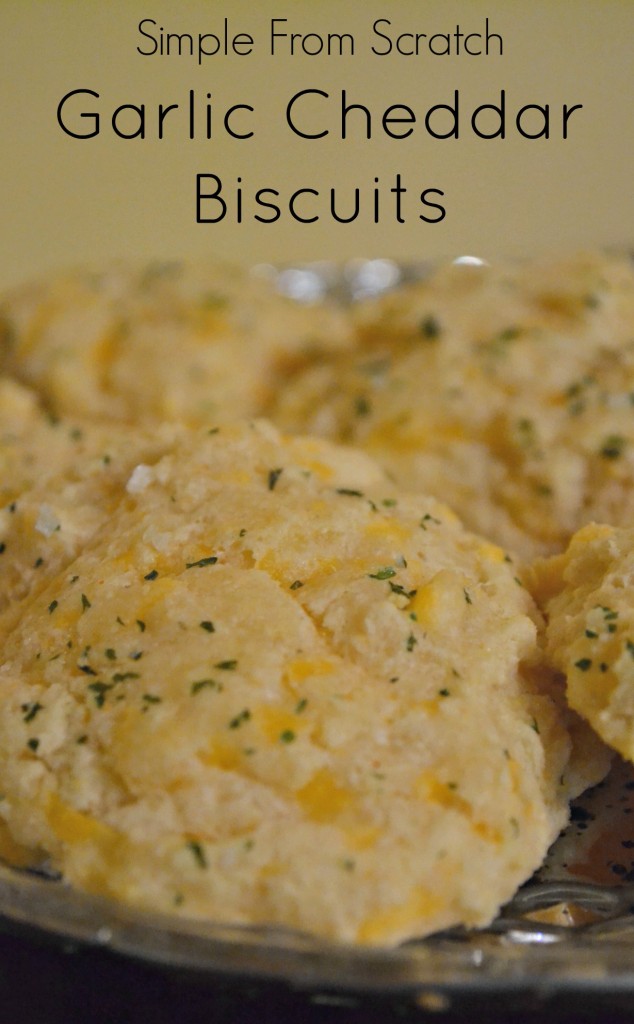 I will warn you that it's impossible to avoid taking second and third helpings of these biscuits. If you have a big family,  do yourself a favor and double the recipe. If you somehow manage to have leftovers they're just as good reheated in the microwave for 10 seconds.
To give these some authenticity and the real Red Lobster feel I served these alongside garlic parmesan crusted shrimp scampi. It was the perfect date night dinner! I halved this biscuit recipe, but wish I didn't we could have eaten a whole batch between us.
To make this a real food recipe I used white whole wheat flour and made baking powder (2 parts cream of tartar, 1 part baking soda.)
| | | |
| --- | --- | --- |
| Simple From Scratch Garlic Cheddar Biscuits | | Print |
Prep time:
Cook time:
Total time:
Ingredients
1 cup flour
2 tsp baking powder
½ tsp salt
½ tsp garlic powder
1 cup shredded cheese
½ cup melted butter
½ cup milk
(topping)
2 TBSP butter
½ tsp garlic powder
pinch of parsley
Instructions
Preheat oven to 350*.
Mix all the ingredients together in a large bowl.
Drop them on a greased cookie sheet (should make 12 biscuits.)
Bake for 18-20 minutes.
Melt butter in microwave, add garlic powder and parsley. Brush on top of biscuits.
Serve warm.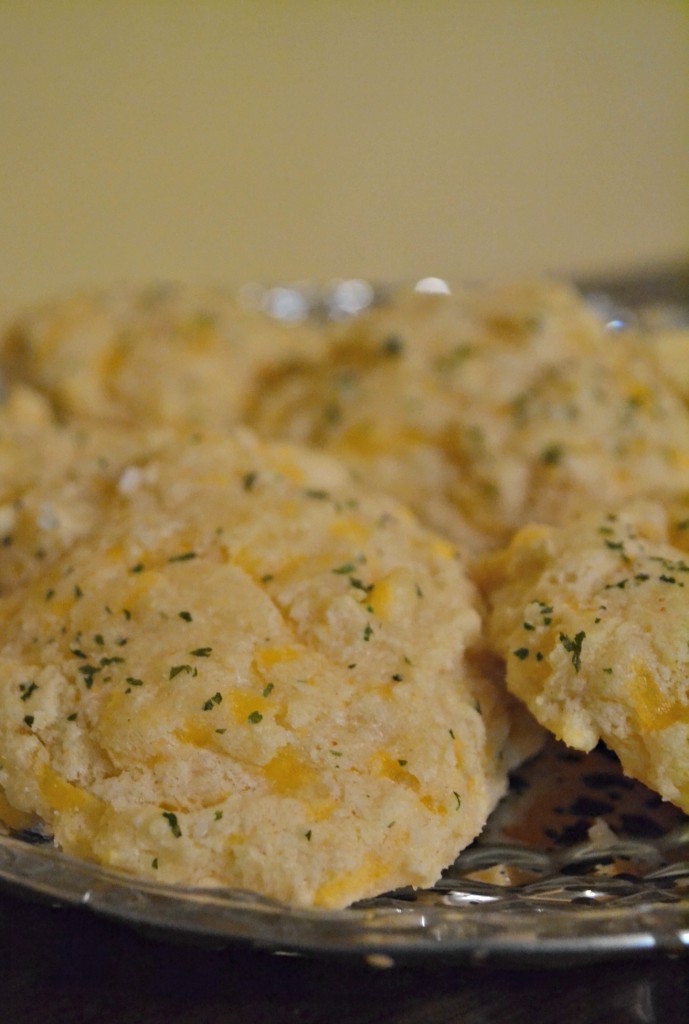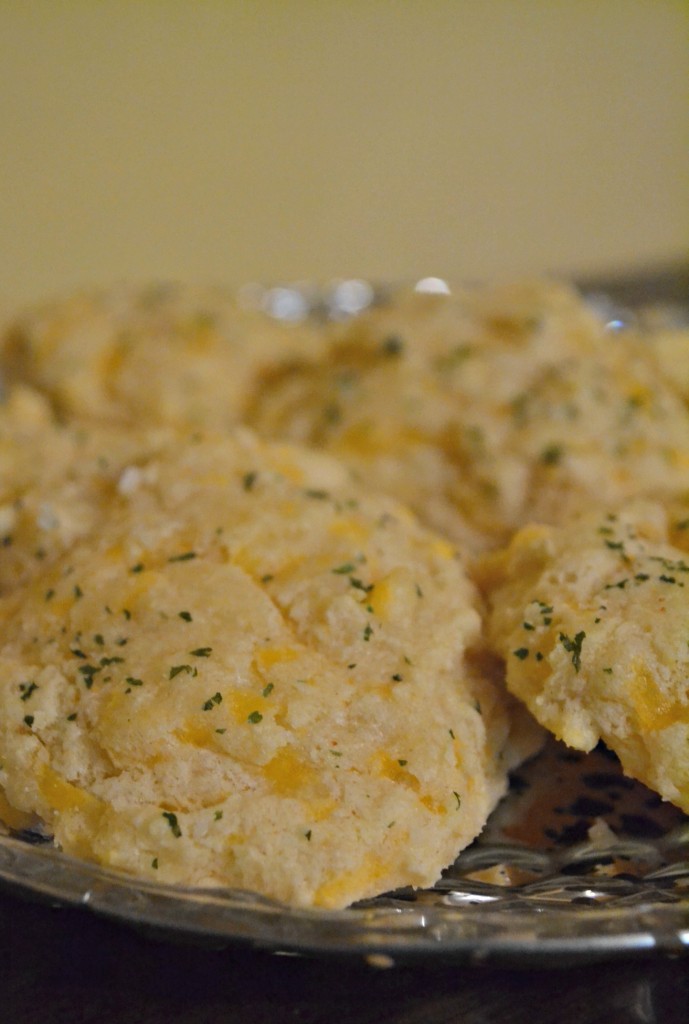 What's your favorite home cooked date night food?
Written by, Brittany, the geek behind the blog. I share lots of recipes, my thoughts on the latest tech gadgets, my favorite geeky games, and snippets of life as a Work-at-home mom.