If you know me, you know I love to cook and bake from scratch. I'm not crazy though, you won't find me making from scratch pop-tarts or Girl Scout cookies…at least not yet. I do love making things like homemade pie crust and taco seasoning, because who wants mystery ingredients in their pie crust when you can make it with 4 simple ingredients?
So I did it again. My favorite recipe for garlic cheddar bay biscuits calls for Bisquick mix, but I don't want to buy a pricey mix that includes ingredients that I can't find in my kitchen. So I whipped up my own batch of homemade Bisquick baking mix.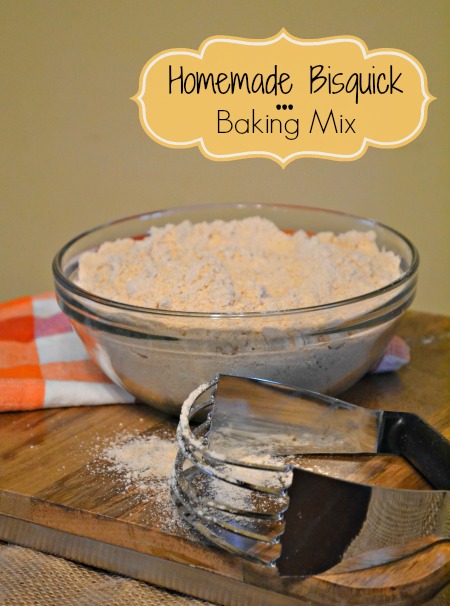 You won't believe how incredibly simple this is. It only takes 4 ingredients (flour, baking powder, salt, and butter.) To make homemade Bisquick baking mix you'll want a food processor, or if you're really old school you'll use a pastry cutter.
I seriously love my pastry cutter, I've been using it for about 6 years and it probably (ok, definitely)  needs to be replaced, but I just don't have the heart to get rid of my trusty old pastry cutter. I use it on a weekly basis. Maybe I'll just buy an extra pastry cutter and cycle between the two. I'm loving this Stainless-Steel Pastry Blender
from Williams-Sonoma
(seriously, stainless steel and it has a thumb tab for extra comfort. Ok, no hard feelings good ol' pastry cutter but this guy is going in my cart. Psst, those are affiliate links.)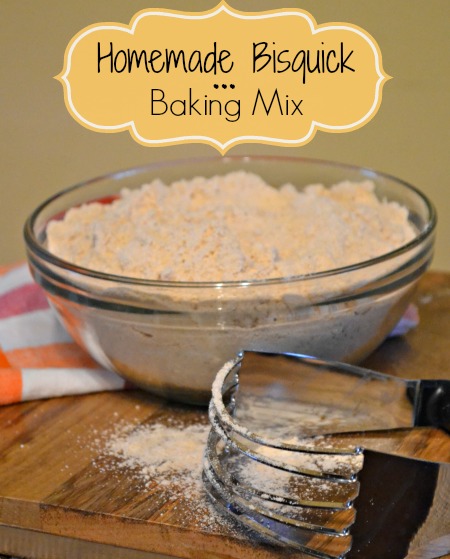 Once you make your homemade Bisquick baking mix the possibilities are pretty endless. You make biscuits, pizza dough, pancakes, waffles, and more. I'll be showing you my favorite use for Bisquick tomorrow, in my Simple From Scratch Garlic Cheddar Bay Biscuits.
| | | |
| --- | --- | --- |
| Homemade Bisquick Baking Mix | | Print |
Ingredients
4 cups flour
2 Tablespoons baking powder
2 teaspoons salt
4 Tablespoons butter
Instructions
Either pulse all ingredients together in a food processor or cut butter into dry ingredients in a bowl using a pastry cutter.
Store in an air tight container and freeze to keep up to 2 months.