This post contains affiliate links to help keep our site running.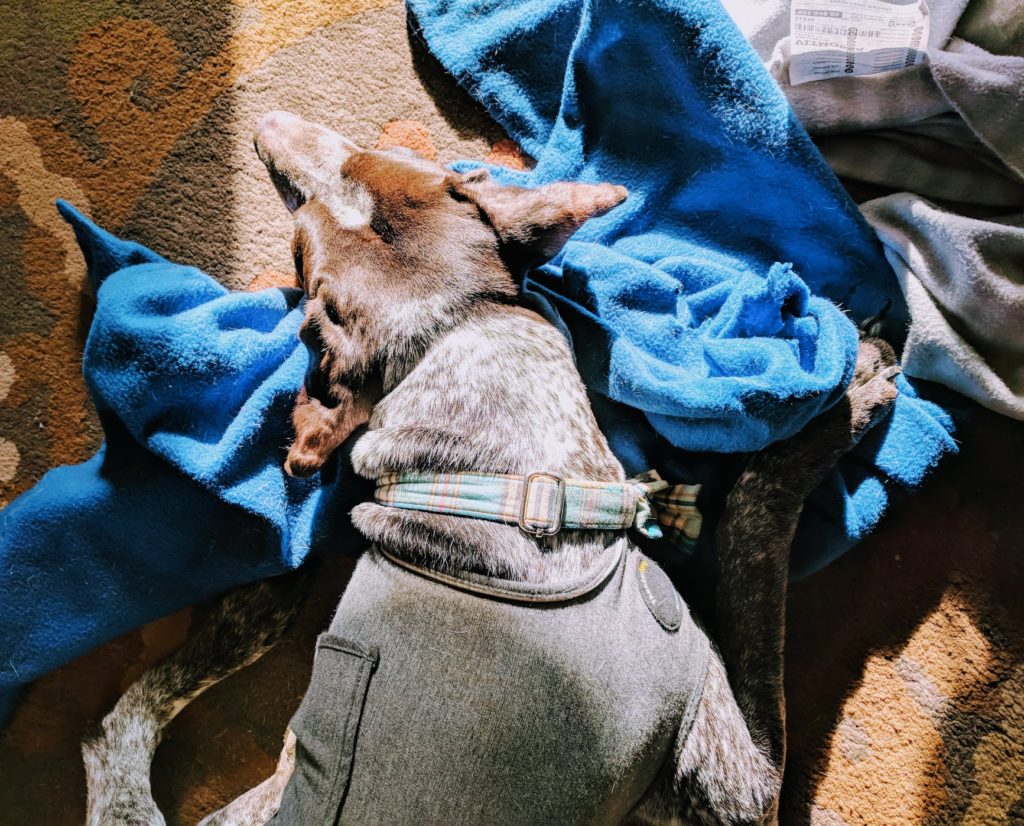 They say dogs take after their owners, and I have to say that Trio definitely takes after me. He's absolutely gorgeous, food motivated, loves napping more than anything, and he has crippling anxiety. My dog, a German Shorthaired Pointer, is a hot mess, we're working with our vet because not only does he have anxiety, he has allergies, and he's a bit underweight too. His anxiety includes; crying all of the time, yawning, and restlessness. Our vet suggested the Thundershirt
over taking anxiety medications or calming treats.
So we tried it, and to our surprise Trio absolutely loves it. Everyday he wags his tail so hard when he sees us going for the Thundershirt, and then he calmly sits down and waits for us to put it on. Of course we can't put it down when he's sitting so we have to get him to stand up, but he's so excited that he dances around instead of standing still. Putting the Thundershirt on at first was a chore, but now we have it down pat, even with a dancing dog. It's secured by velcro in several places, and each velcro spot is covered by fabric so your dog won't stick to the couch or anything crazy like that.
The Thundershirt isn't a miracle, he still cries often, but it's taken the edge off a bit. I can tell the difference in his mood when he has the shirt on vs when he doesn't. He cries a little less and can relax a little bit more. We actually let him wear it all day long from morning until bedtime.
I think the reason the Thundershirt really works for him is because he's really clingy. He wants to be attached to someone at all times and would sit in your lap in almost any circumstance, even though he's over 50 pounds and his legs are so long it looks like we're being squashed by a baby deer when he does sit on us. He always has to sit on us too, not next to us, but on top of us. He also loves blankets, covering himself up with them, dragging them around the house, nibbling on them for comfort. The first picture of this post is Trio, with both of his personal blankies and his Thundershirt, just a normal afternoon in the dining room. So it makes sense that he loves to be swaddled in his Thundershirt.
I wish it would have gotten rid of a bit more of his anxiety, but I see his relief when he wears it and that's worth the $40 for me.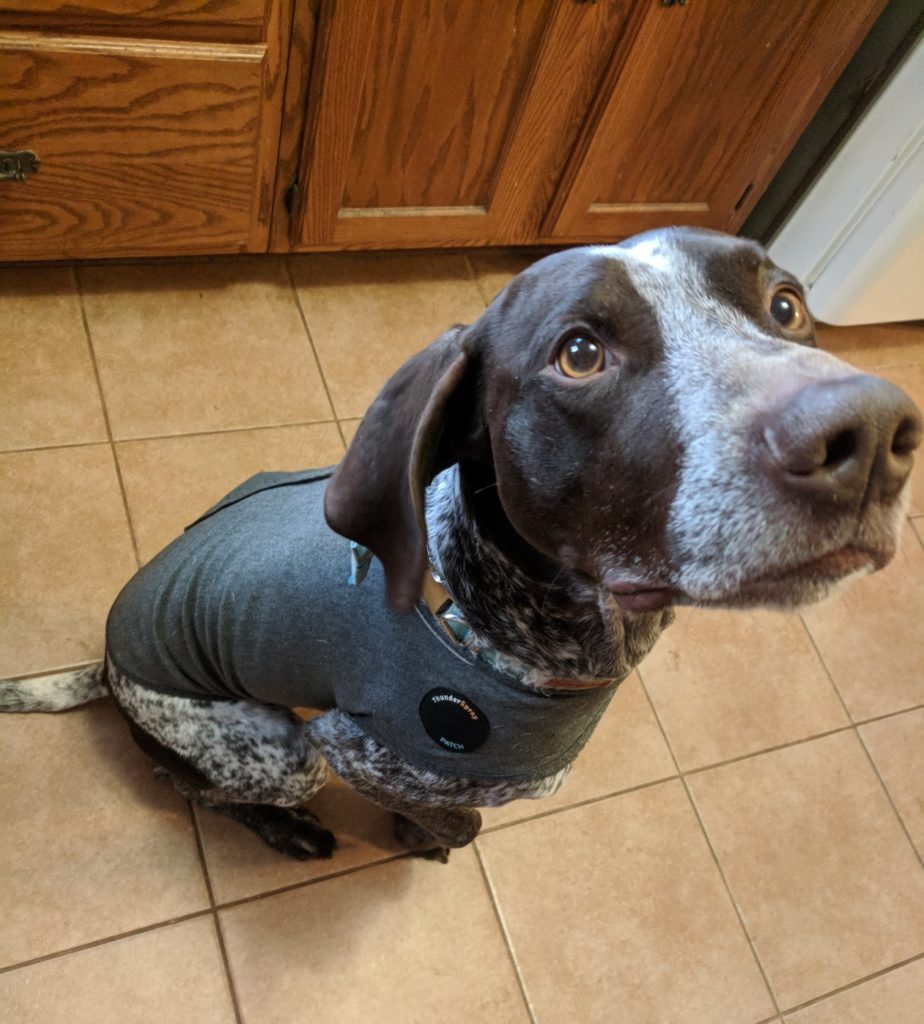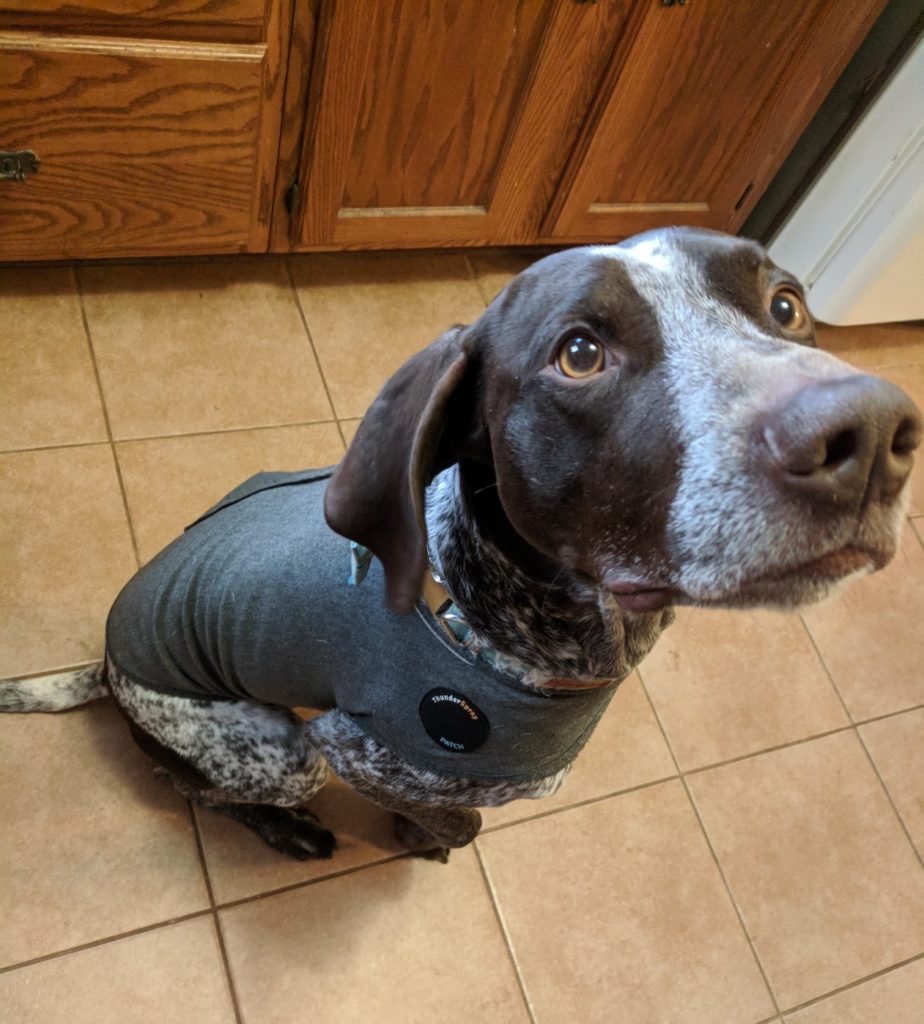 Do you have an anxious doggy? Have you tried the Thundershirt
yet?
Written by, Brittany, the geek behind the blog. I share lots of recipes, my thoughts on the latest tech gadgets, my favorite geeky games, and snippets of life as a Work-at-home mom.