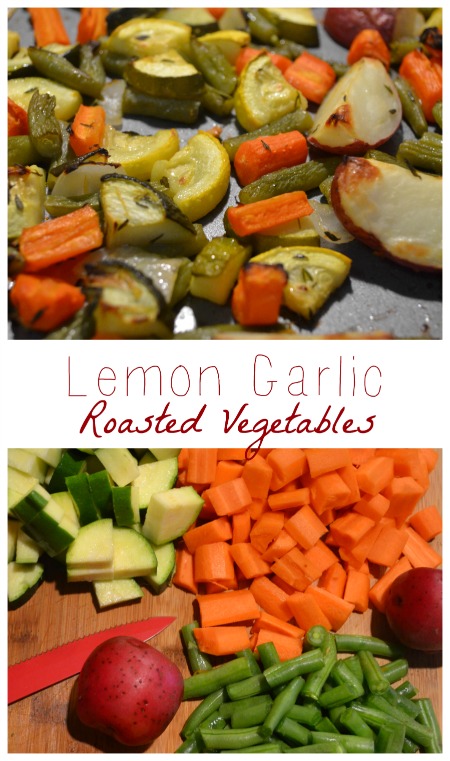 The holiday season is full of menacingly delicious dishes that are waiting around every corner to give you a heavy punch to the stomach and make you double over with gluttonous agony. From mashed potatoes and stuffing, to coma inducing turkey there are heavy foods on every plate just waiting to fill you up and put you in a sleeper hold. As much as we love these foods they tend to fill us up quickly and send us to the couch for a halftime nap. This easy recipe for lemon garlic roasted veggies can help cut through the heaviest foods.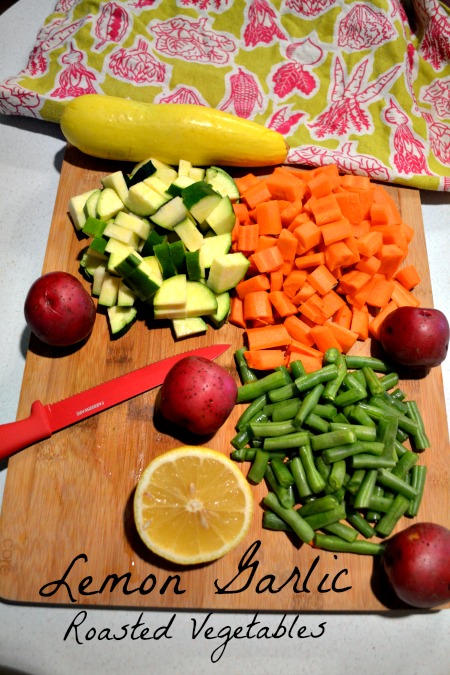 This is a very simple side dish but its bright flavor and great acidity can really offset those heavy gut filling traditional sides. This is a very light and delicious medley of vegetables that are lightly roasted with garlic, lemon, and thyme. Toss them with a little olive oil before seasoning and spread them on a cookie sheet and bake at 450 for 10 to 20 min depending on your oven, just keep an eye on them until they are nice and golden brown and you can easily poke them with a fork.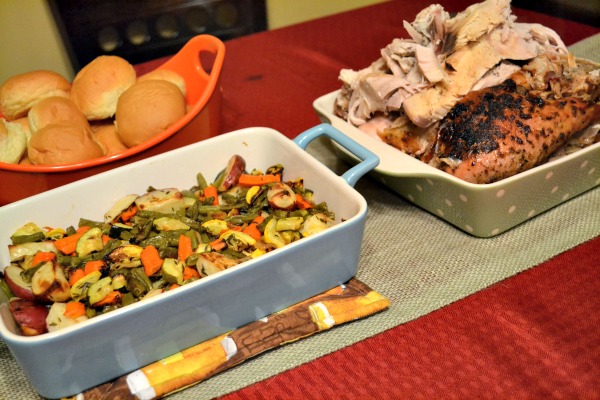 Everyone at our table loved these veggies and asked for the recipe, it was such a nice change and something that no one was really expecting. The lemon really gives the veggies an awesome flavor, Brittany does not stray very far from the usual veggies but even she ate all of the zucchini and summer squash that she normally would not have touched! We used the juice and zest of one lemon for our batch of veggies which was the perfect amount, it gave them the right amount of acidity without taking away the natural sweetness of the vegetables. This holiday season try replacing one of those heavy hitters with this light and flavorful dish and I guarantee your guests will be very thankful!
| | | |
| --- | --- | --- |
| Lemon Garlic Roasted Vegetables | | Print |
Prep time:
Cook time:
Total time:
Ingredients
1 zucchini
1 summer squash
1 large onion
1 pound carrots
½ pound green beans
½ pound red potatoes
¼ cup Olive Oil, or enough to coat vegetables
Juice and zest of one fresh lemon
1 teaspoon sea salt
1 Tablespoon fresh thyme
2-3 cloves garlic, minced
Instructions
Preheat oven to 450
Clean and slice all vegetables to bite sized pieces
In a large bowl add all chopped vegetables and olive oil, toss to coat veggies.
Add fresh thyme and sea salt
Zest the lemon into the bowl of veggies
In a separate bowl slice lemon in half and squeeze juices out, then remove the seeds
Add lemon juice to vegetables and mix well
Spread veggies out on cookies sheet and bake for 15 to 20 min or until vegetables are tender and lightly browned. Enjoy!
Tell me what your favorite holiday side dish is.