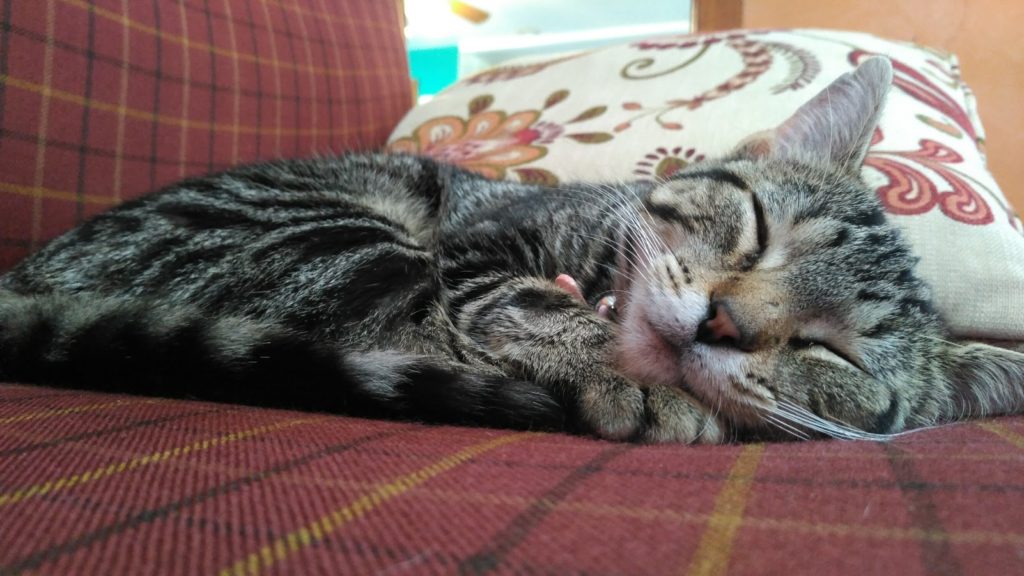 It all started a few weeks before Easter when Aliceana said that she wanted a cat for Easter. It was a strange request coming from the dog loving almost five year old, so we naturally said, "Nope, you have a dog and a cat already." Then the Thursday before Easter, after a particularly crappy day of running errands, we came home and as we were unpacking our groceries this adorable little kitten decided to follow us everywhere. She followed us around our car, up our porch, and was begging to be pet, she did take a short break in trying to get our attention to try to hunt a bird, but quickly came right back to us. She let us pick her up and we were able to bring her in the house with no problem. We went through all of the protocols to make sure she didn't belong to someone else, and it definitely appears like she's been on the run for a lot of her little life judging by the little notch missing in her ear and the scratch on her nose, not to mention her love for hunting everything from the birds that she peers out at through our windows and she also likes to hunt things like sausages off of pizzas. We took her for a kitten check up and the vet determined that she is just 5 months old.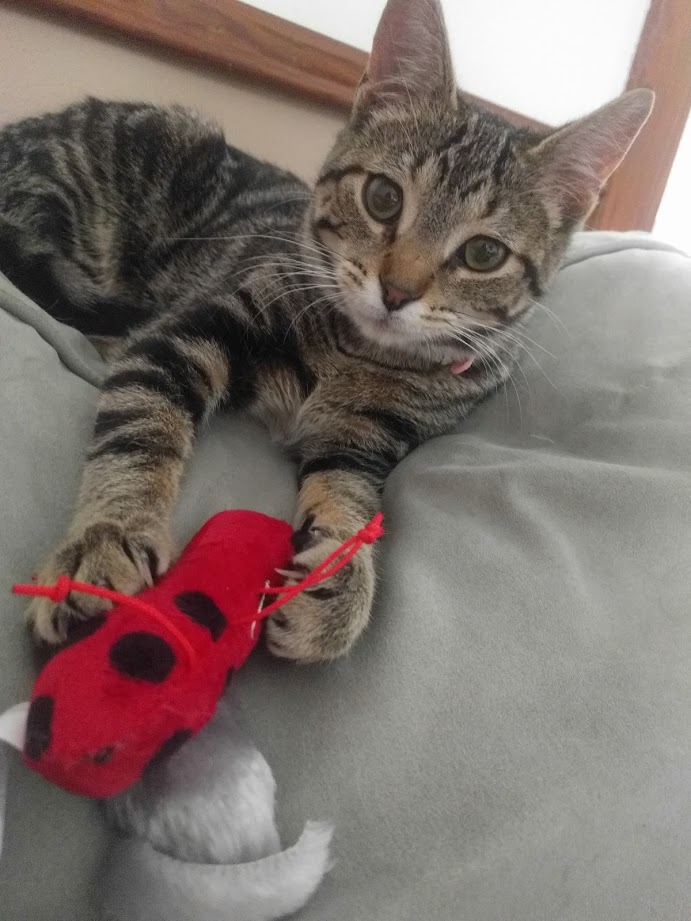 She was a part of our family very shortly after she made our way into our home, and Aliceana chose the name Lucy after The Beatles song (Lucy in the Sky with Diamonds,) yes, that means our cat is basically named after LSD. Darn you The Beatles.
She's extremely playful, but also loves her fair share of cuddles. If only we could stop her alarm clock feature, she wants us all to be up and awake at 4 AM, since that's when AJ gets up on his earliest work days, she thinks that's a good time for us to get up everyday.
She's adorable and having a kitten has definitely changed the dynamic around the house for our pets, Princess loathes Lucy while Trio and Lucy have become fast friends.