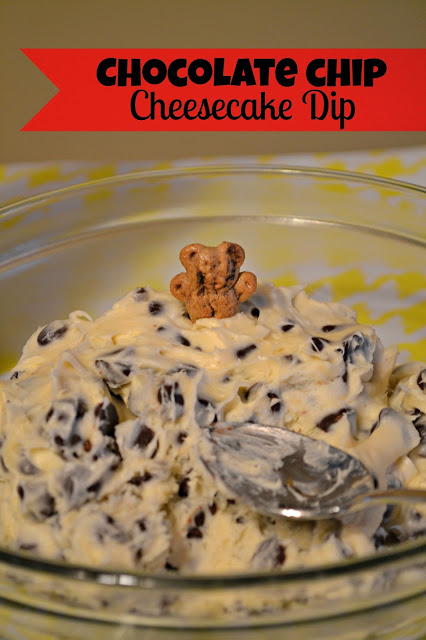 Chocolate Chips make everything better, who doesn't smile at the taste of a freshly baked chocolate chip cookie? I know if I'm baking something chocolate and I have spare chocolate chips in the cupboard, you better believe I'm putting some in the batter.
 I advise that you make this amazing, addicting, and simple recipe for…
Chocolate Chip Cheesecake Dip.
Oh, yeah. I went there.
This dip is such a hit with everyone, especially my picky younger family members. They loved it, and devoured it at family gatherings. AJ and I have been known to devour this as well. If you're making this for a group of people just go ahead and double the recipe. We've made this dip on so many occasions, it's the perfect easy, crowd-pleasing dessert.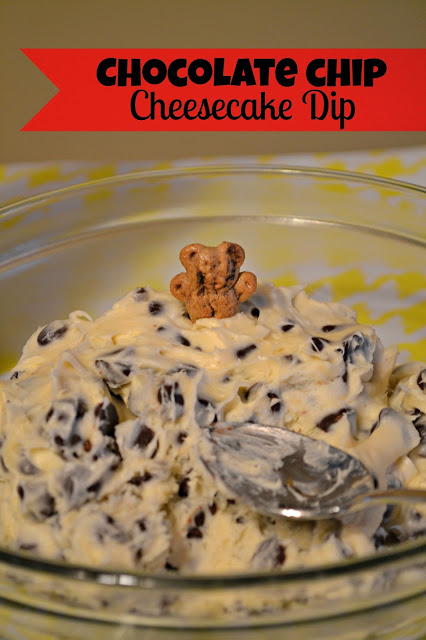 So if you didn't realize that today is National Chocolate Chip Day, hurry off to the store and make this epic dessert immediately. National Chocolate Chip Day is the perfect excuse for a sweet treat. For extra chocolate chip goodness I used chocolate chip Teddy Grahams for dipping.
| | | |
| --- | --- | --- |
| Chocolate Chip Cheesecake Dip | | Print |
Ingredients
½ cup butter
8 ounces cream cheese, softened
2 Tablespoons Brown Sugar
¾ cup powdered sugar
1 teaspoon vanilla
1 cup chocolate chips
Teddy Grahams (for serving)
Instructions
Beat butter and cream cheese until smooth. Add sugars and vanilla and mix well.
Fold in chocolate chips.
Chill in covered container in refrigerator, at least 2 hours before serving.
Serve chilled with Teddy Grahams.
Enjoy!
Written by, Brittany, the geek behind the blog. I share lots of recipes, my thoughts on the latest tech gadgets, my favorite geeky games, and snippets of life as a Work-at-home mom.