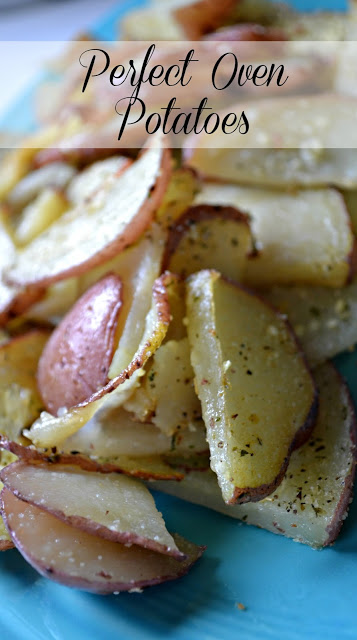 I am obsessed with potatoes. I love the idea of oven fries or oven potatoes, but they never seem to work for us, we have to bake them for well over an hour and they're never cooked evenly. It drove me nuts, oven potatoes shouldn't be rocket science!
Through years of trial and error I finally figured out the best way to make oven potatoes (rather quickly too!) I make a couple times a week, Aliceana loves them too!
We're sometimes oh-so sophisticated in our household and make these potatoes with dinosaur chicken nuggets for lunch.
The secret to making perfect oven fries? Ironically, it's the microwave!
I love this easy and delicious recipe, and hope you do too! Enjoy!
| | | |
| --- | --- | --- |
| Perfect Oven Potatoes | | Print |
Ingredients
4-5 Red Potatoes
1 Tablespoon Olive oil
Pinch of garlic powder
Parmesan Cheese
Instructions
Directions
Prep and slice red potatoes into thin slices. Place them in a microwave safe bowl, coat in olive oil by stirring gently.
Microwave the potatoes in olive oil for about 3-5 minutes, or until they start to soften.
Spread potatoes evenly onto a cookie sheet, season the potatoes with garlic powder (or seasoning of choice.)
Bake at 400* for 15 minutes.
Flip potatoes, add parmesan cheese and bake for another 10 minutes, or until potatoes are tender.
How do you prepare potatoes in a hurry?
Written by, Brittany, the geek behind the blog. I share lots of recipes, my thoughts on the latest tech gadgets, my favorite geeky games, and snippets of life as a Work-at-home mom.