I just read in a magazine that if you buy a nice blender it deserves a home on your counter so you'll remember to use it. Well, we have a nice blender the Pampered Chef Deluxe Cooking Blender and it's been used at least once a day since we bought it. My husband and I have been planning our morning smoothies the night before, it's serious business.
Last night we planned on a tropical smoothie. Coconut Greek yogurt, frozen mangoes, sweetened coconut, and a banana. Then we realized that we had a pineapple that needed to be eaten up so we put half of that in there too.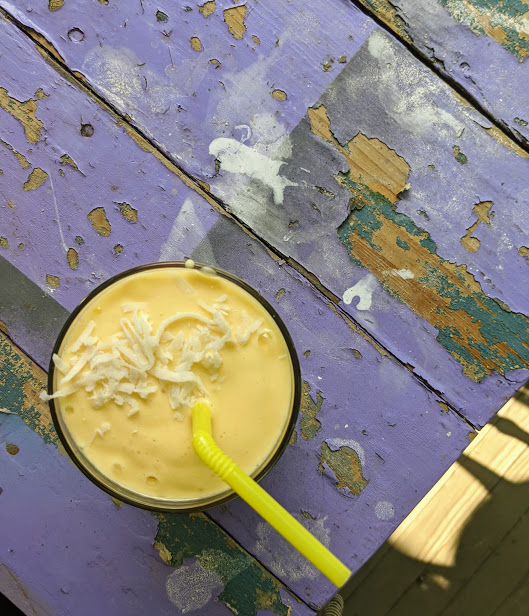 Starting the day with a smoothie is great, we're full until lunch, we're getting lots of dairy and fruit in our diet. I have more energy, and I even lost a couple pounds. I don't think I'll ever go back to carb heavy breakfasts again, sorry toast and english muffins.
Best base recipe for smoothies with milk and Greek yogurt
Our current go-to for smoothies is to start with 2 cups of whole milk, 16 ounces of frozen fruit, 5 ounces of Greek Yogurt, and a banana. We'll add extra fruit or add ins like oats.
The best way to slice pineapple
I love fresh pineapple, but it can be a total pain to slice. I made fun of my husband when he asked for the Pampered Chef Pineapple Wedger  Now that I've used it, I'm convinced it's the best way to slice pineapple, and we will definitely be stocking up on pineapples to grill! Cut off the top and bottom and use the wedger. Your pineapple will come out in two perfect pieces to slice how you would like.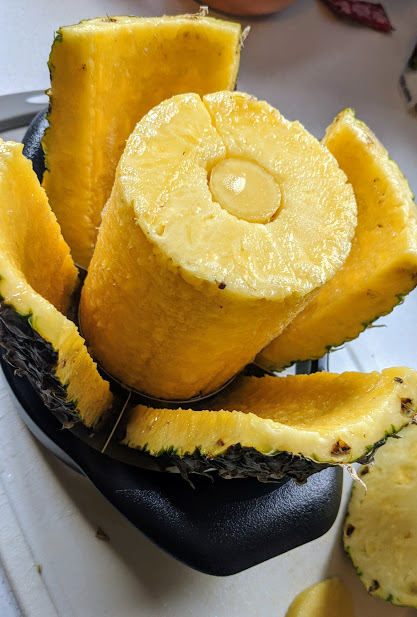 Pineapple Mango Coconut Smoothie Recipe
Here's the recipe, we meant for it to serve 2, but it serves 3 or 4 because we added so much fruit!

| | | |
| --- | --- | --- |
| Pineapple Mango Coconut Smoothie Recipe | | Print |
Ingredients
2 cups whole milk
5 oz coconut Greek yogurt
10 oz frozen mango
½ pineapple
1 banana
2 tablespoons sweetened shredded coconut
Instructions
Place ingredients in blender, make sure the frozen mango is on the bottom.
Blend on smoothie setting until smooth.
Serve right away.
Written by, Brittany, the geek behind the blog. I share lots of recipes, my thoughts on the latest tech gadgets, my favorite geeky games, and snippets of life as a Work-at-home mom.