Have you ever had excess pumpkin puree in your cupboard and had no idea what to do with it? You might have overestimated how much you actually needed, or maybe it was a buy one get one special. You could whip up my four ingredient flaky pie crust, or you could make these delicious little Pumpkin Pie Bites.
These pumpkin pie bites have the pumpkin pie taste that you love, but without the fuss (and crust.) Personally, I love pie crust, but both AJ and my mother said that they normally don't like the crust in pumpkin pies and prefer these bites. I loved these and didn't mind the absence of crust. Top these with homemade whipped cream (whipped cream that's so simple and so good that you'll never buy store bought again!) and you have yourself a terrific Fall treat.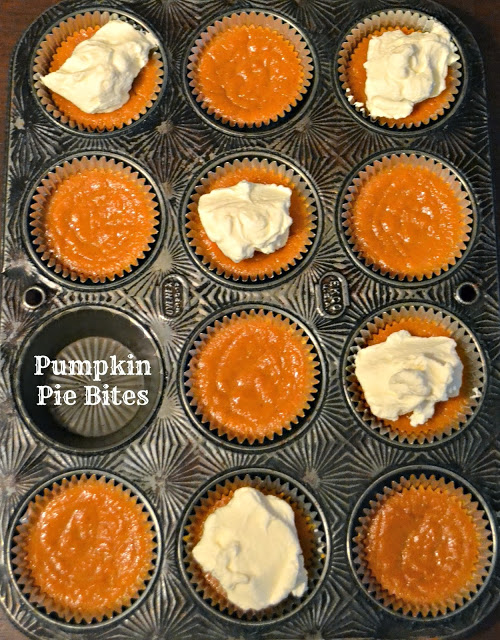 Ingredients
15 ounces Pumpkin Puree
½ cup sugar
¼ cup brown sugar
2 large eggs
1 tsp vanilla
¾ cup evaporated milk
⅔ cup flour
1 tsp pumpkin pie spice
¼ tsp salt
¼ tsp baking powder
¼ tsp baking soda


For Whipped Cream Topping
8 ounces heavy whipping cream
Sugar (to taste, about 1 TBSP at a time)
Instructions
Spray foil cupcake liners with cooking spray, preheat oven to 350*.
Beat together pumpkin, sugar, brown sugar, eggs, vanilla, and evaporated milk.
Add flour, pumpkin pie spice, salt, baking powder, and baking soda to pumpkin mixture, beat until combined.
Fill prepared muffin cups ¾ full, bake for 25-30 minutes.
Cool on counter top for 30 minutes, then let chill in refrigerator for 30 minutes.
Meanwhile whip heavy whipping cream until thickened, add sugar gradually and continue to whip until whipped cream is the desired consistency and sweetness.
Serve each pumpkin pie bite with a dollop of homemade whipped cream and enjoy!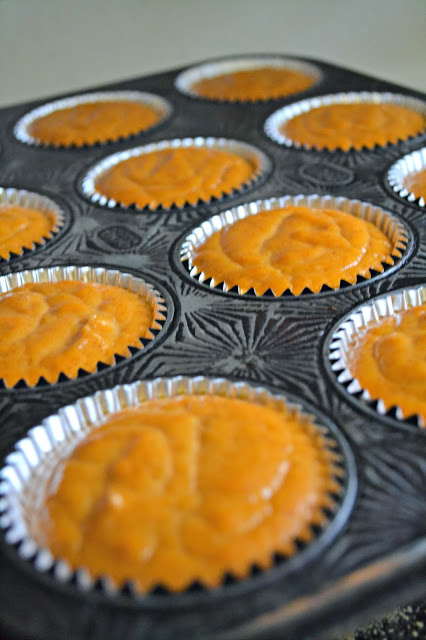 Below you'll find affiliate links to great products to help make (and beautify) this recipe!