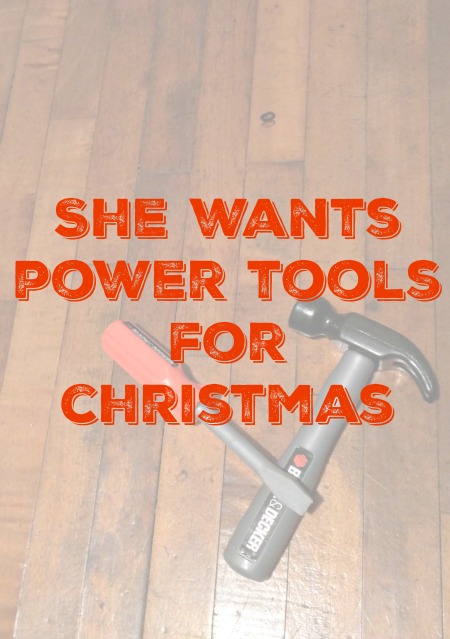 She wants power tools for Christmas and she's persistent on it! When we went to a Christmas parade Aliceana saw Santa and immediately after she said, "He didn't have my power tools yet."
Santa visited my Aunt's house on Thanksgiving, we heard his sleigh bells, but alas, no power tools yet.
Honestly, I'm just happy she hasn't changed her mind. I can barely stick to one thing that I want for Christmas, so I don't know how a 3 year old does it.
She's always loved toy tools, she got a set last Christmas actually, but then one day we went to Target and she realized that they had toy power tools too, and honestly, she probably just thinks they'll be more productive when she's pretending to fix our house. We're all about ROI (return on investment) over here.
To be honest, she would probably be happy on Christmas day with just a set of power tools, if she behaves and Santa delivers, that is.
..but I'm an enabler, and bought her too many other things. She's also getting the Peppa Pig camper set, Revvit our favorite Reptool from Dinotrux, Marshall with his awesome firetruck, Everest and her rescue snowmobile, and Rider with the Paw Patroller.  Her Paw Patrol toys are her favorite, and I'm so happy that we're completing her set. Until a few months from now when they release another line of toys, that is.
It's getting to be that time, where we get to go meet the big man in red, and I'm betting she'll be asking him 100 questions about her power tools.
Oh, the holiday season from the eyes of a three year old, it's just so darn perfect.