We have included some affiliate links in case you need anything to help you make these awesome biscuits!
I have a pretty popular recipe for Garlic Cheddar Biscuits that's been pinned almost 20,ooo times (that's a lot!) They're really delicious, but they don't rise as much as I would like. So I decided to go back to my favorite ever Red Lobster copy cat recipe for Simple From Scratch Garlic Cheddar Bay Biscuits. I've been making this recipe since the days of our very first, not-so-great apartment
The biggest difference between the two recipes is that this version includes Bisquick baking mix. I don't like having to run to the store to buy Bisquick to make these, so I made my own homemade Bisquick mix. It was so simple, 4 ingredients and a food processor and you'll be on your way to your own Bisquick baking mix. (I can't wait to try this mix to make pancakes!)
In this recipe you cut butter into the Bisquick mix with a bit of garlic powder. Then you add milk and cheese, mix the biscuits by hand and drop the biscuits onto a greased pan. Easy enough, right?
Then you add some melted garlic butter to the tops for savory goodness. The same kind that has you lingering at Red Lobster for 2…3….4 baskets of those glorious biscuits. My grandma used to go to Red Lobster just to pick up a few batches of biscuits to go.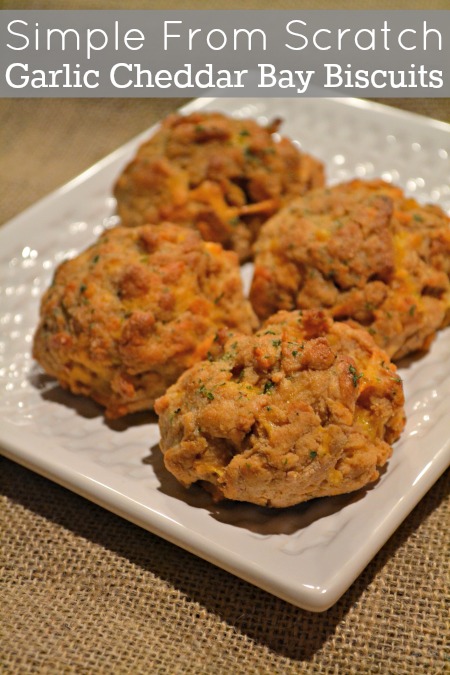 I use white whole wheat flour  in my Bisquick mix so my biscuits turned out a little on the darker side, but don't worry they still had the same great flavor.
These are great served with sea food, pasta, and last week we even made these with chili. They were a huge hit. If you have extra biscuits these taste amazing reheated in the microwave for about 15 seconds.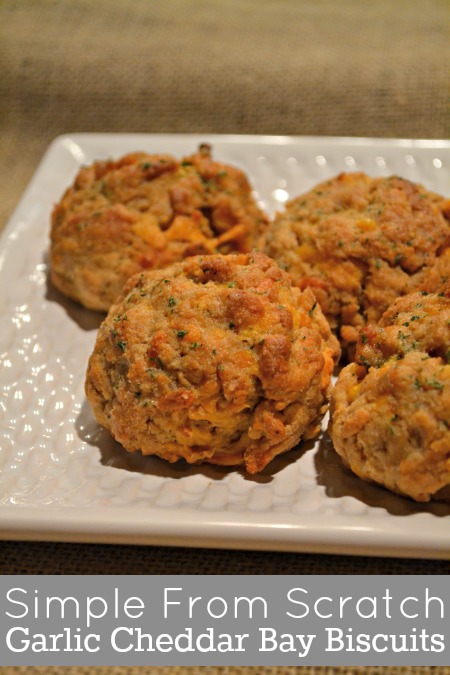 | | | |
| --- | --- | --- |
| Simple From Scratch Garlic Cheddar Bay Biscuits | | Print |
Prep time:
Cook time:
Total time:
Ingredients
2½ cups Bisquick mix
4 Tablespoons cold butter
¾ cups milk
¼ teaspoon garlic powder
1 cup grated cheddar cheese
2 Tablespoons melted butter
¼ teaspoons parsley
½ teaspoon garlic powder
pinch of salt
Instructions
Preheat oven to 400*.
Combine Bisquick, garlic powder, and cold butter with pastry cutter until mixture resembles corn meal.
Stir in cheese and cold milk by hand until combined.
Drop ¼ cup portions of dough onto greased cookie sheet using ice cream scoop.
Bake 15-17 minutes, or until biscuits turn golden brown.
Combine topping ingredients, brush on top of warm biscuits and serve.