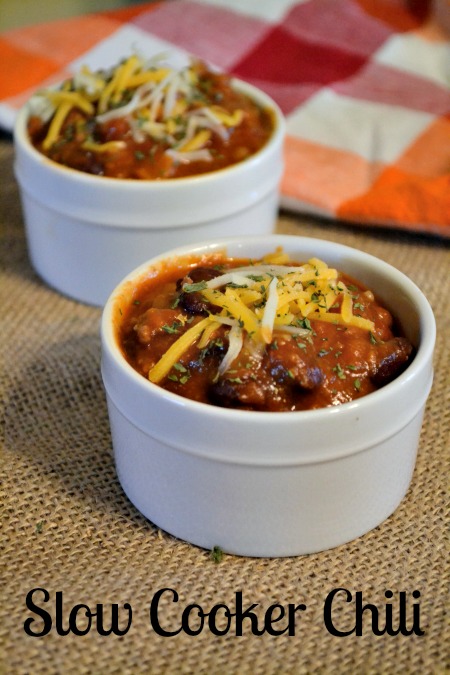 Chili has always been one of my favorite foods to make as well as to eat, for me it signifies the change in seasons and it is such a blank canvas that is really fun to work with. Chili can be sweet, it can be spicy, or it can be somewhere in between, noodles or no noodles, chili can really become an extension of yourself. It is also a great way to learn some basic cooking skills and how flavors work together.
 For me real chili has no noodles, it is full of meat and beans, has a nice spicy kick to it, and disappears quickly! Whether you use ground beef, ground venison, or even chunks of stew meat, seasoning the meat is the most important aspect of making good flavorful chili. All of your seasonings will really come through when you season the meat as you brown it, I always brown the meat first and cook my peppers and onions with the meat. Be generous with your seasonings especially when using ground beef because you will lose some of the flavor when you drain off the grease. If you are using straight ground venison (not mixed with pork or beef) or stew meat it is usually so lean that there is no grease to drain off so you don't need to go as heavy on the seasonings.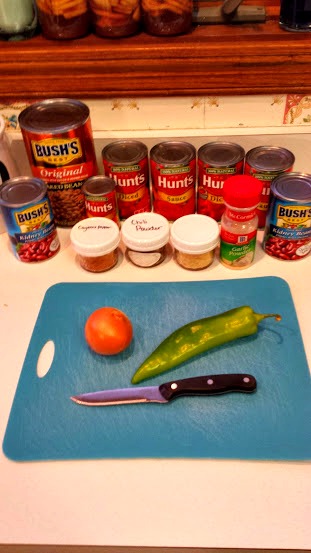 I like a spicy chili so when I make chili that's spicy I like to use one habanero for the whole batch of chili, I said I like spicy, not my mouth is an active volcano spicy, so I just use one! If you want to tone down the spiciness here is a list of peppers that I have used for chili from hottest to least hot: hottest is the habanero, next is the jalapeño, followed by the serrano pepper, and the least spicy pepper I have used is the anaheim pepper. I use anaheim peppers in the chili I make for the whole family because they are not overpowering and I can always add cayenne pepper powder to make it just the right hotness.
 For this batch of chili I used one can of tomato sauce and one can of tomato paste and the thickness was pretty good, I do like a thick chili so next time I might add another can of paste. This is another reason chili is so much fun to make, each time you make chili it is a little bit different than the last time. This is one of those recipes that I have never really written down and even now that I have it written here I will still only use it as a base recipe and keep experimenting with it. Chili is very forgiving and you can adjust the taste as it cooks by adding different seasonings. Like I said before you must season the meat first but you will also have to add more seasonings to the entire batch once all the ingredients are combined.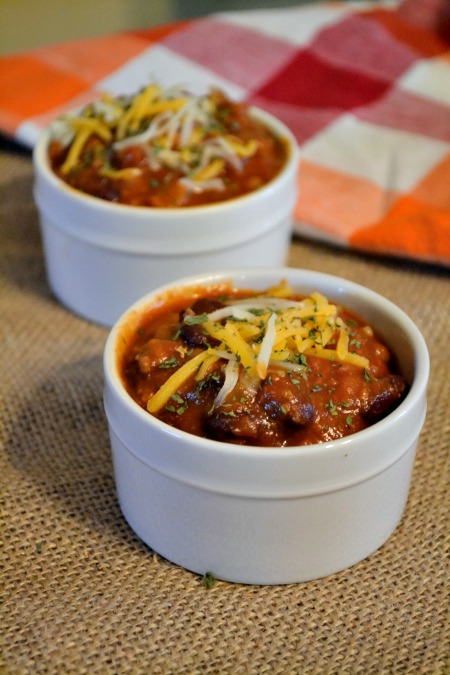 Another tip that will help make the flavor of your chili really stand out is to cook it slowly all day long in a slow cooker. I brown the meat and season it, cook the peppers and onions along with the meat, then combine all the ingredients into the slow cooker and put it on the lowest setting. I start in the morning when we are having chili for supper or sometimes even the night before and let it cook slowly, the longer it cooks the better the flavors blend together. You should taste it several times as it cooks to make sure the flavor is evolving the way you want it to, not spicy enough add some cayenne pepper, not sweet enough add some brown sugar which will also help to thicken it if it is too runny. Chili is a good first recipe for someone who has not had much cooking experience, for those of us who have been cooking for many years we just throw some of this in the pot, a pinch of that, a dash of this, and then taste it, follow your tongue to a great recipe. As my grandma used to say "never trust a skinny cook", and I guarantee you I am far from skinny because of all the "tasting" I do while I am cooking and baking!
Ingredients
Seasonings for meat
2 Lb ground beef, ground venison, or stew meat
1 onion chopped
1 pepper seeded and chopped (anaheim, serrano, jalapeno, habanero)
1 tsp garlic powder or 3-4 cloves fresh chopped garlic
1 tsp onion powder
½ tsp sea salt
½ tsp black pepper
¼ tsp chili powder
pinch of cayenne pepper

Chili ingredients
1 15oz can tomato sauce
1 large can tomato paste
2 cans diced tomatoes
2 cans dark red kidney beans drained
1 large can baked beans
Instructions
In a large skillet add the meat, chopped onion, chopped pepper and all seasonings, cook over medium heat until meat is browned and veggies are tender.
Once meat is browned add to a large slow cooker
Make sure kidney beans are drained and then add all chili ingredients to the slow cooker and mix until well combined
Let cook on lowest setting for several hours to allow flavors to blend
Stir and taste throughout the day and add seasonings according to your taste. Enjoy
Please share your favorite chili experience!