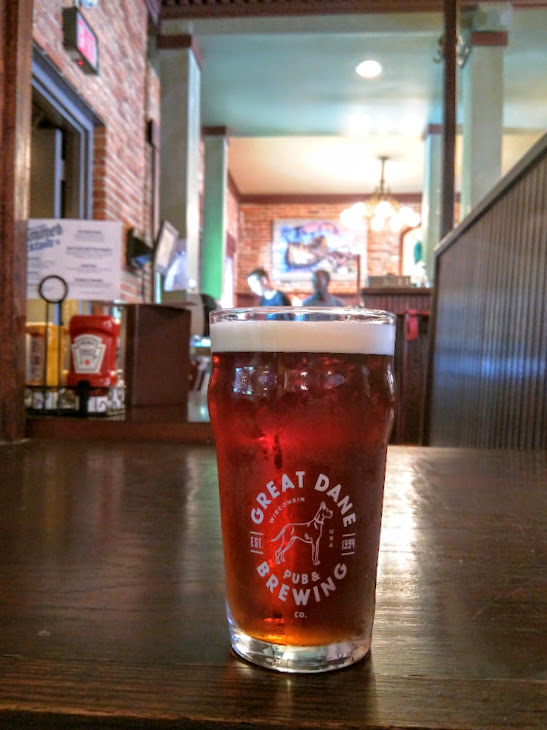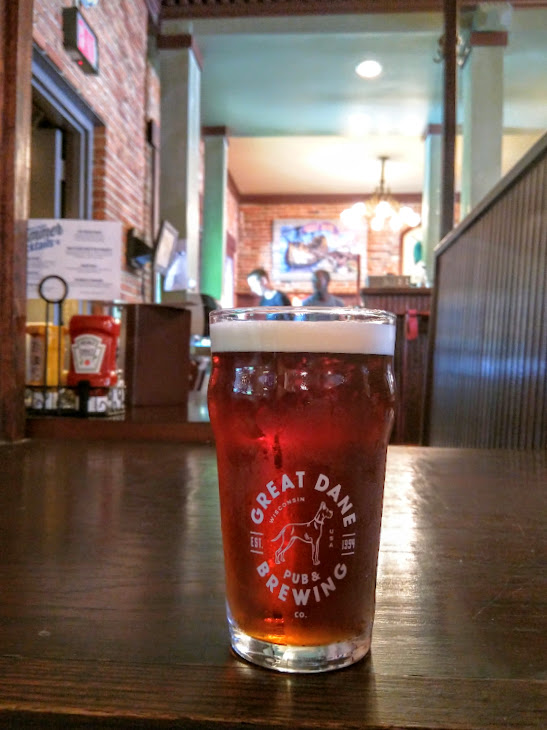 When I think of brew pubs I instantly think of The Great Dane, it's the golden standard for brew pubs and I can't get enough of it. The first time we went to The Great Dane in Madison it was almost 5 years ago, we were going to a concert at the Majestic theatre in downtown Madison and before the show we decided to grab a bite to eat at the flagship Great Dane.
We've been going ever since, and we've been to many brew pubs, but nothing quite compares to The Great Dane.
They have the most epic burgers, the kind where you're not sure how you're going to pick it up off your plate, let alone actually take a bite. Our go-to burger is the Texarkana which is topped with sharp cheddar, BBQ sauce, Applewood bacon, haystack onions and chipotle cream cheese. It's basically the you've died and gone to heaven burger.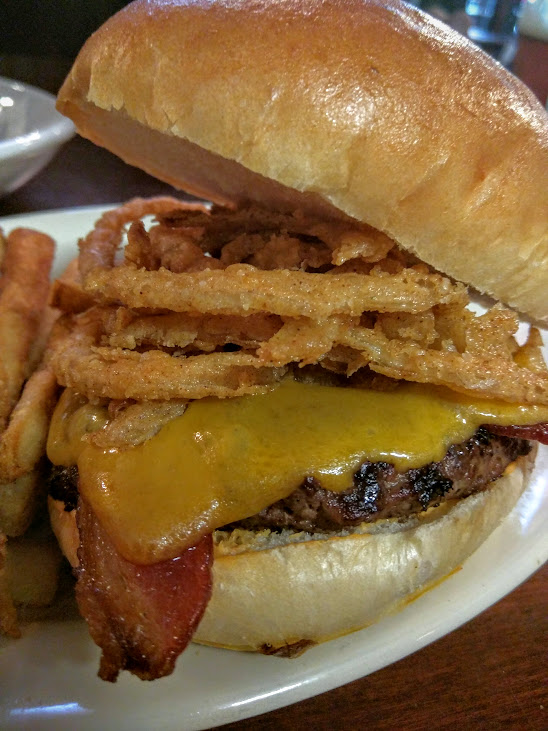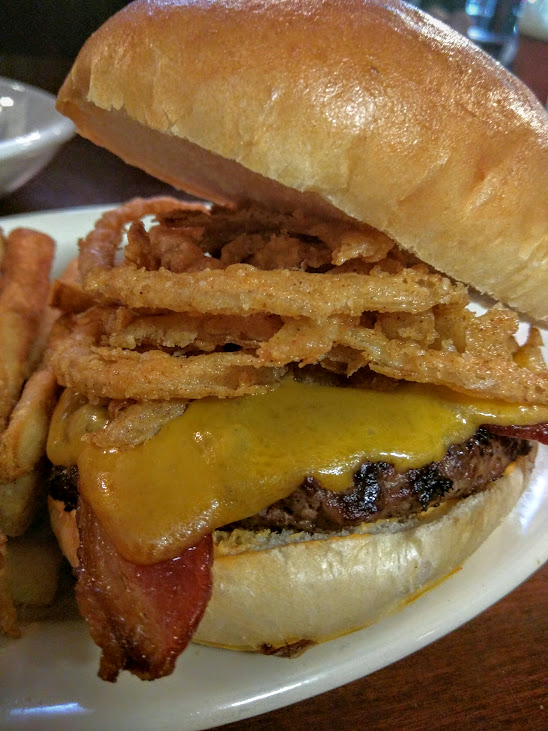 You have got to try the cheese curds, they're my 2nd favorite cheese curds in Wisconsin. By the way, when Wisconsinites are raving about cheese curds, we're talking about the kind that's beer battered, fried, and to die for. The plain squeaky cheese bites that you can find in Wisconsin gift shops and cheese castles (it's a real thing that tourists eat up) are good for a snack, but deep fried cheese curds are one of our food staples and a must have appetizer at every restaurant. The Great Dane has melt in your mouth cheese curds served up with a roasted hatch green chili crema, also to die for for dipping.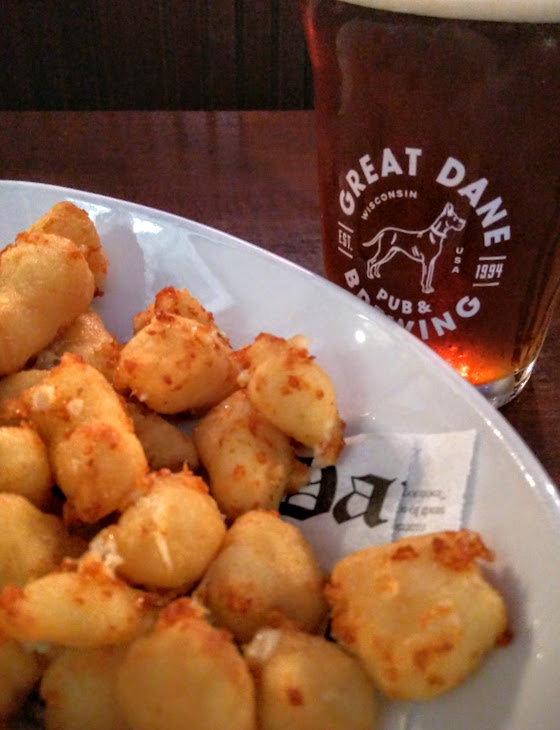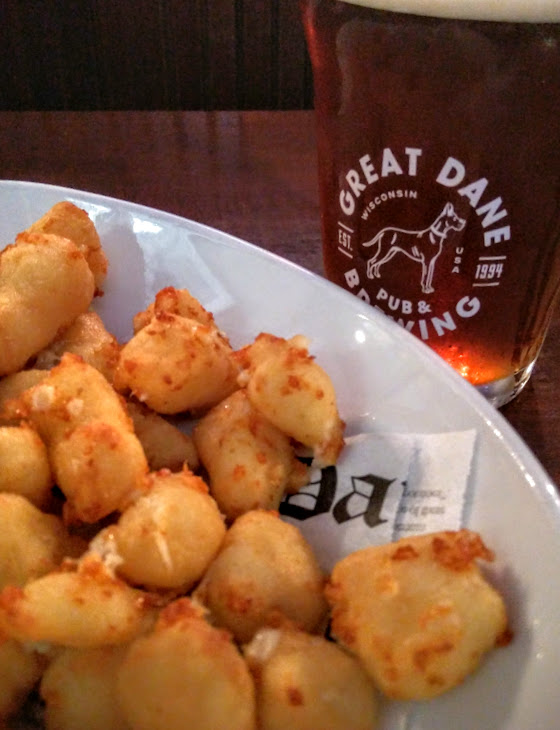 They even have some more upscale entrees from a variety of different ethnic cuisines, from BBQ meatloaf (it's absolutely amazing, hands down the best, most flavorful meat loaf you'll ever taste) to curry bowls, and even these jerk pork tacos.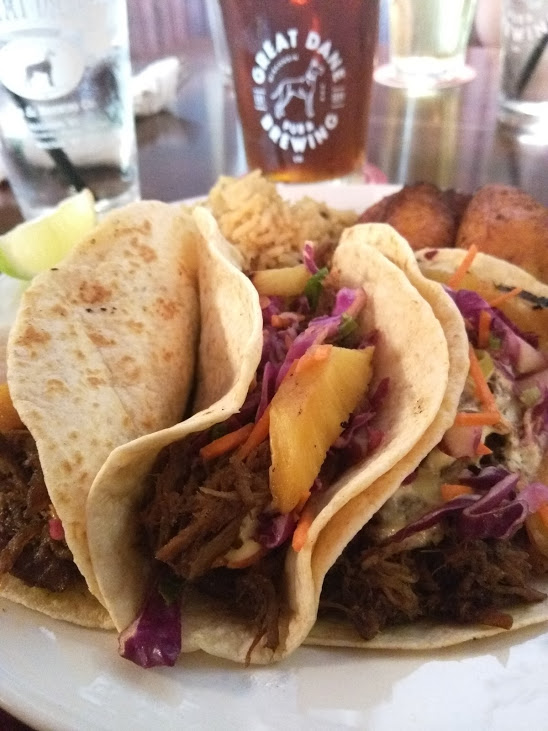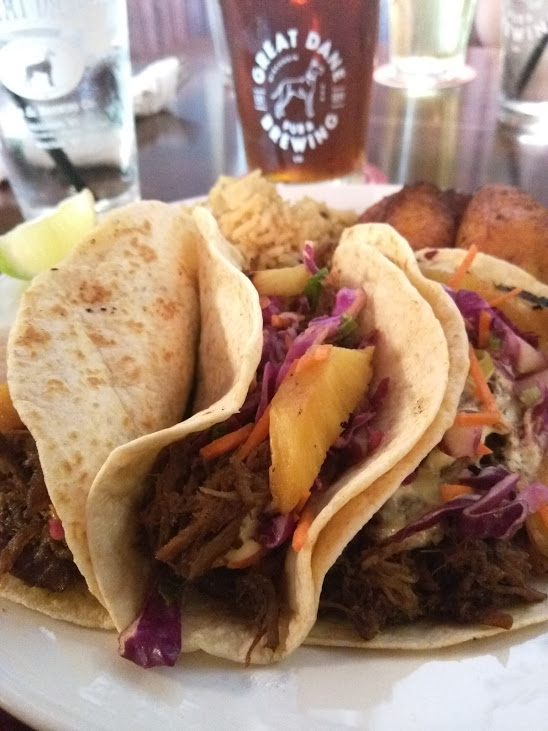 They also have lighter pub fair; sandwiches, soups, and salads are great options for lunch. Plus, they have an everyday fish fry, which is so very Wisconsin (most places only serve fish on Fridays though, so being able to have fish on a random Tuesday afternoon is always a great option.
The beer is spectacular too, which is what most people look for in a brew pub. I definitely go for the food, but AJ is all about the beer, I'll let AJ our in house beer dude summarize The Great Dane brews in a few lines below.
 They have a solid selection of beers between their constant favorites like the Crop Circle Wheat and Stone of Scone Scotch Ale to their ever changing lineup of new and seasonal beers. They have a great focus on style and flavor that makes their traditional favorites worth coming back for but they are not afraid to blur the lines with their new creations either so you will always find something new and exciting to try out. 
The Great Dane is amazing, and a must stop if you're in the Madison area. They have a few locations, but the downtown location is absolutely gorgeous and worth heading to.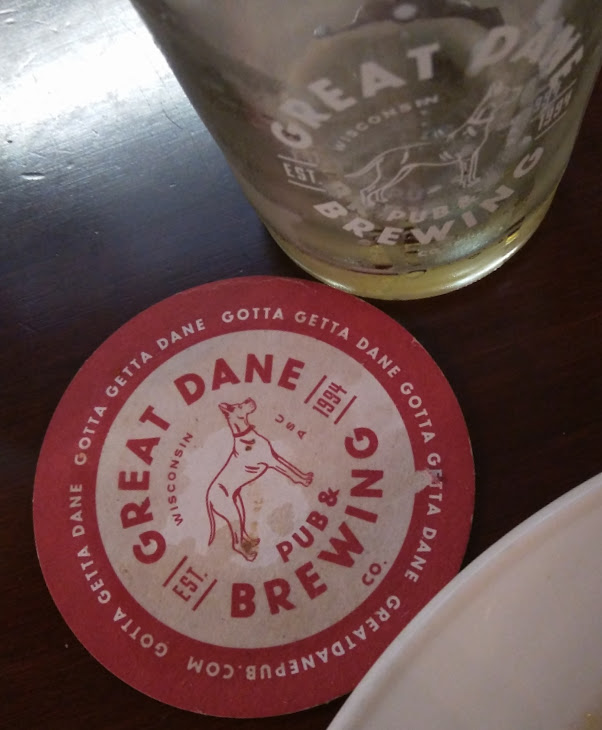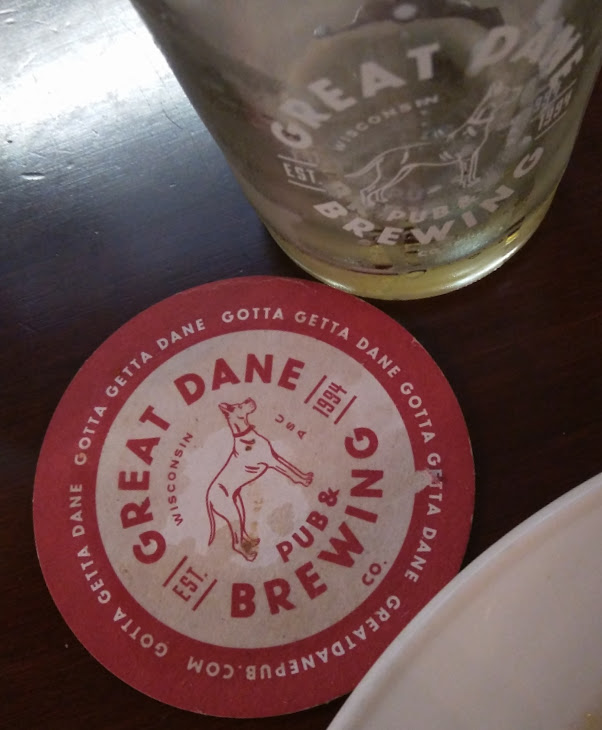 Written by, Brittany, the geek behind the blog. I share lots of recipes, my thoughts on the latest tech gadgets, my favorite geeky games, and snippets of life as a Work-at-home mom.