Every year we visit the local orchard, we play with goats and buy caramel apples covered in sprinkles, and eat too many baked goods. I love the apple muffins the best, but they cost a small fortune and we only get them once a year. So I decided I needed to make my own apple muffin recipe.
A lot of times apple baked goods turn out bland, so I thought, what if you use apple pie filling? I wasn't completely sure it would work. When I tasted the sweet batter I crossed my fingers and toes hoping they would bake right. Oh boy it did and these were the best darn apple muffins I've ever had (and I'm a huge snob when it comes to my apple baked goods.) These may have been even better than the $4 muffins straight from the orchard.
Then you add a dollop of cream cheese frosting, and these apple pie muffins are to die for. I think I'll be bringing these apple pie muffins to Thanksgiving this year!
(I'll be even more excited for this recipe once we figure out how to make the perfect homemade apple pie filling.)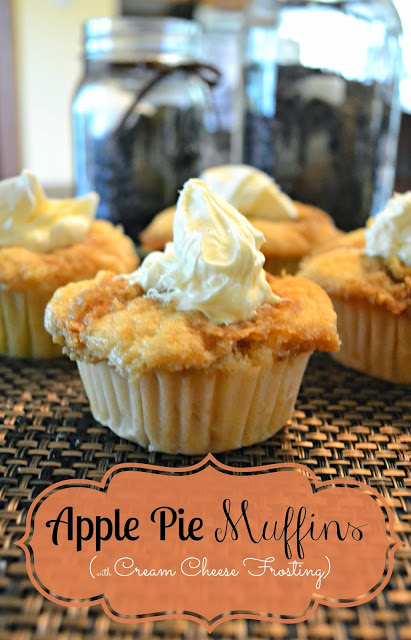 Ingredients
1½ cups flour
1 cup sugar
½ tsp/salt
2 tsp baking powder
⅓ cup vegetable oil
1 egg
⅓ cup milk
1 tsp vanilla
10 ounces Apple Pie Filling


Cream Cheese Frosting
Crumble Ingredients
½ cup white sugar
⅓ cup flour
¼ cup butter
1½ tsp cinnamon
Instructions
Preheat oven to 400* and line muffin tins with liners.
Combine flour, sugar, salt, and baking powder.
In separate bowl mix vegetable oil, egg, milk, and vanilla. Pour mixture into dry ingredient and stir well.
Cut apples in filling into bite sized chunks (you can do this in the container by dragging a butter knife through filling) fold in pie filling. Fill cups all the way to the top with batter.
In food processor combine topping ingredients. Sprinkle topping evenly over batter.
Bake muffins for 20-25 minutes.
I hope you enjoy these! What's your favorite part about visiting the orchard?
Written by, Brittany, the geek behind the blog. I share lots of recipes, my thoughts on the latest tech gadgets, my favorite geeky games, and snippets of life as a Work-at-home mom.