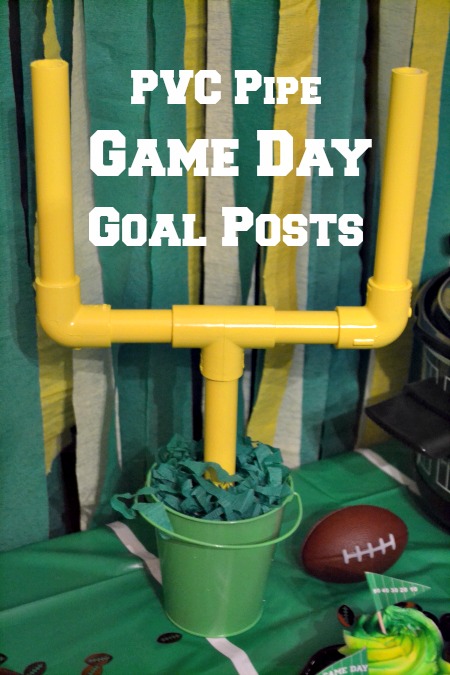 When I was in high school I worked part time in a machine shop as part of the school to work program, I worked instead of attending my first two hours of class but still got credits, and made a little extra money, win win! I mostly cut material for the machinists but whenever the industrial maintenance guy showed up I got to help him with whatever project needed to be done. He taught me how to sweat copper pipes and work with pvc pipes as well, of the two pvc is much easier to work with. That is why these pvc game day goal posts are a simple easy project that will really add a great decoration to any game day party scape!
I should also mention that pvc is very inexpensive so this is definitely a budget friendly project as well, the spray paint will cost more than all of the pvc combined! I got a 5 foot section of 1/2 inch pvc for $1.11 and all the elbows and T's were $.25 or $.50 cents. I made my goal posts 6 inches tall with 6 inch uprights and the cross bars are each 3 inches for a total of…you guessed it, 6 inches. That way they are symmetrical which will make it easier to balance them however you decide to use them.
Materials for one goal post:
24 inches of 1/2 inch pvc
2 1/2 inch 90 degree elbows
1 1/2 inch T (make sure it is a smooth T, no threads or the pipe won't fit!)
1 can goal post yellow spray paint (get a paint that says it will work on plastic)
Tools:
Hack saw or sawzall with a fine tooth blade made for cutting metal.
Emery paper (sandpaper for metal)
Cut list:
3 pieces 6 inches long
2 pieces 3 inches long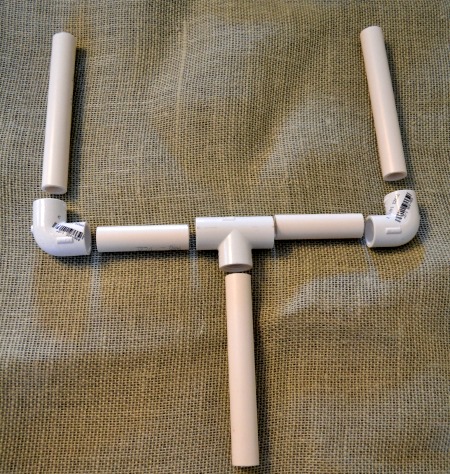 Make sure you use a fine tooth blade that is made for cutting metal when cutting pvc pipe, then use emery paper to remove the plastic burrs after cutting, and sand the outside edge a little which will help the pieces slide into the joints. Once all your pieces are cut and sanded stick them together with the elbows and the T so it looks like a goal post and push the pieces in until they stop. Now you are ready to paint, if the elbows you bought had stickers on them make sure you clean off all the sticky glue before painting. Also if the elbows or the pvc has barcodes and other printing on it use a primer to help cover the printing before painting with the yellow.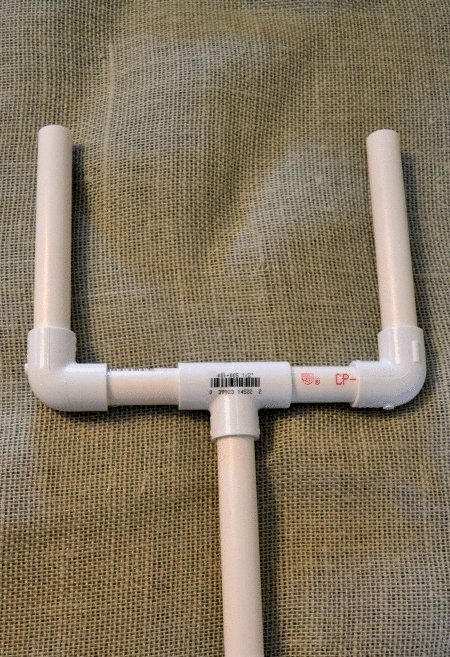 Now that your goal posts are dry you are ready to add them to your tablescape and make that game day party table a definite field goal! For the bases we used small buckets that I weighted down with sockets and cut styrofoam to fit inside to push the goal posts into and they held up perfectly throughout the whole party. Here is another tip, the easiest way to cut styrofoam is with a steak knife!
Now your table is all set with these pvc pipe game day goal posts that your guests are sure to get a kick out of! Let me know how your goal posts turn out and if you have any questions please ask in the comments.
I am the husband of the Geek and the beard behind the blog! I really enjoy writing about my family and all of my interests. I will be sharing everything from great grilling recipes to the perfect beer for the season.