As I was just about to throw away a loaf of really unsatisfying raisin bread, I thought to myself; "How could I make this into croutons?" And my newest guilty pleasure was born.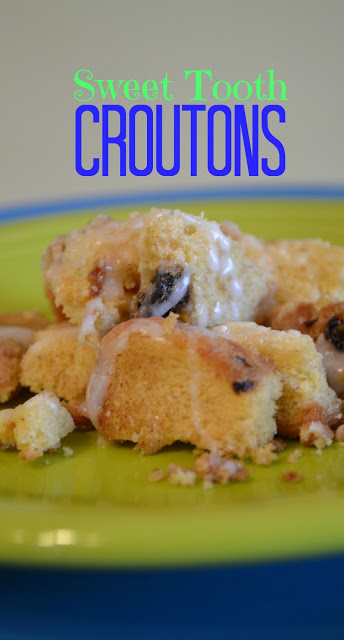 If you've read enough of the recipes I've posted in the past, you know that I'm completely obsessed with making my own croutons. I just love making those savory little bites for salads or as a dinner ingredient. So it wasn't too terribly hard to figure out how to make raisin bread into something delicious.
A little butter, cinnamon sugar, brown sugar, and a quick glaze I mixed up and you have yourself crunchy little bits of deliciousness!
As I was making these I kept thinking to myself, what would sweet croutons be good with? After tasting one I realized they didn't need to go with anything. They were amazing straight out of the oven and after they cooled they were a yummy crunchy treat. This would be a great treat to pack for a picnic. I suppose you could probably use these on a sundae too!
These remind me of bread pudding, but a much more portable version.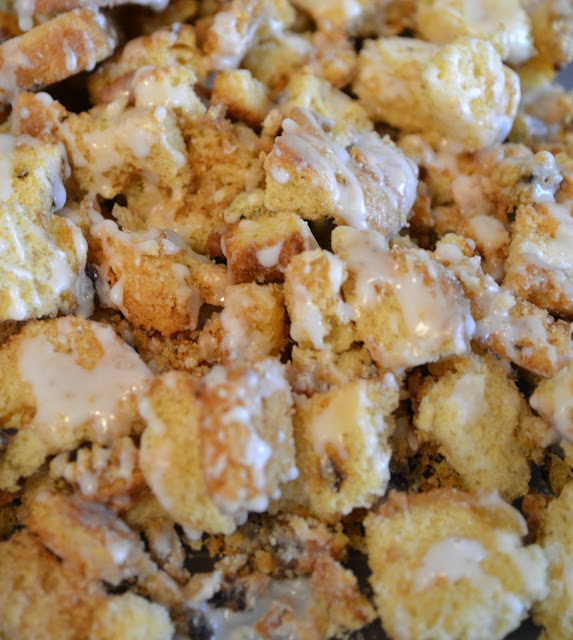 Make sure you enjoy a few while they're warm! I hope you love this recipe as much as I do!
| | | |
| --- | --- | --- |
| Sweet Tooth Croutons | | Print |
Ingredients
6-8 slices of raisin bread
1 Tablespoon butter
Cinnamon Sugar (1 Tablespoon sugar, 1 teaspoon cinnamon)
Pinch of brown sugar
½ cup powder sugar
splash of milk
splash of vanilla
Instructions
How to make it:
Preheat the oven to 350*
Slice the raisin bread into cubes.
Melt butter in large microwave safe mixing bowl (20-30 seconds)
Add cubed bread to butter and mix well.
Add cinnamon sugar mixture to bread, mix it up again.
Pour the bread onto a cookie sheet in a thin layer and sprinkle the brown sugar on top, and bake for about 20 minutes, stirring halfway through. Croutons are done when they're crisp to touch.
Meanwhile, add powder sugar to a mixing bowl. Add a splash of vanilla and milk. Stir well, if the mixture is too runny add more powder sugar or add milk if the mixture is too thick until you achieve a glaze consistency.
Drizzle on all of the icing as evenly as possible over croutons, store in air tight container.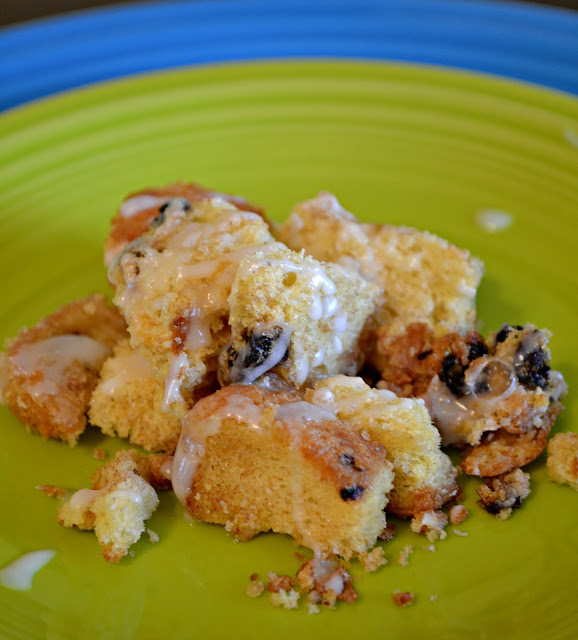 Written by, Brittany, the geek behind the blog. I share lots of recipes, my thoughts on the latest tech gadgets, my favorite geeky games, and snippets of life as a Work-at-home mom.