I love chocolate and peanut butter, but I normally can only handle it in small doses. AJ on the other hand is obsessed with chocolate, one of his favorite treats is my Chocolate Explosion Cake, that's the ultimate chocolate lovers cake, Holy chocolate Batman. This week I was craving peanut butter and chocolate pretty badly, so I decided it was time to make some muffins, I thought that breakfasts should be a little more decadent this week.
So not only did I make chocolate muffins, but I  had to go overboard and make double chocolate peanut butter muffins.
I can't get enough of these.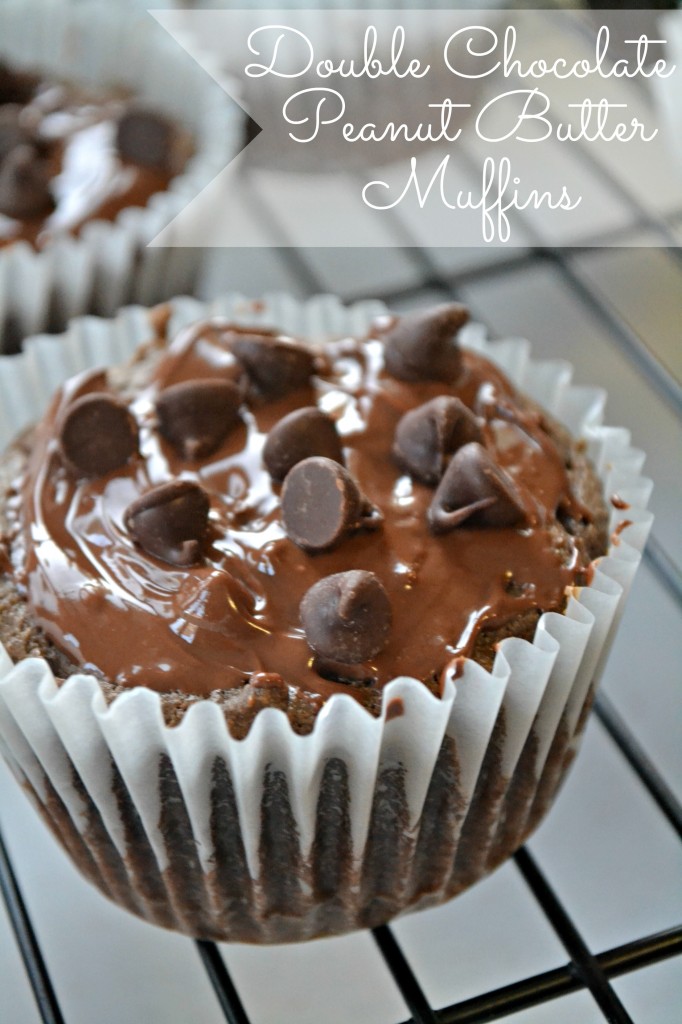 Are you drooling, yet? No? Let me describe these to you.
These double chocolate peanut butter muffins are the perfect blend of chocolate and peanut butter without being too rich, which I suppose could be dangerous for your waist line. I'm sure you could pretty easily eat the entire dozen in a day. In case you're wondering, I didn't eat the whole batch, and at this very second I'm trying hard to convince myself that I don't need another one. I think I'll probably give in by the time I hit the "publish" button.
Oh, I haven't mentioned that these are topped with a peanut butter chocolate ganache, of course garnished with extra chocolate chips. I was really craving chocolate. I love the added texture of the ganache and chocolate chips.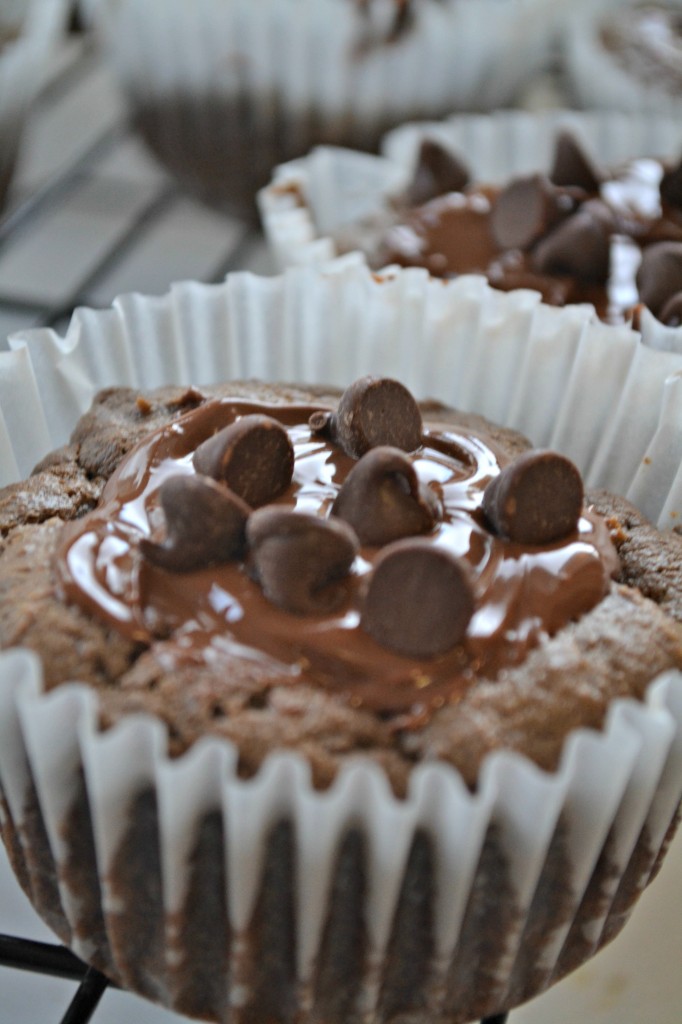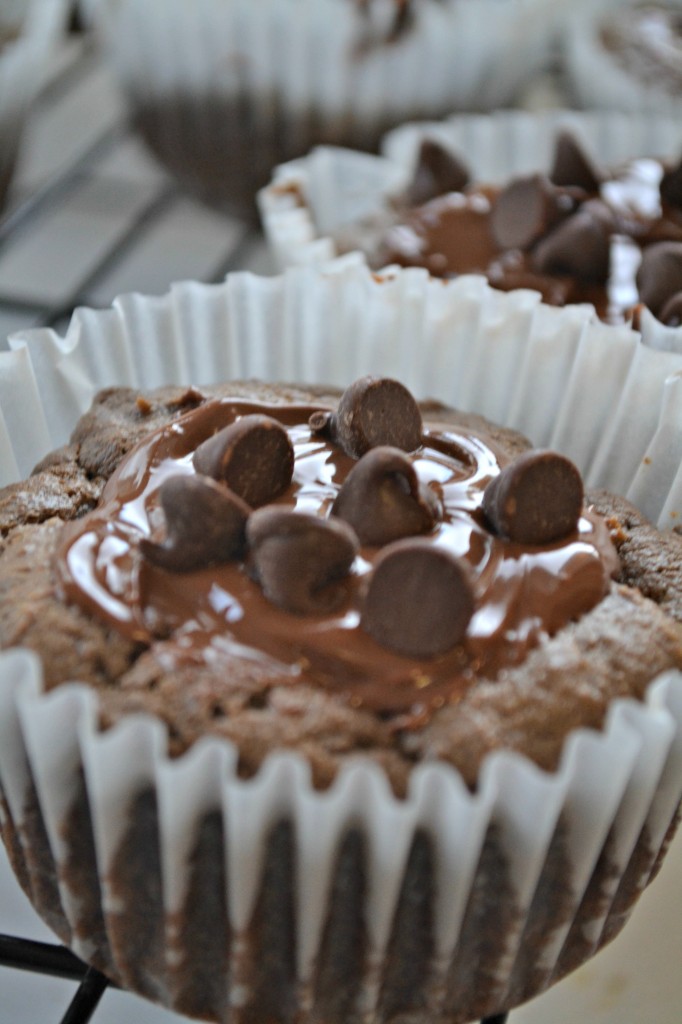 On a side note: I found muffin liners! They might be plain white, but I found them at our local grocery store and did a happy dance. Greasing muffin pans was seriously my least favorite part of making muffins. I can't believe how long it took me to find muffin liners, so yep, I had myself a happy dance in the busy grocery store aisle.
Here's the recipe, so you can make these immediately.
| | | |
| --- | --- | --- |
| Double Chocolate Peanut Butter Muffins | | Print |
Ingredients
½ cup peanut butter
⅓ cup butter, softened
¾ cup brown sugar
¼ cup sugar
2 eggs
2 teaspoons vanilla
1¾ cups flour
¼ cup cocoa
1½ tsp. baking powder
½ tsp. baking soda
⅔ cup milk
1½ cups chocolate chips

Topping
½ cup chocolate chips
2 Tbsp. peanut butter
Instructions
Preheat the oven to 350*. Grease 12 muffin cups or line them with muffin tins.
In large bowl or mixer, combine ½ cup peanut butter and softened butter and beat well.
Add brown sugar and sugar and beat until light and fluffy. Next, add eggs and vanilla beat until smooth.
Add flour, cocoa, baking powder, and baking soda continue stirring. Add milk, stir until batter is smooth.
Fold in chocolate chips. Divide batter into the 12 prepared muffin cups.
Bake for 12-15 minutes or until muffins spring back when touched in center. Remove to wire racks to cool.
In a microwave safe bowl combine ½ cup chocolate chips with 2 Tbsp. peanut butter. Microwave in 20 second intervals, stirring after each time until smooth. Top muffins with peanut butter chocolate topping and garnish with additional chocolate chips if you need an extra dose of chocolate.
I would normally ask you a question about chocolate here, but my mouth is full of muffin. Told you I wouldn't make it to the "submit" button without indulging! 
Written by, Brittany, the geek behind the blog. I share lots of recipes, my thoughts on the latest tech gadgets, my favorite geeky games, and snippets of life as a Work-at-home mom.