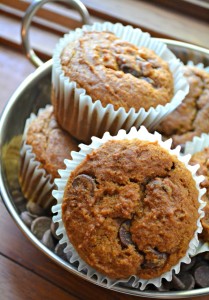 I officially caught the pumpkin spice fever. I don't drink coffee anymore, but I discovered the Pumpkin Spice Steamer from Starbucks, it's a combination of steamed milk and the pumpkin spice flavoring topped with whipped cream. I think it's even better than the good 'ol Pumpkin Spice Latte. Then there's the plethora of pumpkin spice teas that I have to have every morning. I'm addicted, what can I say? Fall is a gorgeous season and I love to celebrate it.
Now if you know me, you know my love for a good muffin. So of course I had to make Pumpkin Spice Chocolate Chip muffins. Everyone in our family loves muffins, but these muffins, they were the biggest hit that I've ever had. They were gobbled down in record time, and oh so good.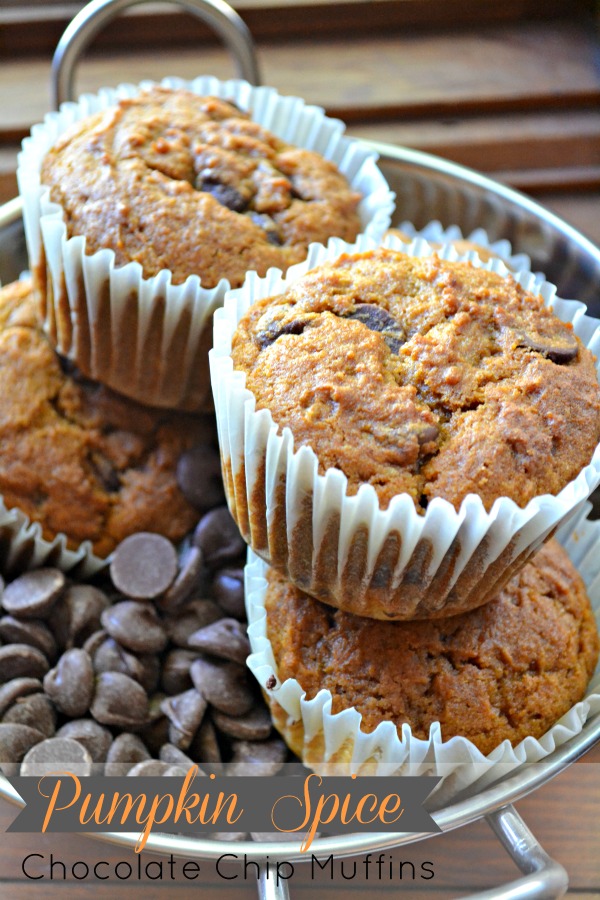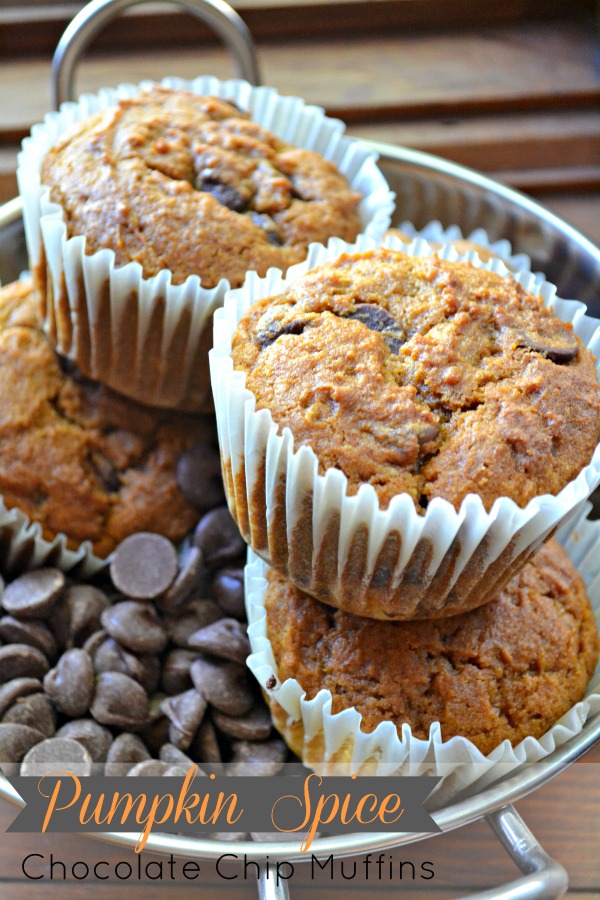 Working with pumpkin puree always baffles me a little, the batter never looks like…well, batter. It just looks like pure pumpkin puree, but somehow when you bake these in the oven they turn into perfect little pumpkin spice chocolate chip muffins.
Your whole family will thank you for this recipe. You can even enjoy these pumpkin spice chocolate chip muffins with your favorite pumpkin spice latte or pumpkin spice flavored tea if you'd like.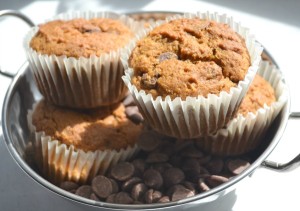 | | | |
| --- | --- | --- |
| Pumpkin Spice Chocolate Chip Muffins | | Print |
Ingredients
2 cups sugar
4 eggs
15 ounces pumpkin puree
1½ cups butter, melted
3 cups flour
2 teaspoons baking powder
1 teaspoon baking soda
1 Tablespoon pumpkin pie spice
1 teaspoon salt
3 cups chocolate chips
Instructions
Preheat oven to 400* line muffin pans with muffin cups or grease with butter.
In a large bowl; beat eggs, sugar, pumpkin puree, and melted butter together until smooth.
In a separate bowl combine flour, baking soda, baking powder, pumpkin pie spice, and salt.
Fold flour mixture into pumpkin mixture until combined.
Stir in chocolate chips.
Use a level ice cream scoop to evenly disperse batter into each muffin cup.
Bake for 16-17 minutes, or until a toothpick inserted in center comes out clean.
Let cool about 10 minutes before enjoying!

Seriously, pumpkin spice is every where these days, but it's amazing so I'm going to enjoy it this October, and maybe into November…and December, but never ever past December.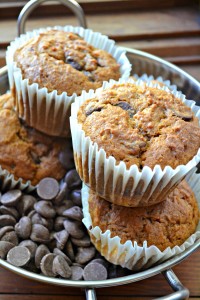 Written by, Brittany, the geek behind the blog. I share lots of recipes, my thoughts on the latest tech gadgets, my favorite geeky games, and snippets of life as a Work-at-home mom.