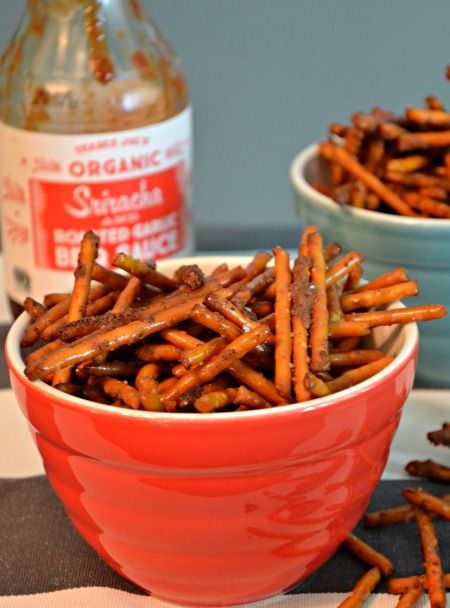 My family has this epic recipe for making a bag of boring pretzels, taste out-of-this-world-amazing. I swapped out one ingredient to make them even better, now we have ourselves Sriracha Barbecue party pretzels, and they're a game changer.
These will take you through a journey in time and space. (because The Mighty Boosh references are always acceptable.)
Honestly though, it's taking some real determination not to be eating a fistfull of these pretzels for breakfast. What? Would Sriracha Barbecue party pretzels be weird for breakfast?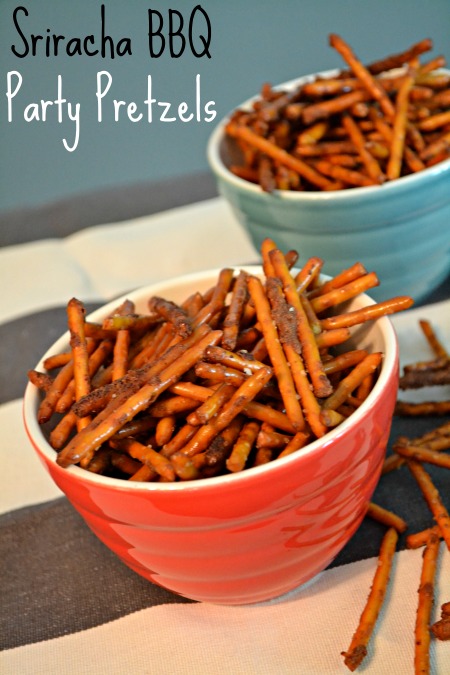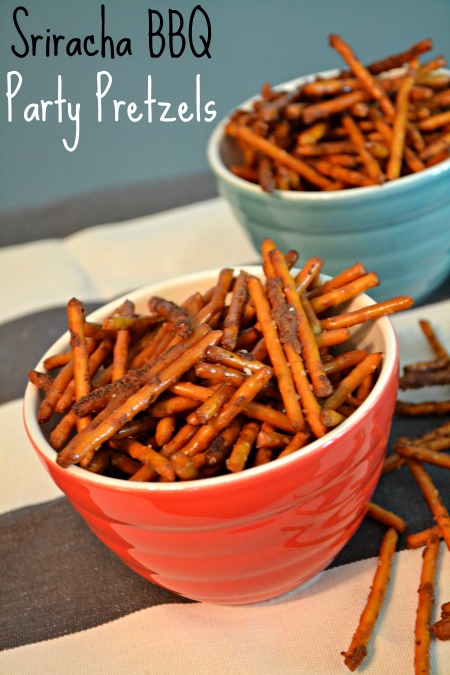 Sriracha is the new bacon, and I think that is completely acceptable. Sriracha has a great flavor and the perfect amount of heat. For this recipe we used Trader Joe's super amazing Organic Sriracha and Roasted Garlic BBQ Sauce.
This pretzel recipe is one that we break out for parties and family gatherings, they even taste awesome with dips. We dip them in a cheesy beer dip, because you know…Wisconsin. You definitely don't need any dips, though, these pretzels are perfect as is.
I should warn you that you probably don't even want to make these unless you have a bigger gathering, because they're so addicting that they'll disappear quickly, and you don't want to be that person that ate an entire bag of seasoned pretzels, right?
This recipe is as easy as whisking together all the ingredients, coating the pretzels evenly and baking for an hour and a half, stirring in between so they bake nice and evenly. Don't worry if some of your pretzels have clumps of seasonings, we actually find that those are the ones that taste the best. You'll probably end up fighting over those.
Feel free to sub out the Sriracha BBQ for your favorite sauce, this is a fun recipe to experiment with. How fun would it be to have several flavors for guests to choose from at a party? Om nom nom.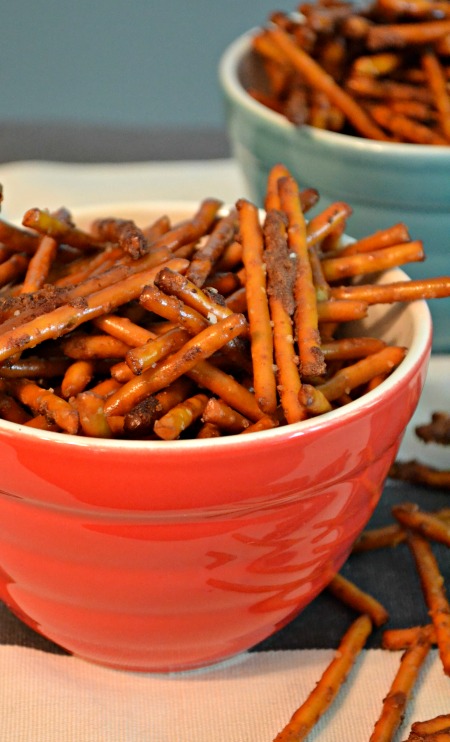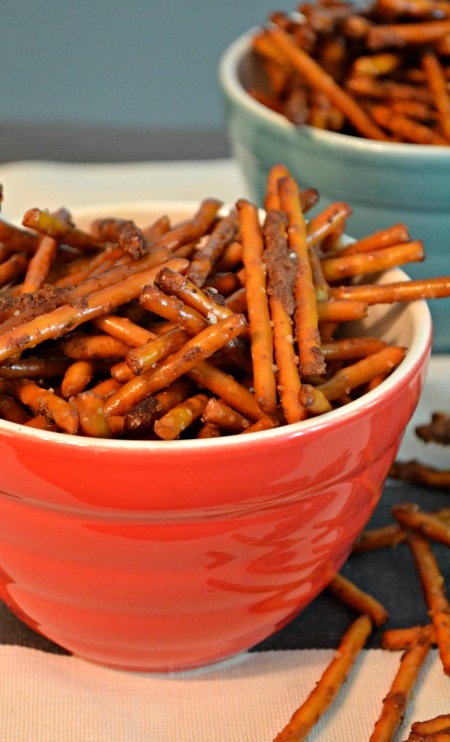 | | | |
| --- | --- | --- |
| Sriracha BBQ Party Pretzels | | Print |
Ingredients
16 ounces pretzel sticks
¾ cup Sunflower oil
2 Tablespoons Sriracha and Roasted Garlic BBQ Sauce (from Trader Joe's)
1 Tablespoon Accent
½ teaspoon onion powder
1 teaspoon garlic powder
Instructions
Preheat oven to 250*. Whisk together oil, sauce, Accent, onion powder, and garlic powder.
In a large bowl pour mixture over pretzels and mix well until evenly coated.
Spread pretzels out among two jelly roll pans and bake for 90 minutes. Stirring every 30 minutes.
Allow to cool and store in an air-tight container. Gallon sized bags work well for this.
What kind of snacks do you serve at a party?
Written by, Brittany, the geek behind the blog. I share lots of recipes, my thoughts on the latest tech gadgets, my favorite geeky games, and snippets of life as a Work-at-home mom.