September 1st, 2014
This shop has been compensated by Collective Bias, Inc. and its advertiser. All opinions are mine alone. #SparklySavings #CollectiveBias
We cook and bake a lot in our house, and that means we have tons of dishes. I never have time to do dishes by hand so I'm always running the dishwasher, a lot of days our dishwasher goes through two cycles of dishes. After testing out a lot of dishwasher detergents I found that Finish brand works the best at getting our dishes sparkling clean on the first shot (unlike some of the other brands I tried.)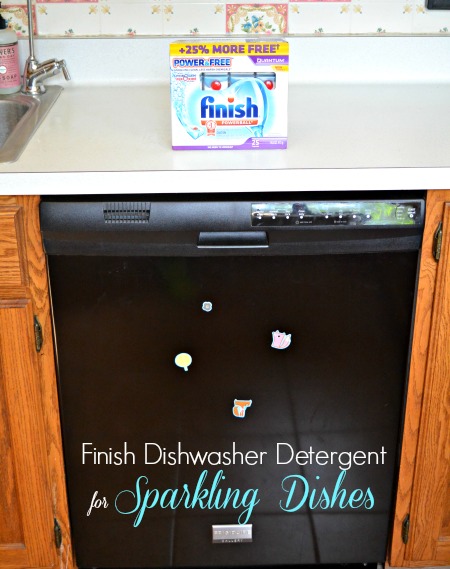 Aliceana is getting to that really fun age where she loves to help. Last night she even helped me stir the ingredients for muffins! She had so much fun, and didn't want to stop.
One of her new favorite tasks is helping to put all of the sparkling clean dishes away. We give her the easy items like silverware and plastic containers. Our silverware almost always end up in the wrong slots now, but that's ok she's still learning. I just wish AJ wouldn't have taught her how to turn the dishwasher on, now she likes to turn the cycle off halfway through or run the dishwasher for a second cycle when it's ready to be emptied.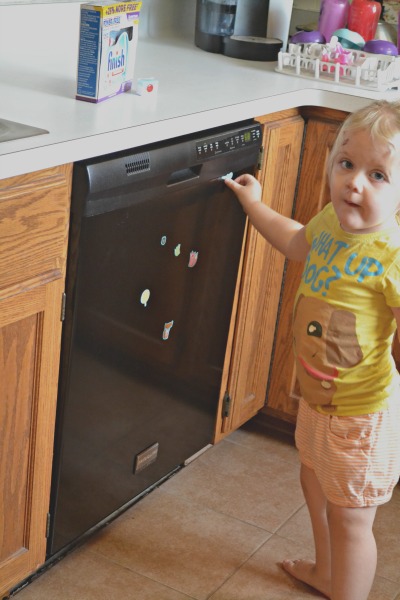 Another way we occupy her in the kitchen is with magnets, we have some cute magnets within Aliceana's reach and she loves transferring them from the refrigerator to the dishwasher and vice versa.