July 25th, 2014
One of my good friends is a vegetarian, and I always have to get creative when she comes to town. Obviously meat and potatoes isn't going to go over well (not that she would mind that much if we ate it, she would probably just be pretty hungry.) So when she was visiting for the weekend during Aliceana's birthday I came up with this garden baked ziti.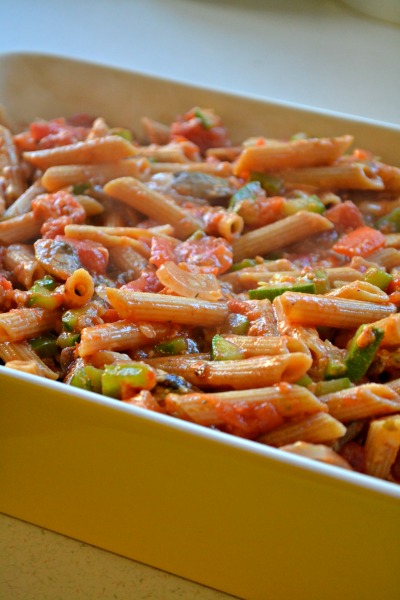 I got to work and chopped up some fresh bell peppers, zucchini, mushrooms, onion and garlic. Looks great, right? There is basically nothing better than vegetables straight from the Farmer's Market. Well, except maybe the homemade donuts that we buy each Saturday at the Farmer's Market, those are absolutely the best. Is it Saturday yet?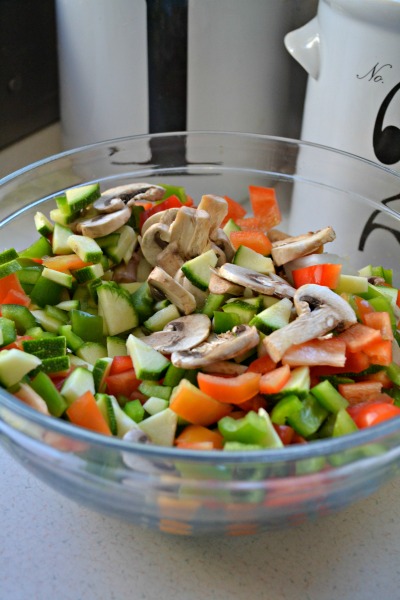 Then I added whole wheat pasta and my homemade marinara sauce. Oh and cheese, lots and lots of cheese.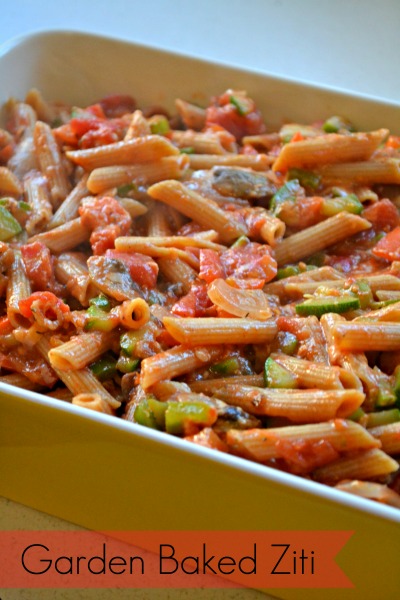 We all had seconds, Aliceana had thirds and fourths. She really loved it. I have the weird (in a great way, of course) vegetable loving toddler.
We loved the combination of vegetables, it gave the dish such great flavor.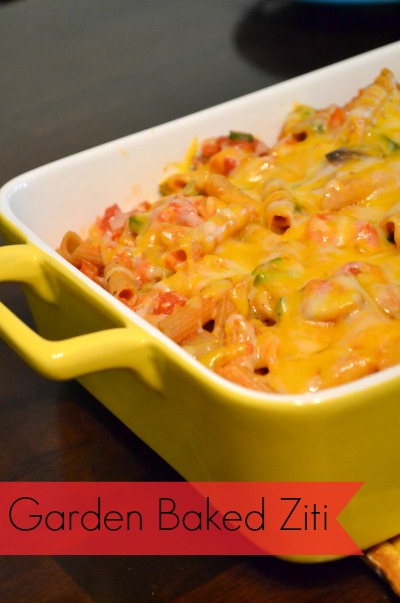 Garden Vegetable Baked Ziti
Ingredients
½

pound

of

mushrooms

, chopped

1-2

tablespoons

extra virgin olive oil

16

ounces

whole wheat

ziti

2

cups

shredded

colby cheese, divided

1

can

of

diced

tomatoes, with juices
Directions
Preheat oven to 350*.
Heat olive oil in a skillet, add vegetables and saute on high heat stirring constantly until vegetables have cooked down.
Meanwhile, prepare pasta according to directions in a large stock pot. Drain cooked pasta.
Once pasta and vegetables are cooked combine them with marinara sauce, diced tomatoes (with juices) and ½ cup of shredded cheese.
Cook on medium heat until cheese is melted and sauce is heated through.
Spoon mixture into a greased (I use olive oil) oven safe dish, sprinkle remaining cheese on top.
Bake for 20 minutes.
Serve warm and enjoy!

This recipe is definitely a keeper, and it's definitely going to stay in our Summer meal plans!