I love salty snacks, and pretzels are some of my favorite. So a huge thank you is in order to Gratify Foods for supplying me with pretzels for review!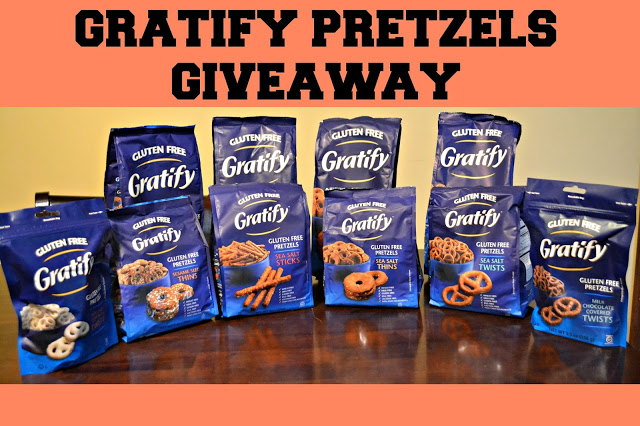 Gratify pretzels are a very addicting snack. They're also gluten free! I myself have no reason to avoid gluten and hadn't tried any gluten free products in the past. I have to admit, at first I was worried the pretzels wouldn't taste good, that they would have that "diet" taste or not taste at all. 
That wasn't the case at all, and now my entire family is addicted to Gratify pretzels. 
See, here's my daughter (AKA the pretzel thief) sneaking in some pretzels when she thought I wasn't looking. 
These pretzels have a satisfying crunchiness that I've never had with normal pretzels, they're the perfect crispy texture. I love that the pretzels are made with either sea salt or sesame seeds. The sea salt is my favorite, I love the big pieces of sea salt on every pretzel. They're so good, I don't think I can eat any other brand of pretzel after enjoying these!
I have to say my favorite type of Gratify pretzel are the milk chocolate covered twists. Milk chocolate and sea salt? Yes please! 
Speaking of the types of Gratify pretzels, here's a run down on their current selection: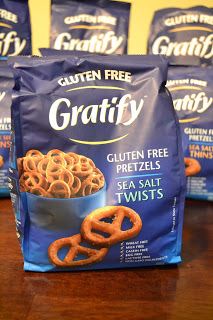 Sea Salt Twists – Dusted with sea salt and baked to crisp perfection.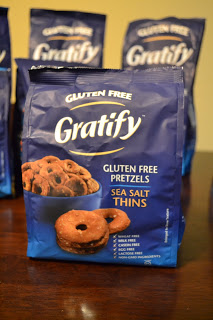 Sea Salt Thins – Topped with a hint of natural sea salt, these thins are rich with flavor and texture and they make the perfect platform for cheeses, spreads, and dips.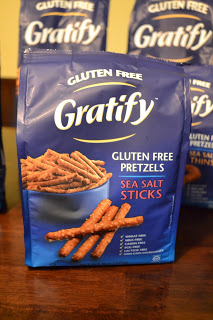 Sea Salt Sticks – Crunchy sea salt sticks, the perfect shape for munching by the handful!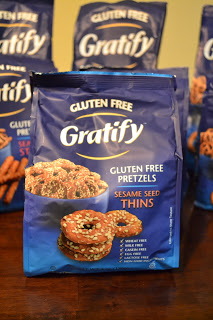 Sesame Thins – These nutty thins offer the traditional crunch of a pretzel in a shape that's perfect for dips, spreads and other creative toppings.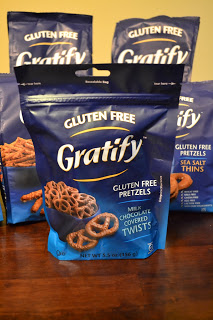 Milk Chocolate Covered Twists – Milk Chocolate Covered Twists are a crunchy treat coated in a luxurious layer of rich-tasting milk chocolate.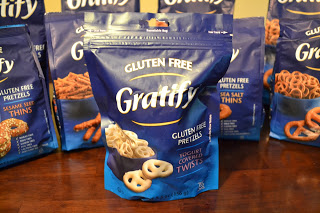 Yogurt Covered Twists – Gratify gluten free Yogurt Covered Pretzel Twists combine the traditional shape and crunch of a pretzel twist with a cool and creamy yogurt topping.
Since I'm not the most knowledgeable when it comes to gluten free products I'll share this little story: When my social butterfly of a husband is on the road he meets a lot of people, the other day he met a man who is on a very strict gluten free diet for medical reasons. The man said that a lot of brands state that they are gluten free on the package, but they still contain ingredients with gluten. Not only did he confirm that these pretzels are definitely gluten free, but when my husband gave him a few to try he said they taste better than most of his gluten free food options. He also said they would be a great snack paired with a beer!
Make sure to check out the Gratify Foods website to find more information about some other delicious products they have in the works!
One lucky reader will be munching on a whole lot of delicious pretzels, because Gratify Foods is providing you with a delicious prize pack! 
What kind of Gratify Foods pretzels do you think you'd like the best?