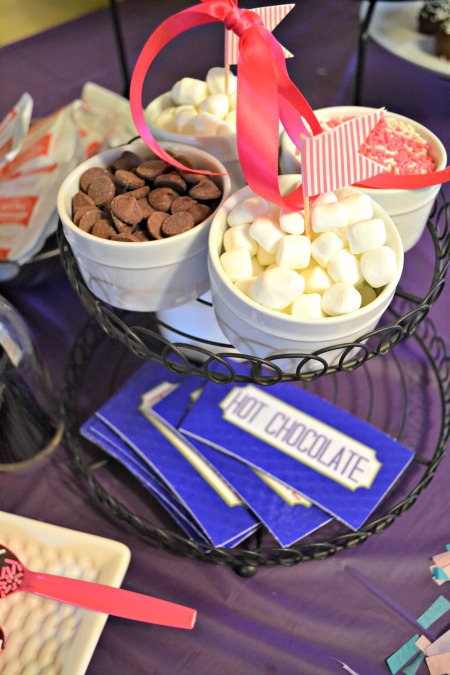 When throwing a party you always want to serve some kind of drink, refreshing punch is perfect for Summer, but what do you make in the middle of Winter when it's freezing cold outside? This post includes affiliate links to make setting up your DIY Hot Chocolate Station even easier for you!
How about a little DIY hot chocolate station for a great party idea? All you need is a Keurig, hot chocolate (you don't even have to use K-cups, packages work fine,) some fun toppings, and maybe even some flavorings. This can be so budget friendly, and I love budget friendly for parties. My sister said compared this to getting a pricey Starbucks drink (you could definitely serve coffee in the Keurig too!)
In the photo above are some of the toppings arranged in white ramekins in a cupcake tower (similar tower here.)
You could have fun decorating coffee mugs for this project, I opted for to-go coffee cups from Target, they came with covers and sleeves and they were especially awesome because guests could take a cup of hot cocoa for the drive home. Plus, they came in chevron which I still think is pretty cute.
If you want plain white cups with brown sleeves (a la your favorite local coffee joint) I found this 50 count package for less than $20.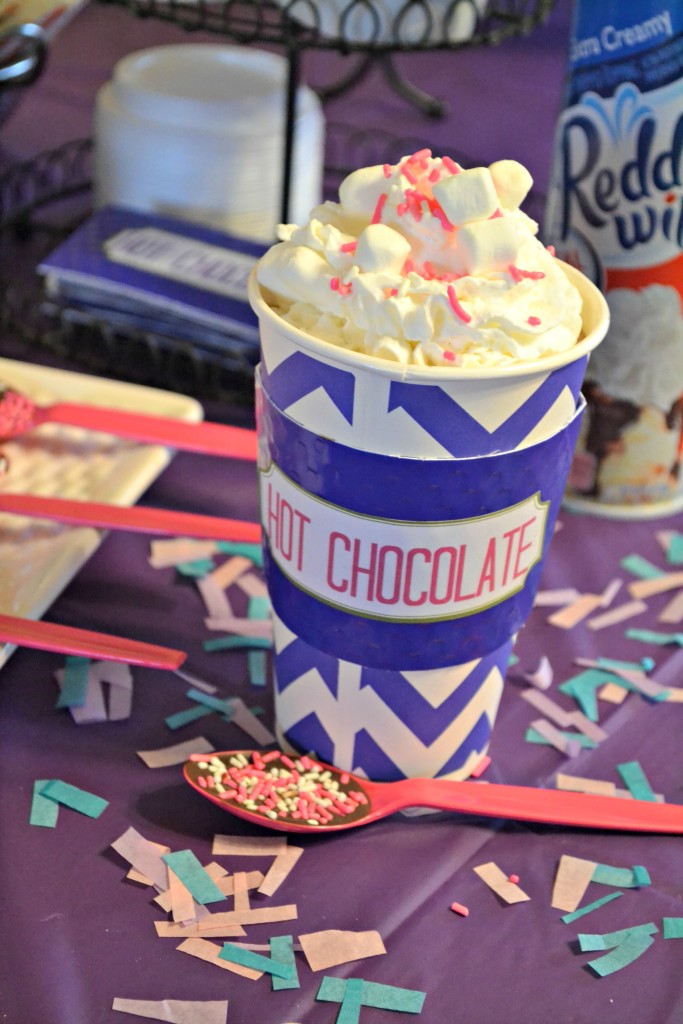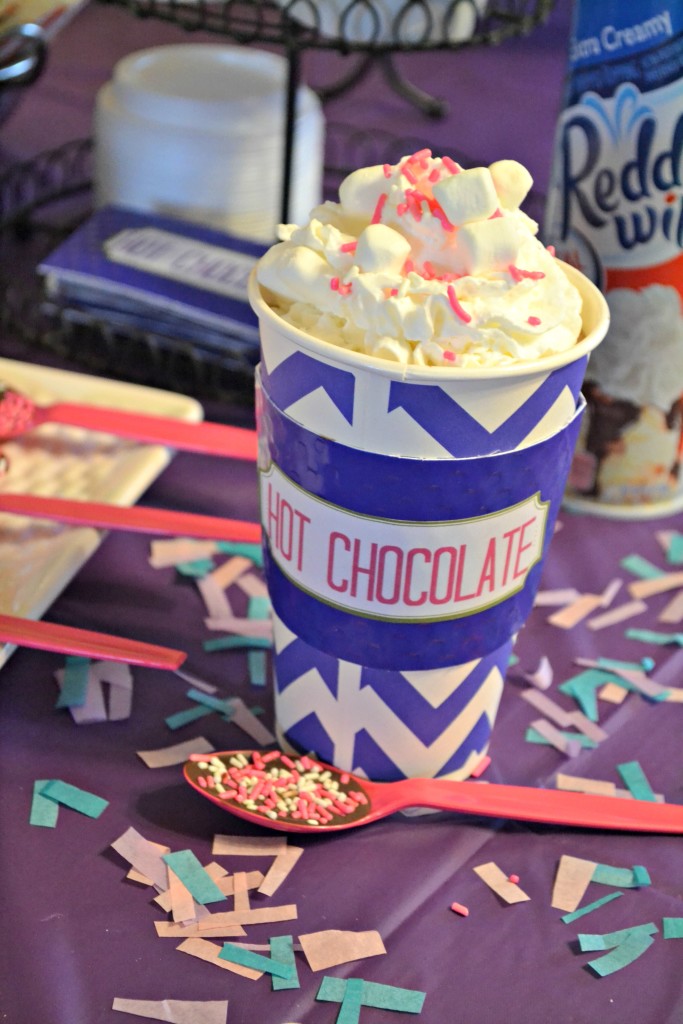 I decorated the sleeves with some fun labels, you know, just in case they didn't realize we were drinking hot chocolate You can purchase the blank labels that I used for the Hot Chocolate labels here. I love that they were simple to print. 
I even made some chocolate hot chocolate spoons, tutorial here. They're so easy to make and look so pretty, they're functional too! Perfect for stirring your hot chocolate. Shop for colored spoons to match your theme here.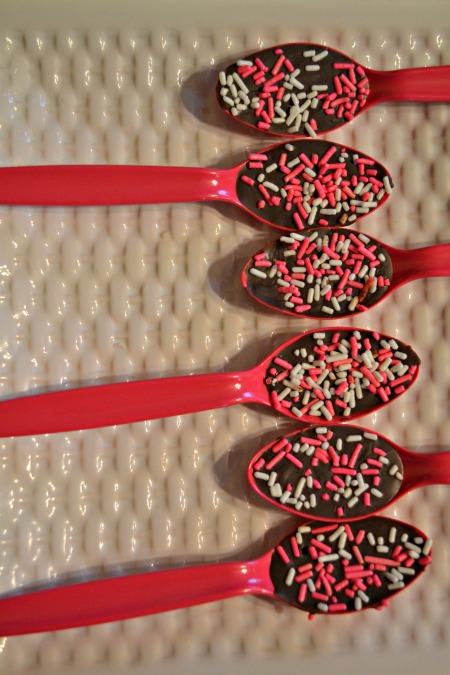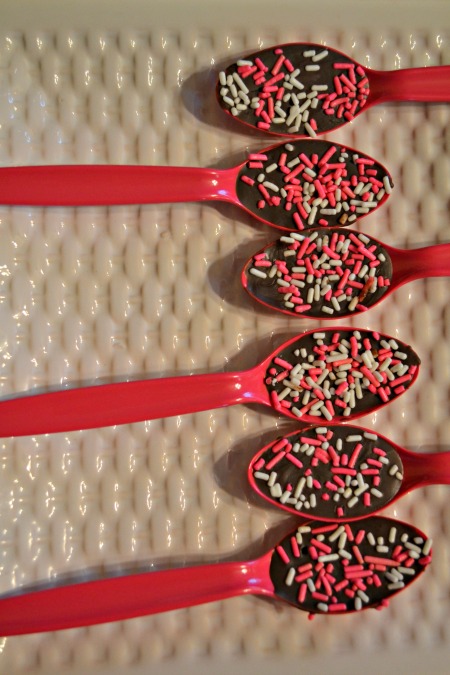 I actually planned on using Swiss Miss K-Cups for this project, but there was literally a $12 difference between packets and K-Cups. I decided to spend the dollar to get a 10 pack of Swiss Miss packets, mostly because I'm cheap when party planning. We still used the Keurig for perfectly measured hot water, it's also how I make my Trader Joe's tea.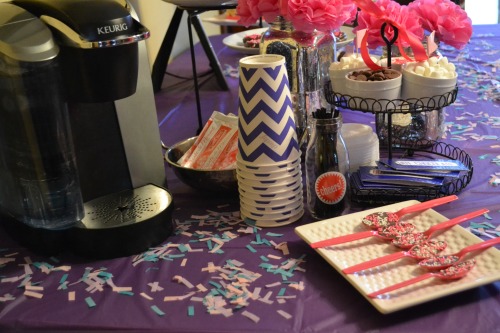 The guests loved making their hot cocoa. This is perfect and so fun for older kids. I loved it too, not going to lie I had two helpings of hot cocoa during our party, it was so good especially with the fun toppings!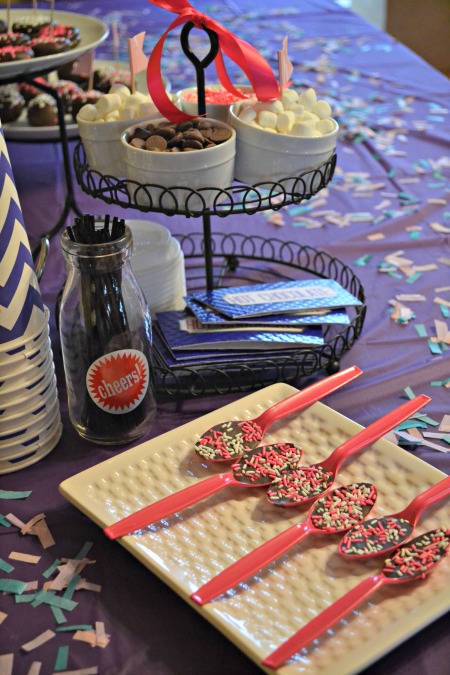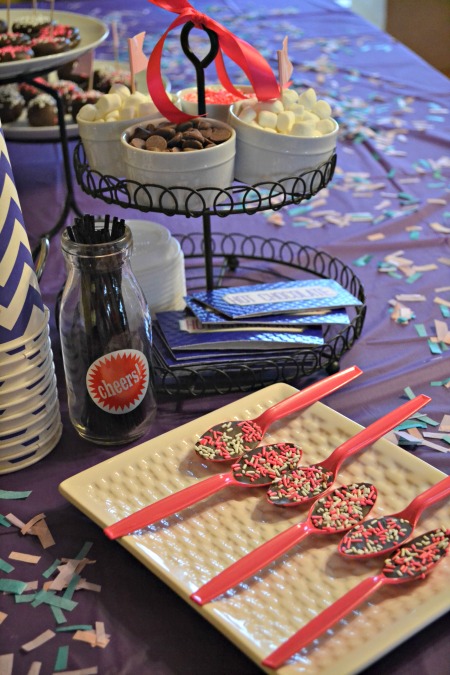 We had such a fun time with our hot chocolate station, I hope this inspired you to warm up at your next party!

For more party ideas and recipes follow us on Pinterest!
Visit The Domestic Geek Blog's profile on Pinterest.
Written by, Brittany, the geek behind the blog. I share lots of recipes, my thoughts on the latest tech gadgets, my favorite geeky games, and snippets of life as a Work-at-home mom.