As foodies we love to get and try new restaurants. Madison is one of our favorite destinations for brew pubs, or really any place to get a fantastic burger and a beer. In Wisconsin date night is all about the beer and giant burgers. Since Valentine's Day is right around the corner I thought I'd share our favorite Madison, Wisconsin brew pubs. Almost any guy will be pretty darn happy to enjoy a cold one at a brew pub, I love them for the giant burgers.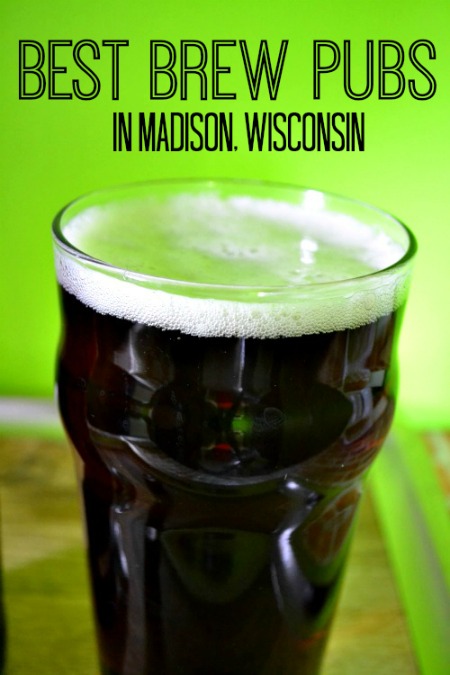 The Great Dane Pub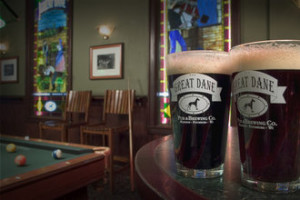 (Source)
The Great Dane is actually the first Madison Brew Pub that we tried. We first went to the downtown location with a friend before seeing a comedy show at The Majestic. We've visited the downtown and Hilldale location  quite a few times since then. The downtown location is just two blocks away from the Capitol.
My favorites are The Great Dane Brat & Pretzel Burger with two patties, one beef and one bratwurst, topped with cheddar, stout-caramelized onions, smoked bacon and pilsner mustard and served on a pretzel bun. I also love the Black and Tan burger, a burger topped with Great Dane Pilsner and Wisconsin cheddar sauce, Stout-caramelized onions, sautéed mushrooms, lettuce, tomato and pickles.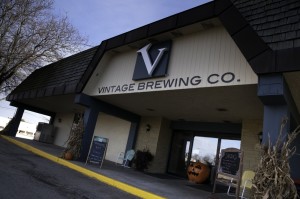 (Source)
Vintage Brewing Co. will always have a special place in my heart. It's where we went out to dinner after receiving the news that Aliceana would finally be released from the NICU the next morning. Honestly that night we just wanted to get some sleep, but we decided we should probably go celebrate (and enjoy one last kid-free meal) and found the website for Vintage Brewing Co, the rest is history.
The burgers are so big they're served speared with a steak knife. The beer is pretty darn good too. Whatever you order, make sure you get the side of tots!
If you're visiting Madison, the first stop is often State Street. You'll find tons of shops, food trucks during lunch at Summertime, and a whole lot of people (mostly college kids.) You'll also find a great place for brats and burgers, State Street Brats.
We stopped here for lunch one day and it was awesome. We sat outside to eat, which probably would have been a better experience if there wasn't a street performer drumming away right outside the gates, but that's the unique experience of State Street for you. The burgers were pretty great, and you can get them with tater tots which is always a delicious option.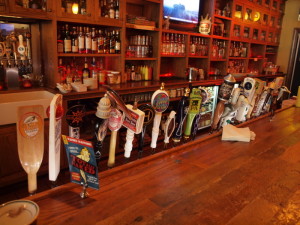 (Source)
You'll find The Old Fashioned right across from the Capitol building (which you can tour for free.) If you like Old Fashioneds (or brandy, or whiskey) you will love this place. They also have a ridiculous amount of beers on tap, and a lot of beers in bottles as well. Don Draper would feel at home here.
The food was really good too. Let's face it though if you're going to The Old Fashioned your going for drinks. I can't for the life of me remember exactly what I ate here, I know it was a burger and it was really good. Madison, Wisconsin really knows how to make a good burger. I also had a delicious drink, a brandy slush I believe. (and maybe that's part of the reason why I can't remember exactly what I ate here.)
If you ever have a chance to visit Madison, Wisconsin definitely go. It's a gorgeous town. A really quirky fact is that most citizens of Madison use bikes as their main way to get around. If you ask someone for directions make sure you specify that you'll be driving a car, otherwise they'll definitely tell you to cut through ways that you can only get through on foot or bike. That's a true story, I'm not even kidding. It's a pretty majestic town, I love spending the day down there. 
Written by, Brittany, the geek behind the blog. I share lots of recipes, my thoughts on the latest tech gadgets, my favorite geeky games, and snippets of life as a Work-at-home mom.