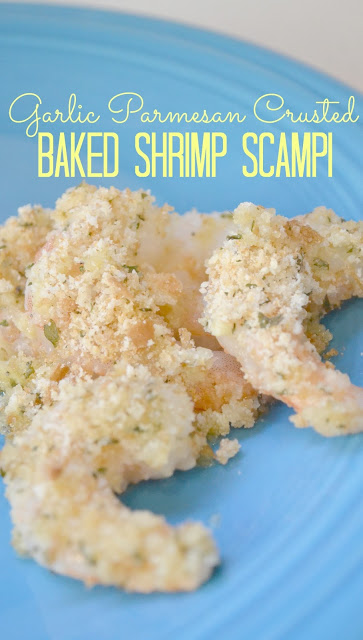 Shrimp Scampi is definitely my weakness. I can't get enough of the buttery garlic goodness that is Shrimp Scampi. I always order it when we're out to dinner, but it gets pretty pricey and they don't serve you nearly enough shrimp. So I thought, I can just make it at home!
…then I thought. How can I make this even more tasty?
I'm the kind of girl who will be halfway done cooking dinner, but at the last minute decides that it needs to be kicked up a notch.I was just going to make a simple butter and garlic shrimp scampi, but honestly I got to thinking when AJ was cleaning the shrimp and decided that this shrimp was going to have a crunchy topping. I was going to top it with crushed homemade garlic croutons, but that wasn't good enough. I added grated parmesan cheese to the mix too!
Look at how pretty it looks after its all cooked up. Perfect for entertaining!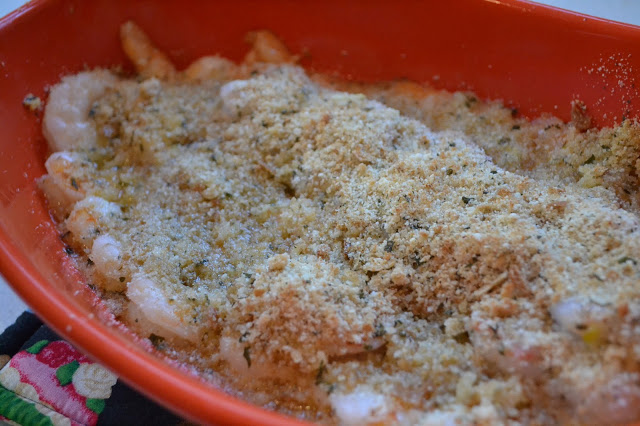 Yumm! This actually ended up tasting a lot like the Red Lobster parmesan shrimp scampi, you know the one that you order at least three times during their Endless Shrimp days, yeah, that one.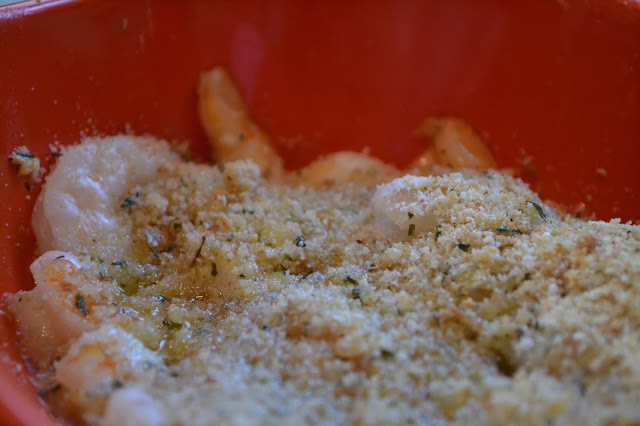 Alright, I won't leave you in suspense. Here's the recipe so you can make your own:
| | | |
| --- | --- | --- |
| Garlic Parmesan Crusted Baked Shrimp Scampi | | Print |
Prep time:
Cook time:
Total time:
Ingredients
2 pounds shrimp (shelled, deveined, and tail off)
1 stick butter (softened)
2-3 cloves garlic
1 tablespoon Parsley
pinch coarse salt
pinch black pepper
1 cup bread crumbs
½ cup parmesan cheese
Instructions
Preheat oven to 350*
Arrange shrimp in a single layer in an oven safe dish.
In a small bowl. Mix together butter, minced garlic, parsley, salt, and pepper.
Spread the butter mixture on the shrimp (I used my hands for this, as it was impossible to use a spatula to spread it evenly)
Bake for approximately 15 minutes, until shrimp is nice and pink.
Meanwhile, make your crust, with 1 cup of crushed homemade garlic croutons and ½ cup of grated parmesan.
Remove shrimp from oven, change oven to high broil setting.
Coat shrimp in crust mixture. Broil until the coating turns a nice golden brown.
Serve your delicious and pretty garlic parmesan crusted baked shrimp scampi with pride! It's so good you'll be searching for seconds!
If you're looking for the pan I used (which I love because it looks like a giant version of the shrimp scampi pans that they use at restaurants) I use the Rachel Ray Bubble and Brown Stonewear pan, which is great for everything. It also comes in 9 different colors (including a classic white if you don't have a crazy colored Fiesta kitchen like I do!) How fun is that? Buy it on Amazon here with my affiliate link!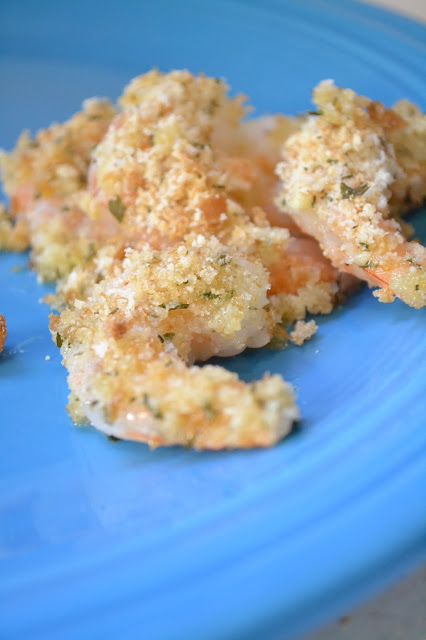 If you like the combination of parmesan and garlic check out these Spicy Garlic Parmesan Green Beans!
Written by, Brittany, the geek behind the blog. I share lots of recipes, my thoughts on the latest tech gadgets, my favorite geeky games, and snippets of life as a Work-at-home mom.