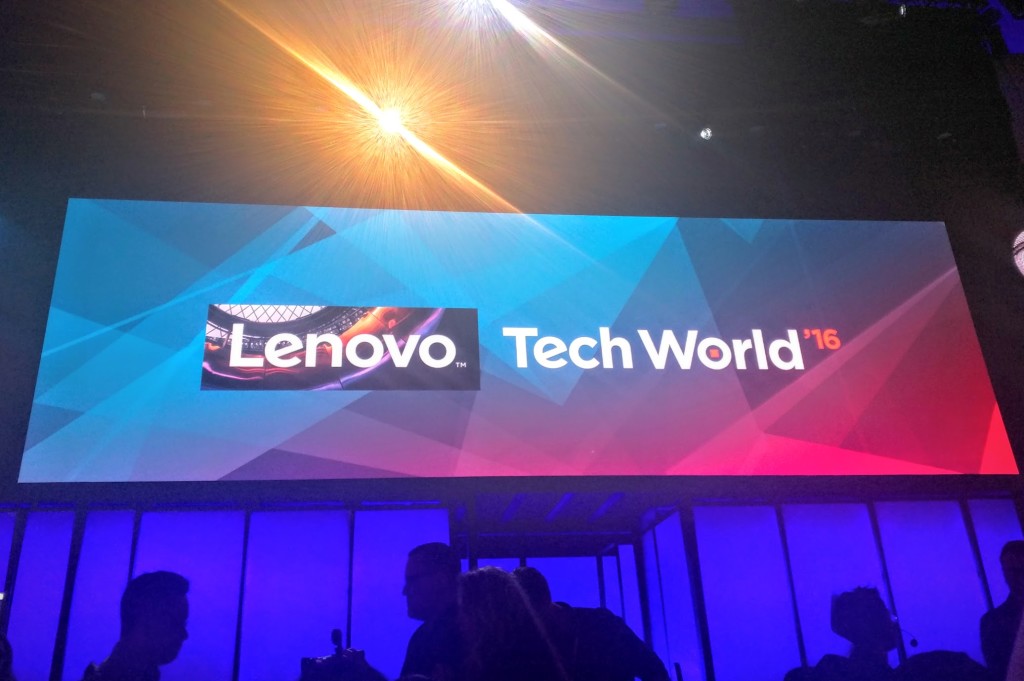 I was invited to Lenovo Tech World as one of the MotoMakers, a great brand advocate group that I'm proud to be a member of. There we heard a great keynote with a ton of awesome announcements, after the keynote we even had hands on time with the devices. So I thought I would share the highlights of the day with you.
Tango
Google's augmented reality tech has finally found it's way to a device and has some great apps that we were able to see demo'd. It was great to see how this technology is being adapted to fit into our daily routines. As a home-owner I'm in love with the capabilities.
Painting a room and need to know how many gallons of paint you need to purchase? Use the measuring app to measure your wall space with precision and without measuring tapes or ladders.
Furniture shopping online? Virtually place furniture in your room to see if that shelf will really fit behind your couch or not.
They also have some really fun little interactive apps that will be fun for the whole family. Set up dominoes in a Rube Goldberg design around your house, and watch it go, without cleaning up a mess, or accidentally tipping over a domino. If you're into dinos you can see just how big a T-Rex would be in your living room and interact with it as if it's standing right next to you. It's really great stuff.
Tango will be launching this September with limited apps, but is projected to have at least 100 apps in 2017.
Phab2 Pro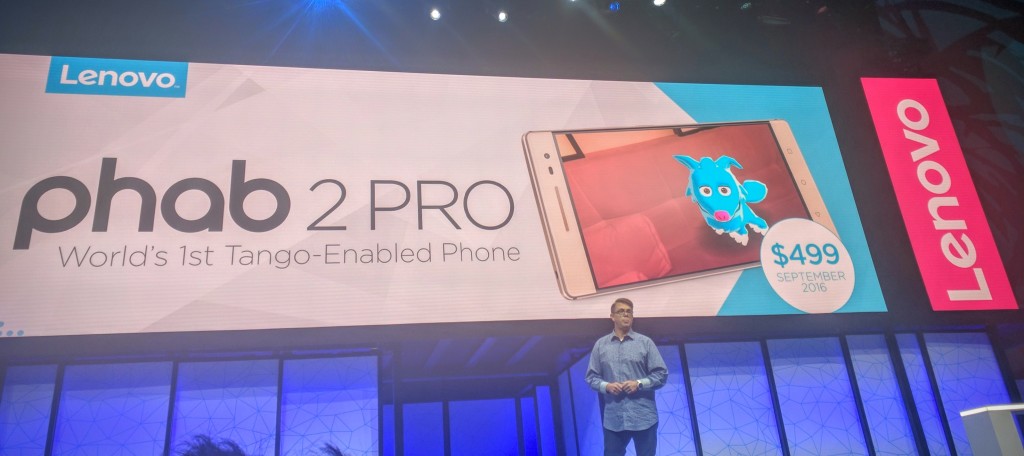 The first Tango device. It's pretty impressive, and really, really large, at 6.4 inches. It boasts a 16-megapixel camera and 5 Megapixel front facing camera. It also has a rear fingerprint scanner, a position that feels really natural to unlock your phone. It also boasts a large battery, at just above 4,000Ah, promising a full day's use with one charge.
This phone might not be the perfect fit for everyone's everyday phone with it's large size, but I can't wait to take Tango for a spin in September on this device.

Moto Mods
The huge Moto announcement was a game changer, the Moto Z (due out on Verizon this July, and unlocked this Fall) is all about the mods. Moto Mods snap onto the back of the slim Moto Z and turn a great phone into a hub that can do even greater things.
One of my favorite mods is a JBL SoundBoost speaker, this will definitely be a great replacement for bulky Bluetooth speakers as it has beautiful loud and clear sound. Even in a packed show room this speaker delivered.
They also have great battery packs, able to add 22 hours of battery life, and a whole lot of style to your phone. This Kate Spade mod was absolutely gorgeous.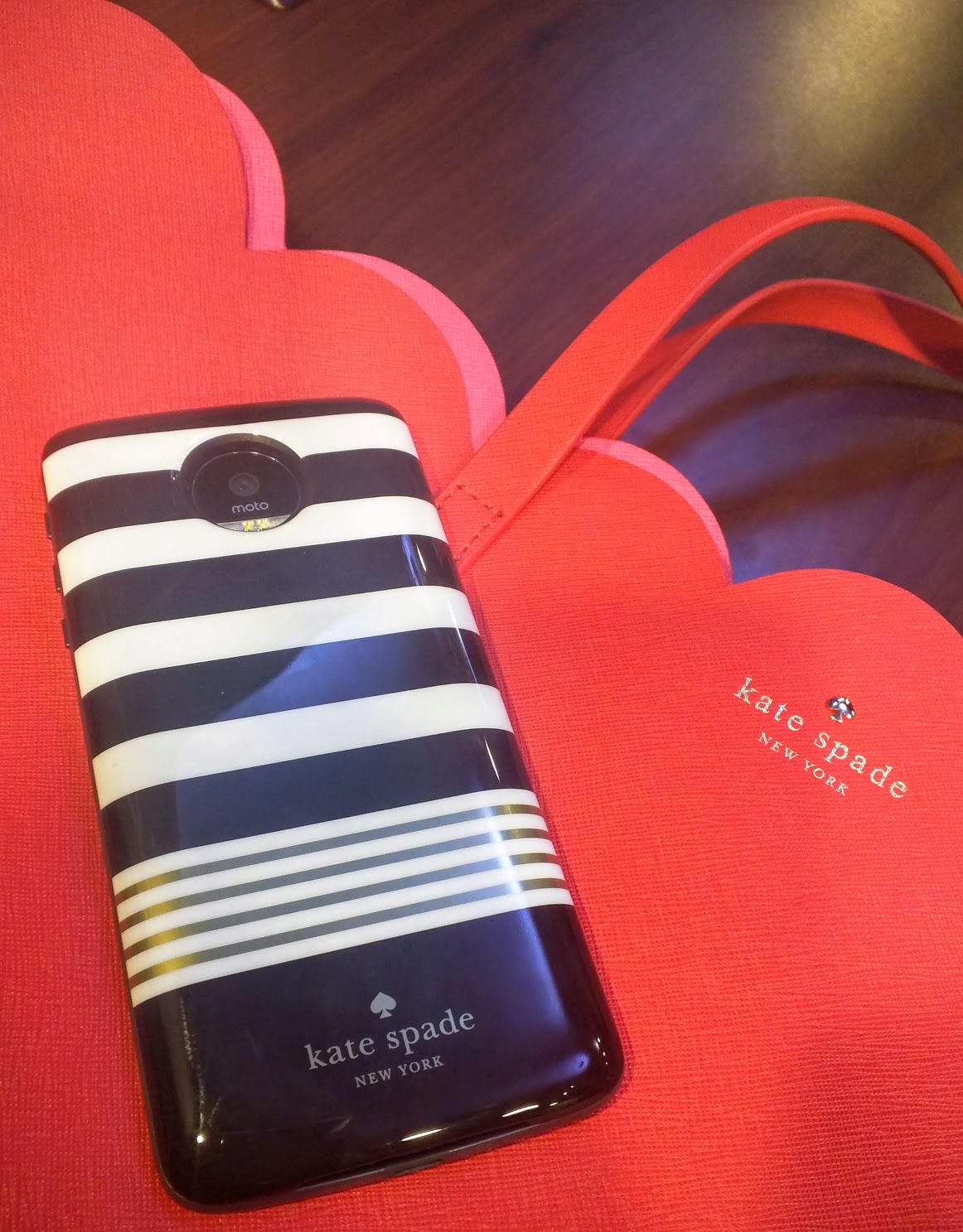 The last mod that really had people talking was the Insta-Share Projector, which can project whatever your streaming, or the project you're working on up to 70 inches on any surface you can find. I think it would be wonderful at a hotel. Can you imagine falling asleep watching Netflix on your ceiling? Too fun.
Flexible devices
We got to see a bit of a tease of some prototypes of flexible phones and tablets. While we didn't get any solid information on the products as they're still just a concept, we now know that Lenovo is working on bringing that technology to us. Let's face it, we all want a phone that you could wear like a bracelet on days you don't have pockets, or a tablet that can fold up to fit in a smaller bag.
You can see the Flexible devices demonstrated in the video below, because you really do have to see it to believe it.
Written by, Brittany, the geek behind the blog. I share lots of recipes, my thoughts on the latest tech gadgets, my favorite geeky games, and snippets of life as a Work-at-home mom.