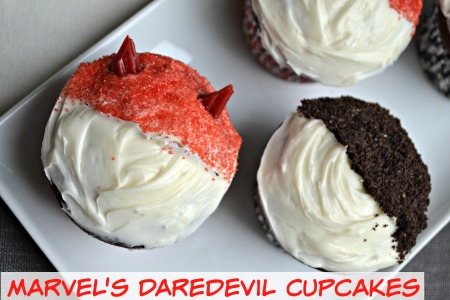 We finally finished watching season 1 of Marvel's Daredevil. It's probably the most ridiculously awesome superhero anything I've ever watched. The show captures the true grittiness of fighting. I don't know any other superhero show that has you worried about the characters injuries from 3 episodes back. Jeez Matt, learn when to stop fighting, you're going to break your stitches open.  I'm a member of the Netflix #StreamTeam all opinions are my own, this post does contains affiliate links. 
I've got to say, that they do a good job of making the villain seem pretty darn human. To the point where you understand his mission, and almost feel sorry for him. …and then you don't. Then you just want him to go down.
The fight scenes are absolutely epic, but I honestly don't know if I can even say that they're my favorite part. I love the very human side and interactions with Foggy, Karen, and Matt is great. You see their real ups and downs, and how bad ass they all are.
If you haven't started watching it yet, and you're not afraid of some semi-gross fight scenes then you better binge watch right now, today, this very second.
What the heck are you waiting for?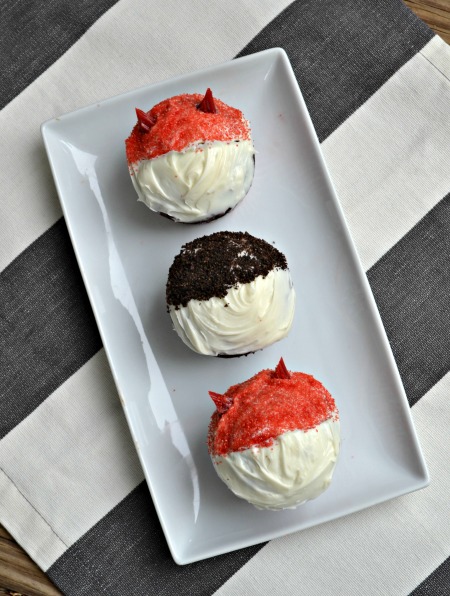 You can make these sweet little cupcakes for your binge watching session too. Everyone thought that the initial Daredevil costume was lacking, come on, where is the protection, why just run around in a black mask?
I turned both, that original costume and his upgraded functional and more devil-y costume into yummy cupcakes anyway.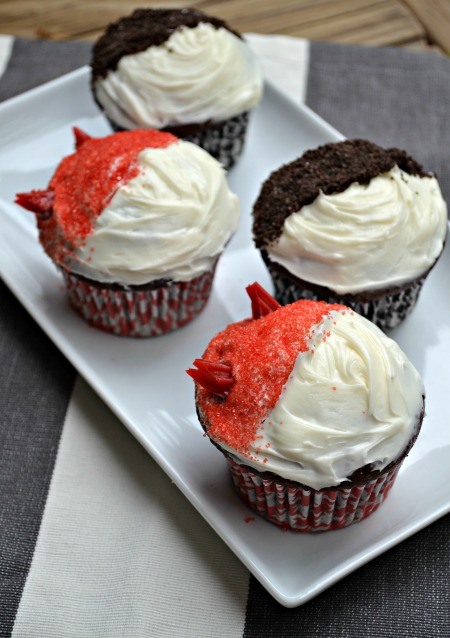 | | | |
| --- | --- | --- |
| Marvel's Daredevil Cupcakes | | Print |
Ingredients
Devil's food cupcakes ready to be frosted (It has to be Devil's food...because c'mon!)
Cream cheese frosting
5 Oreos
Red colored sugar
about 1-3 pieces of licorice
(optional) Peanut butter chocolate ganache for angry faces:
⅛ cup chocolate chips
1½ Tablespoons peanut butter
Instructions
Bake your cupcakes according to directions and let cool.
Place Oreos in food processor and pulse until consistency of crumbs.
Next, you need your devil's horns. Take a piece of licorice and cut into little equal sized rectangles, then cut the corners to create little triangles. 2 triangle horns for each red cupcake.
Then you frost each cupcake with frosting using a silicone spatula. I like to use these really small silicone spatulas.
Next you add either the cookie crumble or the red colored sugar on about half of the cupcake to resemble the Daredevil mask, the red ones get Devil horns.
 Super cute, right?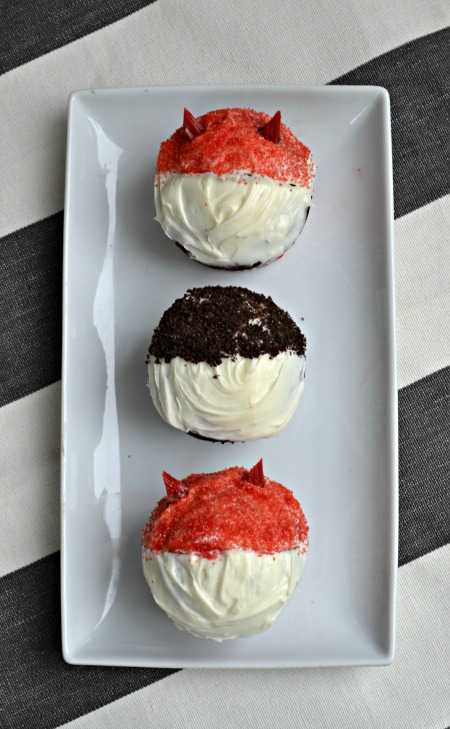 You could call it a day here, or you could make angry Daredevil faces with my favorite peanut butter ganache.
Just melt 1/8 cup chocolate chips with 1 1/2 Tablespoons peanut butter in a microwave safe bowl in about 1o second intervals, stirring in between until completely melted. Spoon mixture into a sandwich bag and cut a tiny hole in the corner, like really teeny tiny, didn't even seem like you cut it tiny.
Then make angry faces while drawing angry faces onto the cupcake, it'll freak your kids out and more cupcakes for you then!
We had so much fun making these, and a ton of fun eating these.
If you haven't watched Marvel's Daredevil on Netflix yet, do so immediately! Season 1 is up in it's entirety and season 2 is already slated for a 2016 release.
Don't have Netflix yet? You're missing out, go sign up today and thank me later. (Oh, and do make sure to binge watch Orange is the New Black so you can be caught up for season 3 which will be here on June 12)
Written by, Brittany, the geek behind the blog. I share lots of recipes, my thoughts on the latest tech gadgets, my favorite geeky games, and snippets of life as a Work-at-home mom.