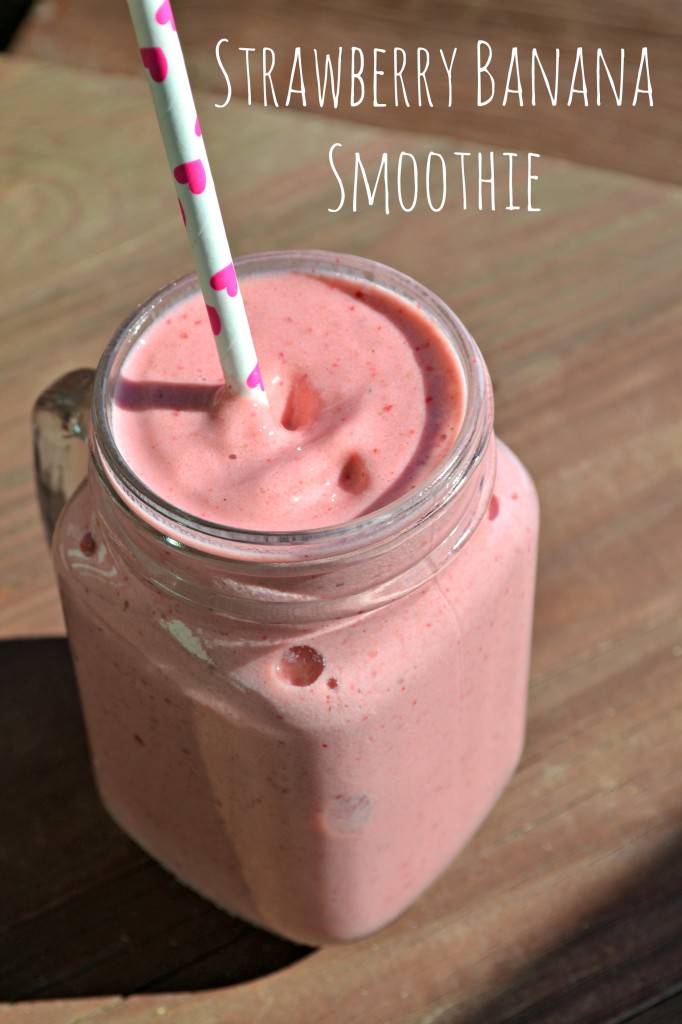 A couple weeks ago we had gorgeous weather, it was 40 degrees. In Wisconsin that's basically t-shirt weather. Who am I kidding? I saw a guy wearing a sleeveless shirt yesterday when the temperature was less than 20 degrees, we're all kind of numb to the cold at this point of the year.  So of course, we had to have frozen strawberry banana smoothies for lunch, since it was so warm outside (40 degrees in February is like Heaven.) We have included affiliate links in this post for your shopping convenience.
Aliceana is now the queen of smoothies, it's pretty adorable how excited she gets about slurping up her nutritious lunch. Her favorite smoothie cup is my Starbucks tumbler that I used all the time (to drink water one Venti glass at a time) when I was pregnant with her, it's pretty ridiculous to see a 20 month old with a Venti Starbucks cup
.
That's my girl.
We've been on a smoothie kick lately, because sometimes it's nice to have a healthy treat instead of reheating leftovers or making sandwiches for lunch. This strawberry banana smoothie is by far my favorite though. I'm pretty sure AJ wants to omit the banana altogether and just make strawberry smoothies, but I prefer the flavor combination of both strawberries and bananas.
I use Stonyfield Organic French Vanilla yogurt (with Whole Milk), because it's made with all natural organic ingredients and tastes like ice cream. AJ took one taste of this yogurt and looked at me disappointed, "You didn't check the label did you? This tastes too good for us to be able to eat." I had to laugh and tell him that it was both organic and natural. Honestly, it tastes so good that you don't believe it could be good for you. I promise I'm not being paid to say this, it's just become a staple in our house. We love it!
To make this a frozen smoothie; I slice strawberries, place them in freezer bags, and let them freeze until we're ready to enjoy smoothies. Next put all ingredients into a blender and blend until smooth.
You have no idea how excited I was to be able to go outside without a Winter coat to take pictures of these pretty smoothies. I think Winter is getting to us, and a taste of this strawberry banana smoothie can make you feel like you're enjoying a sunny Summer day.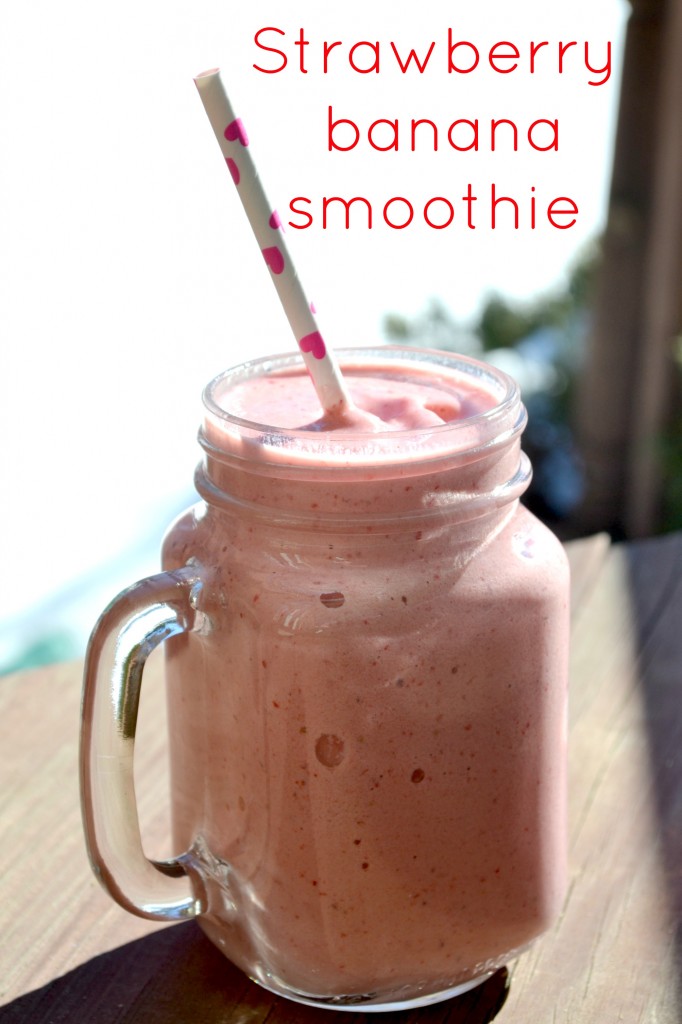 [Made-up] Fact: Strawberry smoothies taste better in mason jar mugs
with
paper straws
.
| | | |
| --- | --- | --- |
| Strawberry Banana Smoothies | | Print |
Prep time:
Total time:
Ingredients
2 cups strawberries, frozen
1 ripe banana
2 cups milk
8 ounces vanilla yogurt
1 tablespoon honey
Instructions
Blend all ingredients together in a blender until smooth.
How do you get rid of your Winter blues?
If you're in a warmer climate you can keep your warm thoughts to yourself, I'm beyond jealous. Ha! 
Written by, Brittany, the geek behind the blog. I share lots of recipes, my thoughts on the latest tech gadgets, my favorite geeky games, and snippets of life as a Work-at-home mom.