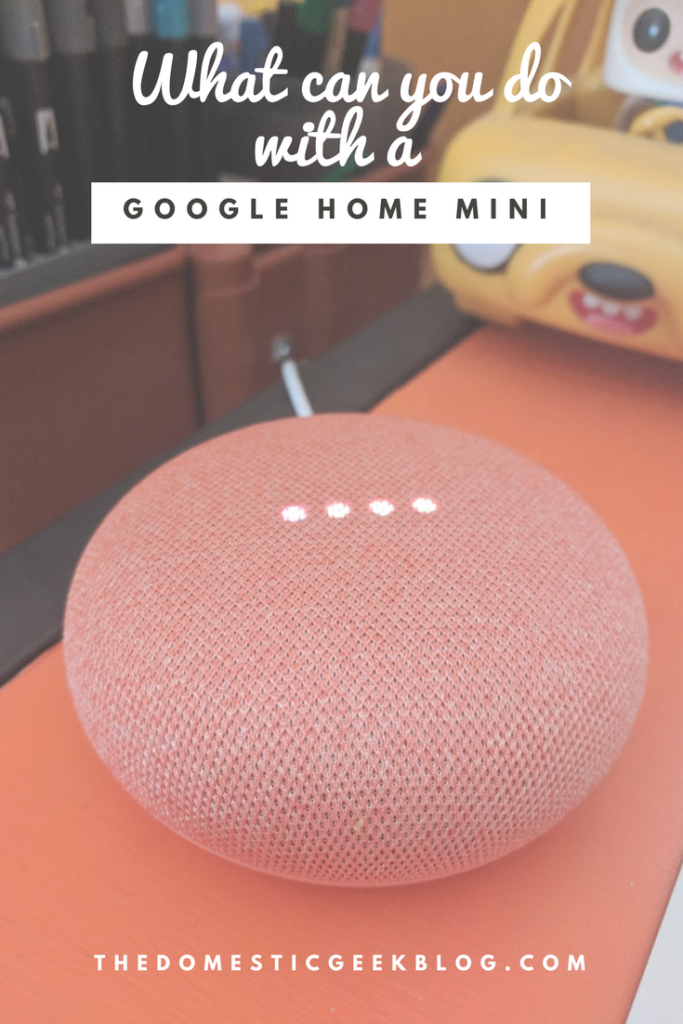 Our family is Google Home obsessed recently.  My Christmas presents this year consisted of a small fleet of Google Home Minis. AJ cleverly wrapped them in 3 completely different sized boxes to throw me off the scent. They're tucked into our living room, kitchen, and bedroom.
They're so incredibly handy. we use them a lot more than we thought we would. These are all relatively simple things, but when you add them all together and consider that you can ask your Google Home to do any of these with only your voice, it's pretty impressive.
Music
We listen to music through our Google Play Music subscription all the time (Google Home works with Spotify
and
Pandora
as well.) We can ask it to play specific songs, bands, albums, or playlists. The only problem is that Aliceana knows how to use it and that means we listen to a ton of Disney Soundtracks.
Timers
We use it for setting timers, you can set up specific timers which is great and it will remind you what the timer is for. I've used this for everything from cooking to how long to leave an ice pack on.  I've even used it to set a slightly earlier alarm one night as I was drifting to sleep and remembered that Aliceana has basketball the next morning.
Recipes
Obviously you're not going to use this for a gourmet meal, but when you're feeling under the weather and want a hot toddy recipe it'll walk you through step by step. It made a mighty strong, mighty delicious hot toddy.
Roll Dice
Sometimes you need to roll a dice, ask Google to roll a D20, D6, or a D4, and it will. I'm not completely sure how random it is, but it's a fun little aspect. Note: I asked it to shake a Magic 8 ball, and it wouldn't. Whomp, whomp, whomp.
Trivia
Have your own trivia contest. AJ and I like to play against each other in the game show themed trivia game.
Google things
We like to ask questions, it's not always reliable. Sometimes it has no idea what you're talking about. One day we had a hilarious interaction where no matter how we rephrased it the Google Home kept telling us that cats only have a lifespan of 4-5 years. I mean, I don't think Princess is working any kind of miracles and she's just about finishing her second lifespan according to Google.
Control our TV
It controls our TV, our TV is about 3 years old so I didn't even dream that it would be capable. I changed a quick setting and now with our Google Chromecast I can ask it to play a show that I've been binge watching and it starts where I left off. I can ask it to pause, change the volume, and even turn the TV off. It's so so fun. These capabilities include using connected apps like Netflix, Youtube, and even your own photos or videos from your devices.
Make a phone call
You can make a phone call on your Google Home. The device acts as a speakerphone, and it's quite handy.
Text
You can send off a text with your Google Home. It's convenient when you don't know where your phone is, or your hands are full of crap.
Check your calendar
Do you have anything important on your agenda? Ask and you'll find out. Unfortuately you can't add or remove things from your calendar yet, but I'm sure that'll change soon.
Find your phone
Ask Google to find your phone and it'll ring even if it's on silent. This is ridiculously convenient as you can imagine.
What's the weather like?
If you're wondering what to expect for weather Google Home will tell you if you ask. You can ask for weather conditions on a certain day or what it's like currently.
News
Set up Google to keep you up to date from your favorite news outlets. Ask Google about your day and it'll give you a quick run down of your calendar, current weather, and news snippets. It's an awesome way to get up to date while getting ready in the morning.
Math
Need help with math? Just ask and you will receive. From easy calculations to measuring conversions you've got it.
Games
I already mentioned trivia, but there's more than that. There are some super fun interactive adventures for your kids featuring characters like Mickey Mouse and Cars. These are formatted like a choose your adventure book and they're so much fun to go through.
and more to come
The best thing about the Google Home is that it just keeps getting smarter everyday, updates keep on giving you more options. I'm constantly trying to test the limits and sometimes I'm pleasantly surprised to find a new thing that these pint sized devices are capable of.
Written by, Brittany, the geek behind the blog. I share lots of recipes, my thoughts on the latest tech gadgets, my favorite geeky games, and snippets of life as a Work-at-home mom.