Yesterday was like a complete dream come true, I got to visit the set of Fuller House as part of the Netflix #StreamTeam, all opinions and words are my own, the obsession is real. It's not the original Full House set, but it's built just like the original and some of the original things have definitely stuck around. Unfortunately, they had some temporary sets built, so we didn't get to see the bedrooms, but we got a really great look at the iconic living room and kitchen that most of us born in the 80's and 90's feel like we've grown up in.
Sitting in the audience and looking on it almost made the set feel much smaller, and there's something different that makes it look not quite right when you're looking on from about 20 feet away, and then you see it being filmed before your eyes, and that's it. That's the Tanner House we all know and love.
Here's a fun shot where you can see all the lighting rigs and the whole scope of the room.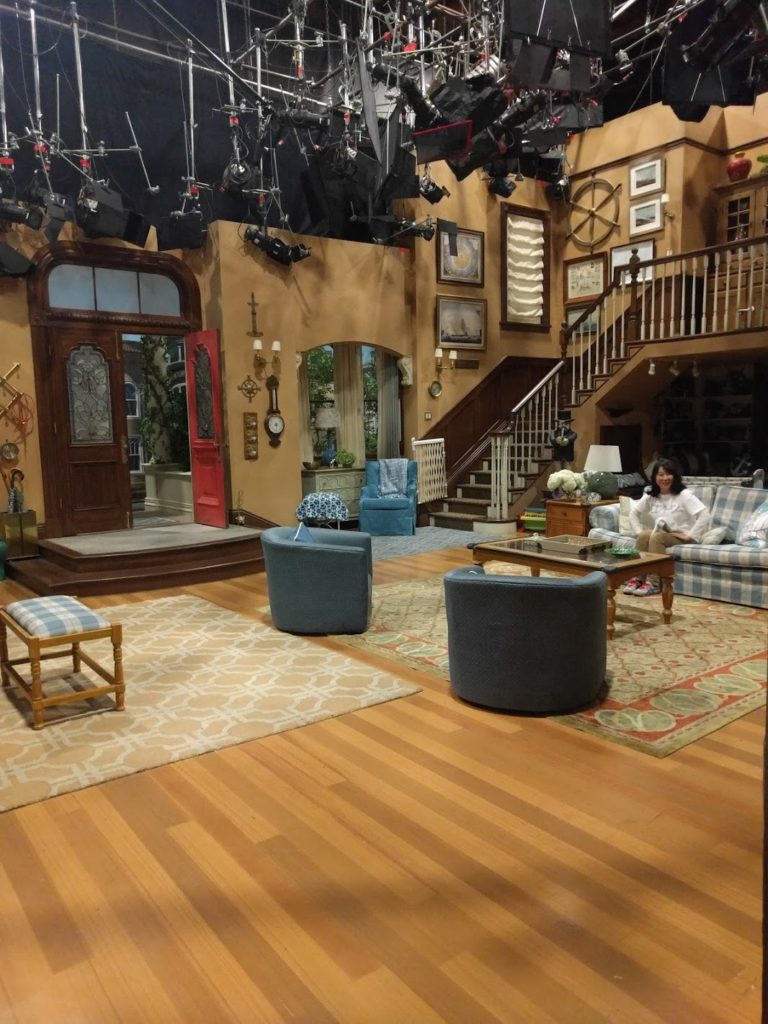 It was amazing to stand in that space, I surprisingly didn't cry. When I found out I was going on the trip, I thought I was definitely going to be the girl crying a puddle in the Tanner's living room. I was born in 1990, so growing up with reruns of Full House, I really felt like I really grew up with Michelle. Here I am smack dab in the middle of the living room, you better believe this is my new profile picture on Facebook. That's definitely my, "I couldn't be happier" face.  So I was definitely beaming instead of an emotional mess like I predicted. Psst, shout out to Stranger Things with my Hawkins AV Club shirt.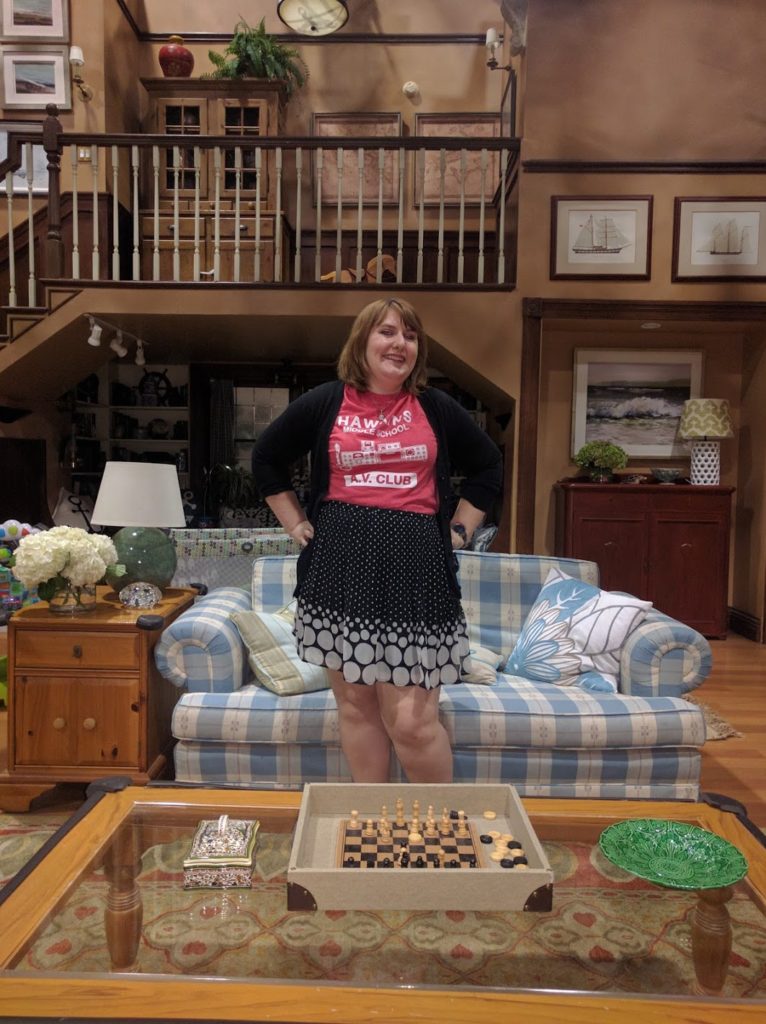 You guys, I'm pretty sure this guy is a staple in all Full House living room scenes, he's seen a lot of things he has. Hello weird top hat man, if you could speak I'm sure you have a million great stories to tell, but if you did speak I'm pretty sure it would resemble some kind of a Goosebumps story and people would be running in terror.
You know, it's always bothered me that they have this great little nook for sitting, but no one ever sits there. I would probably make that area my makeshift office, or the perfect lazy place to read a book. What a wonderful nook. (I'm sure in real life, it's just a camera angle/lighting issue that makes this spot unusable.)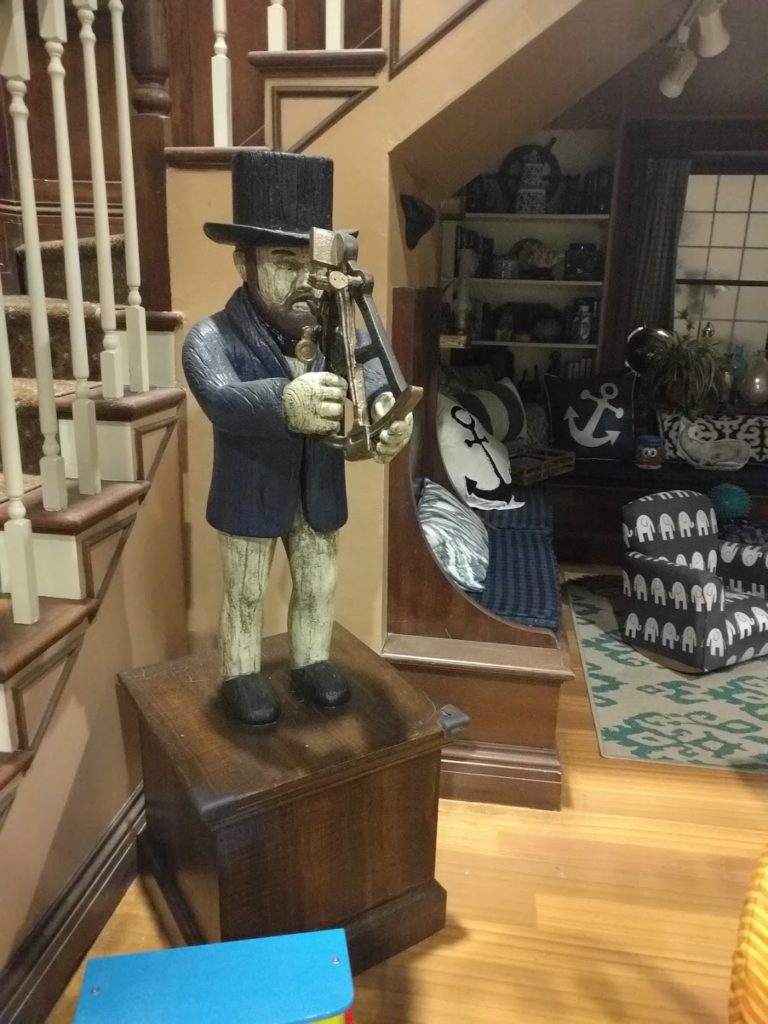 The doors! Oh the front doors! I spent some time skipping in and out of these doors and really soaking it in. So many great things have happened in those darn doors, and here I am reminiscing and getting teary eyed. I knew emotion would hit me at some point. These doors are almost as famous as the famous Tanner door to the kitchen.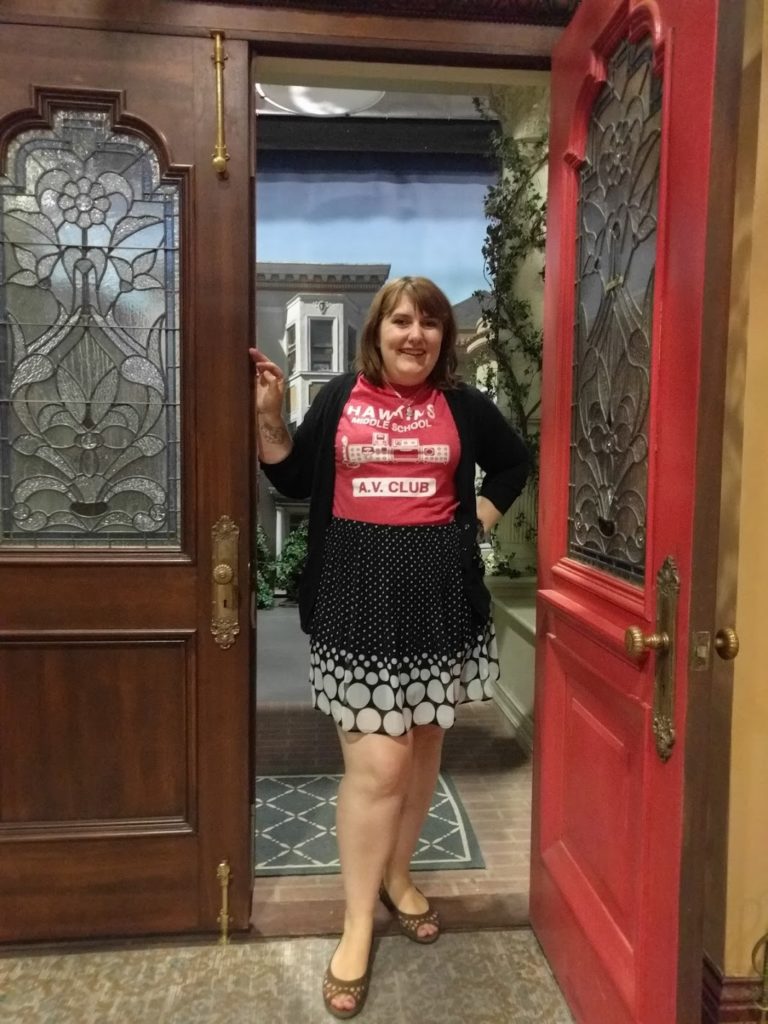 Speaking of the Tanner door to the kitchen, I might just have video of me going through the door.
Here's a shot of the door, so many Tanner's and Fuller's have eavesdropped through that door. I was slightly excited to walk through it. I'm not used to the selfie-type video, what do you think, should I do more? Or should I never ever attempt it again? Ha!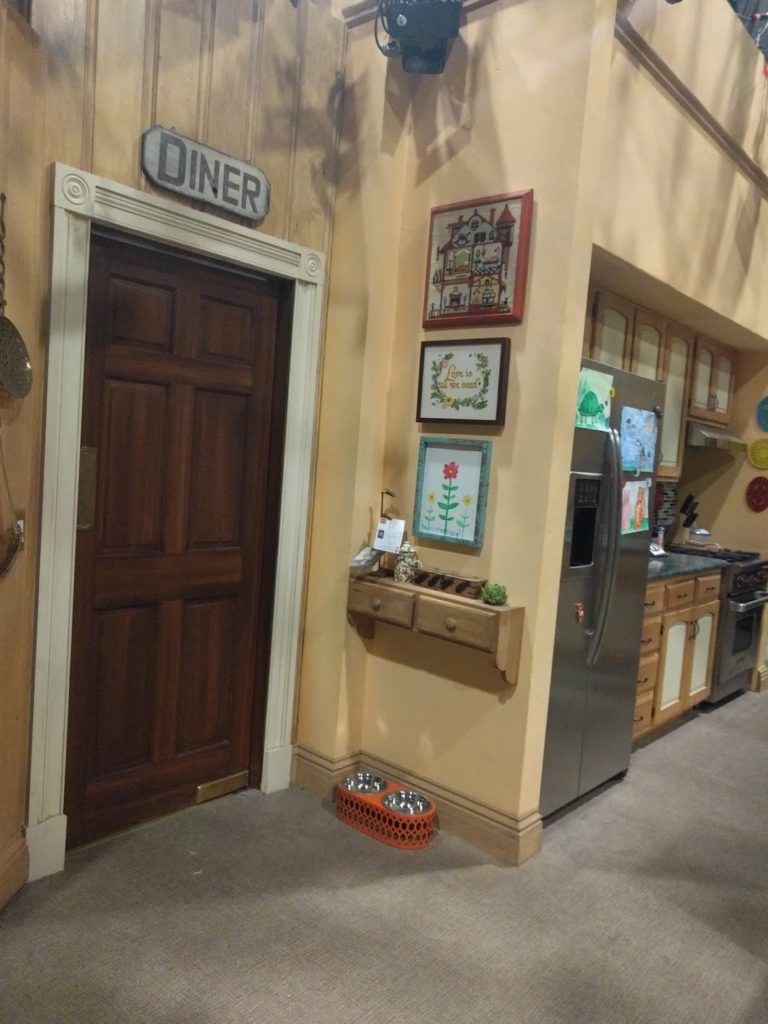 Aliceana asked if I made food in the kitchen for the kids. I answered, "something like that" haha I can't ruin the magic for her. She thinks I'm best friends with DJ, Stephanie, and Kimmy and it's hard to tell her I'm not when I've been to see them twice this year. I even got a short video of the girls saying hi to Aliceana, I seriously can not wait to show her in person when I get home. She's going to freak out.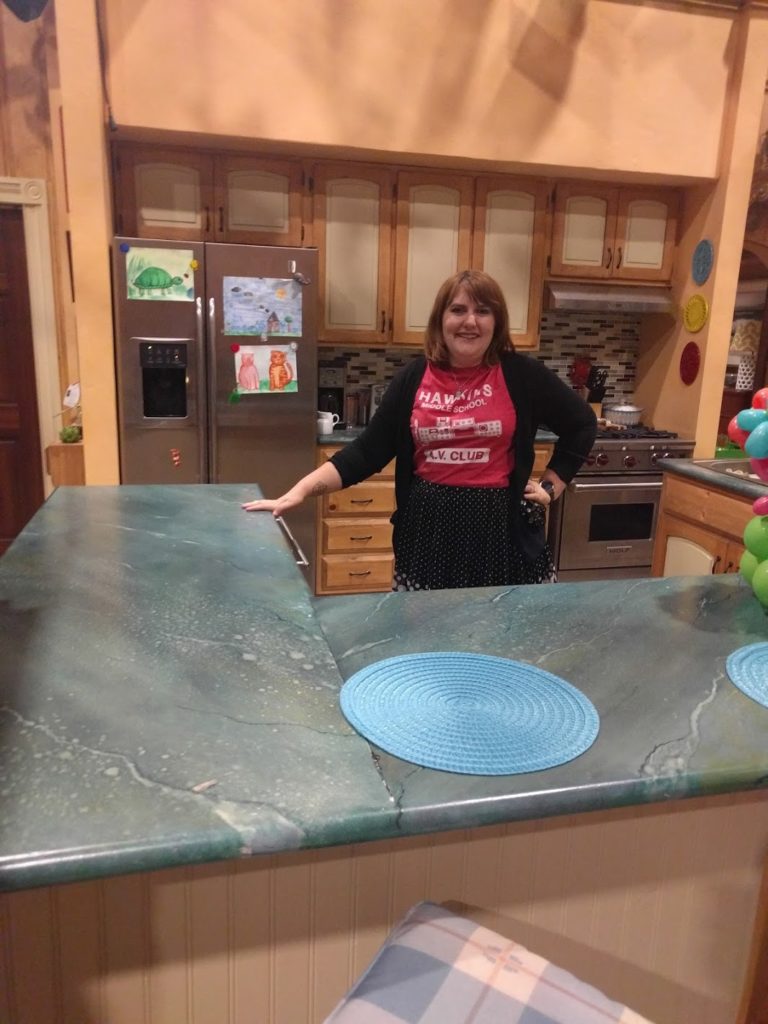 I figured out where they do laundry! This little nook off of the kitchen.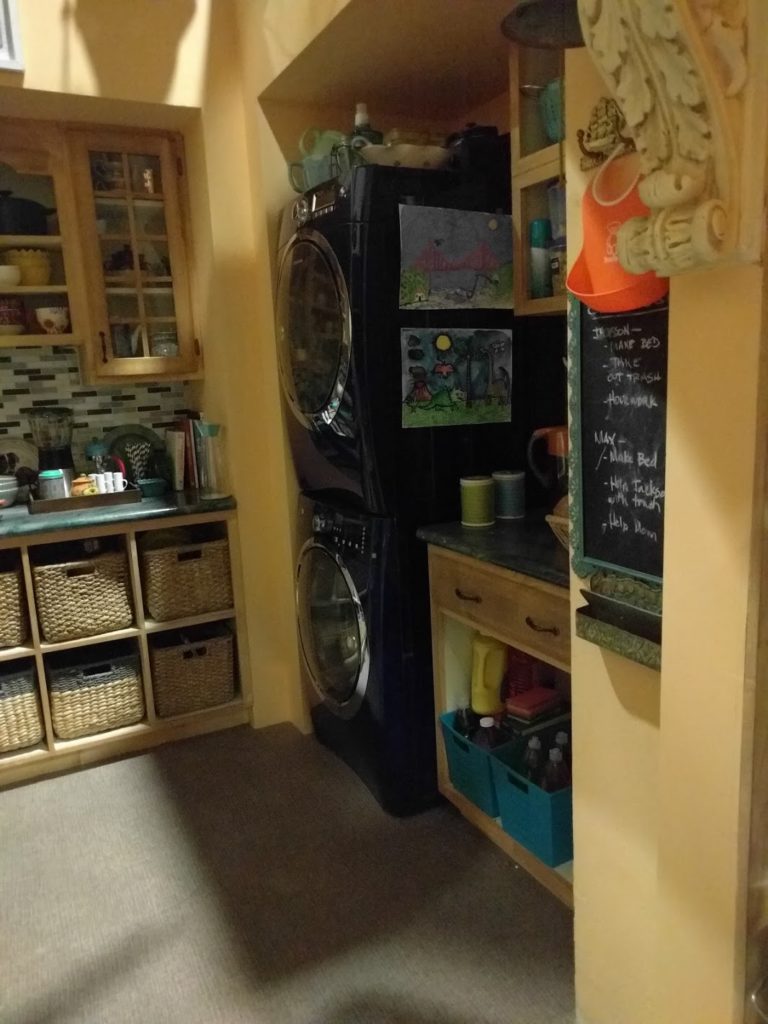 I had to take a picture of the chore chart. How super realistic is this? It looks like they made it and might have forgot about it, like all chalkboards at my house end up ha!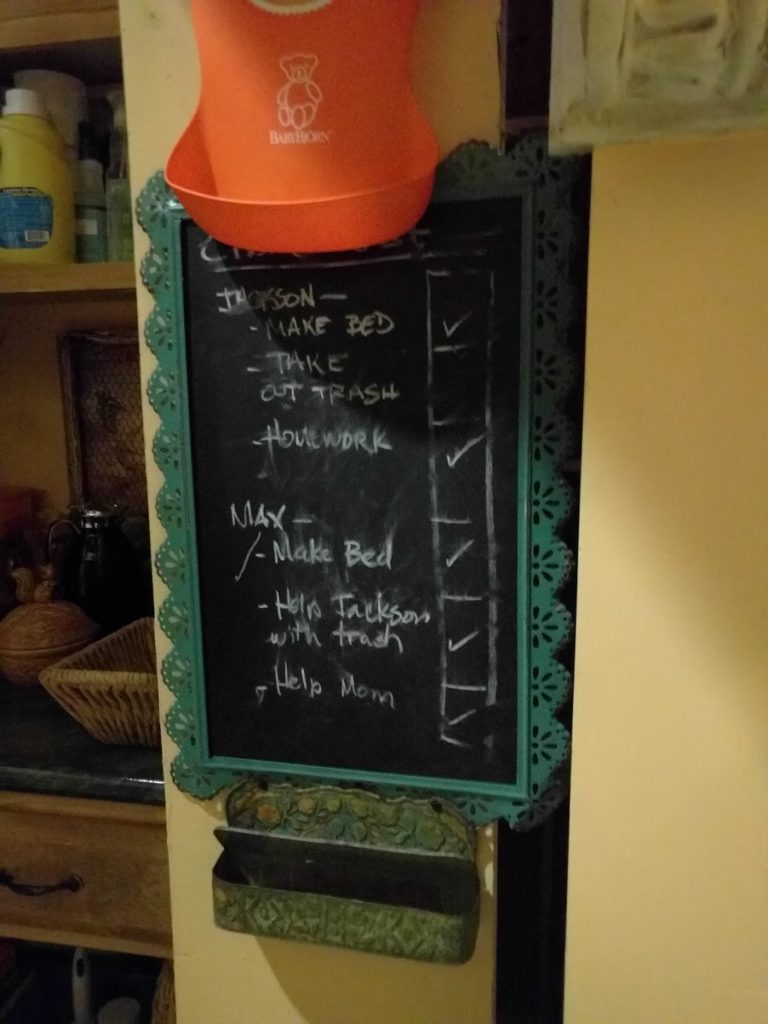 I was obsessed with the little details. I love the child safety locks that we all have or had and hated, seriously they were nearly adult proof. I have yet to see Tommy this season (I will tonight) but I'm assuming he's in the getting into trouble stage already.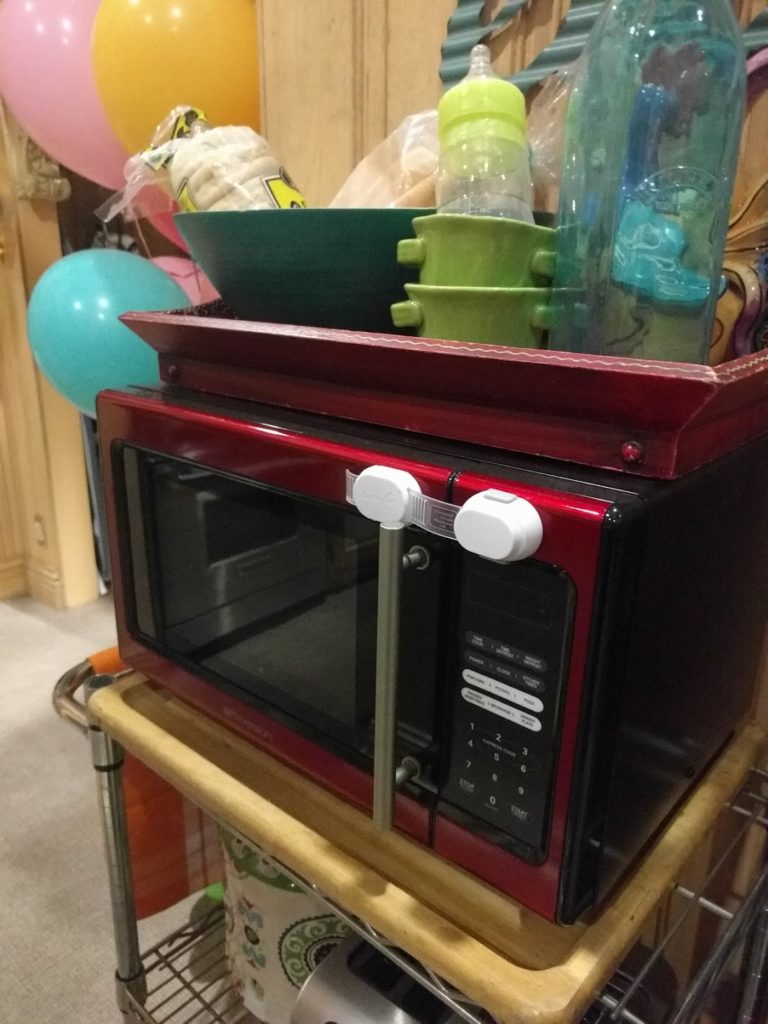 Check out the desk. I love the very real looking clutter. I definitely always have that amount of clutter…in several spaces in my house. That's what counters, tables, and desks are for until someone visits and you quickly put things away, right?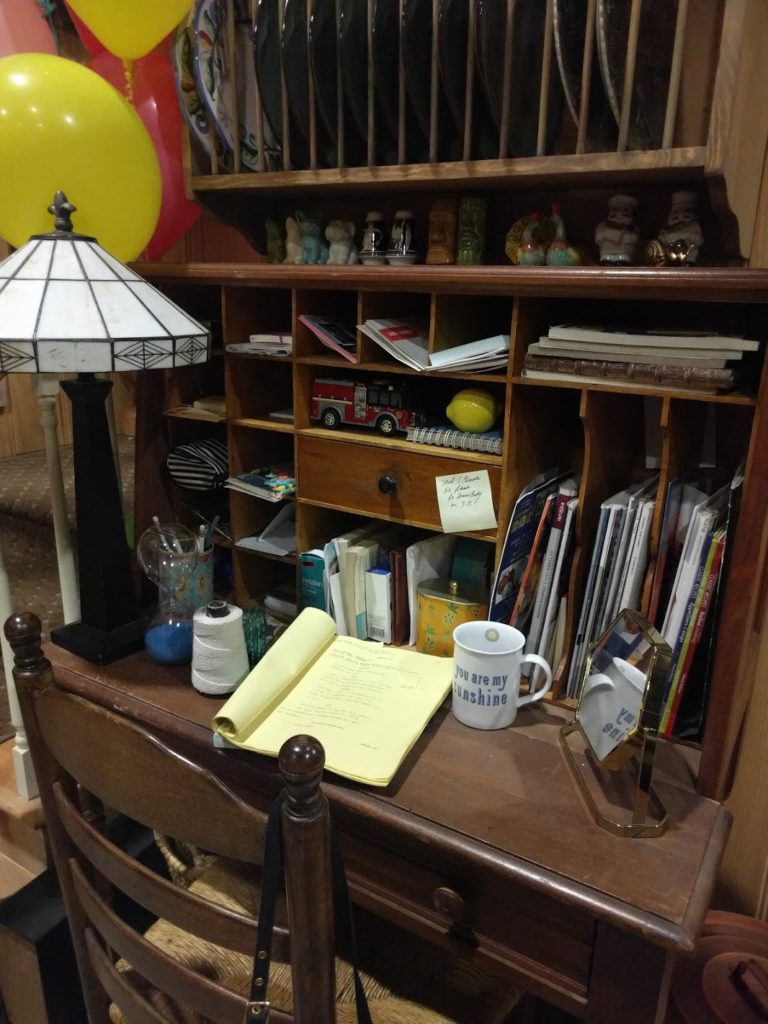 I saved the best for last. Awww, family photos of everyone through the years! They have the Tanner's, the uncles, and the Fuller's in a great wall gallery style wall leading up to the kitchen stairs. If that doesn't make your heart soar, you're broken.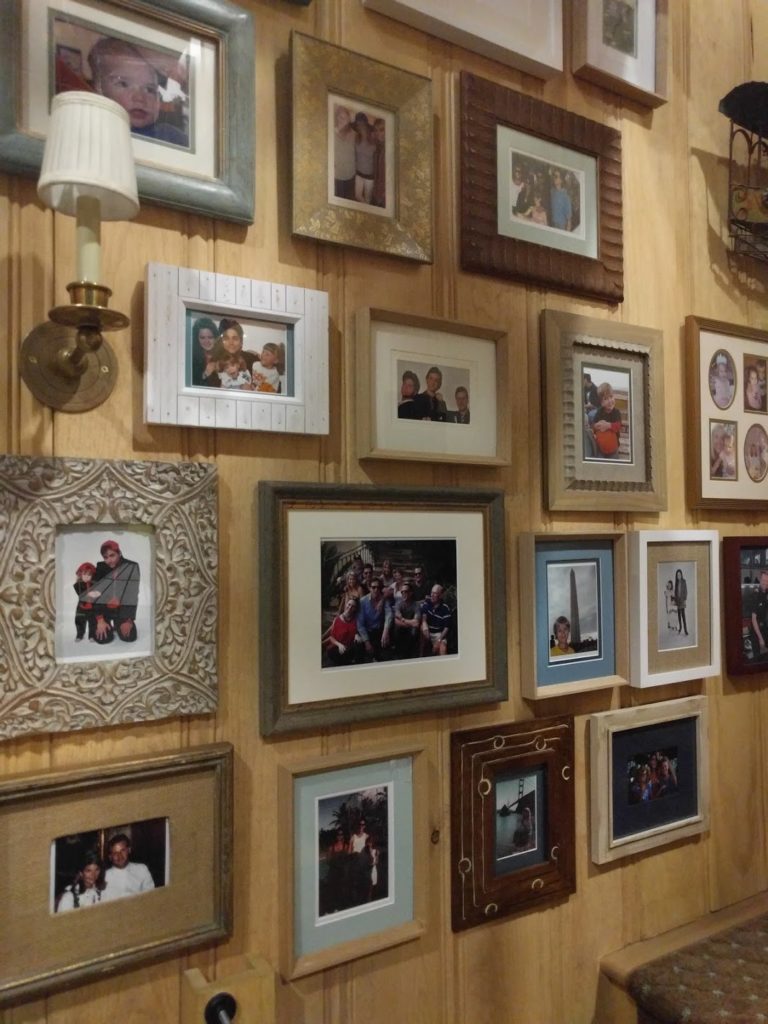 Oh, the set was the best to see. I can't wait to watch season 2 over and over and over with Aliceana so I can mentally go, "I stood there, and there, and there." The whole time I'm watching.