I have zero organization in our home, it's pretty ridiculous how unorganized we are. I think a lot of it has to do with cost, I think anyone's home could look like it was on the cover of a pretty organization magazine if you had unlimited funds and access to Ikea and The Container Store.
Well, we definitely don't have unlimited funds, and if I use the online store locators for Ikea or The Container Store the search results might as well just be someone laughing at me. I basically only have Target to work with. Which is probably the reason why I think I need cube organizers in every room, seriously that's basically all our local Target sells in the organization department. 
 Sadly, I have a very standard no frills refrigerator with the dumbest rack position options ever. With a trip to the dollar store and a handful of bins, I was in business!
Here's a shot of my entire refrigerator. I ended up purchasing 6 baskets, in 2 different sizes and colors from the Dollar Tree. So this whole project cost a whopping $6.
I'll give you the little tour of our refrigerator. You can use this as guidelines, but I'm sure you'll want your baskets to hold a variation of different things than what my family uses. I didn't label my bins yet, but I think I'll be adding chalkboard labels like these soon.
Don't you think chalkboard labels will add a great little added flair?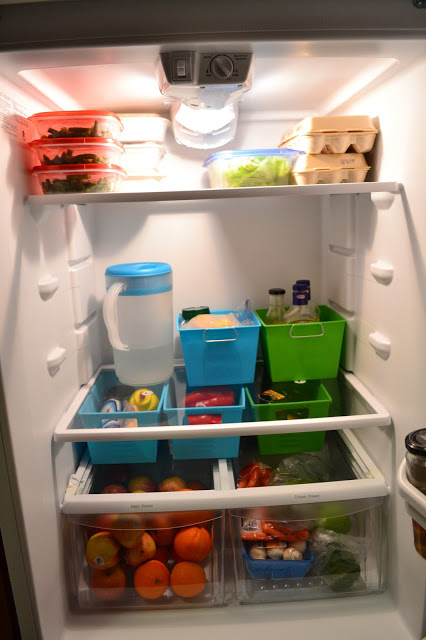 On the bottom starting from top left to right:
Sandwich basket:
This basket holds everything my husband needs to make sandwiches for work. Deli Meat, Sliced cheese, and condiments. Perfect for AJ to grab when he's packing his work lunch.
Vegetable basket:
Pretty self explanatory, we keep fresh vegetables in this bin.
Salsa and Hot Sauce basket:
Oh yes, AJ has enough salsa and hot sauce in our refrigerator to take up an entire bin. He's a little bit obsessed.
Left drawer:
Fruit drawer, as you can see it was filled with apples and oranges at the time. #AllTheFruit
Right drawer:
More vegetables. We can't fit all of our vegetables in our veggie basket, so the overflow goes here. Depending on my meal plan I don't always need the overflow bin.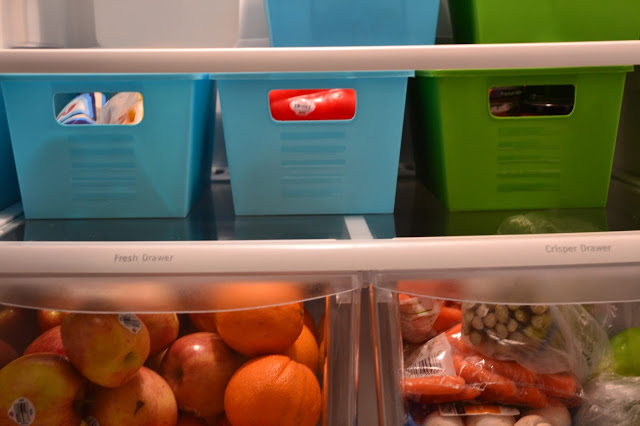 Next up the middle shelf of our refrigerator:
We always keep a cold pitcher of filtered water in our refrigerator.
Cheese Basket:
We do in fact live in Wisconsin so a cheese basket is required, and it's almost always filled. Block cheese, shredded cheese, and string cheese goes here!
Salad Dressing/Condiment basket:
I don't even like salad dressing, so the fact that we have an entire basket devoted to it might be a little crazy. That's all my husband again, he definitely loves sauces.
Meal helper basket:
A basket with all of the extras I need for the weeks meal plans. Currently my basket has tortillas, crescent rolls, heavy cream, and a few other items.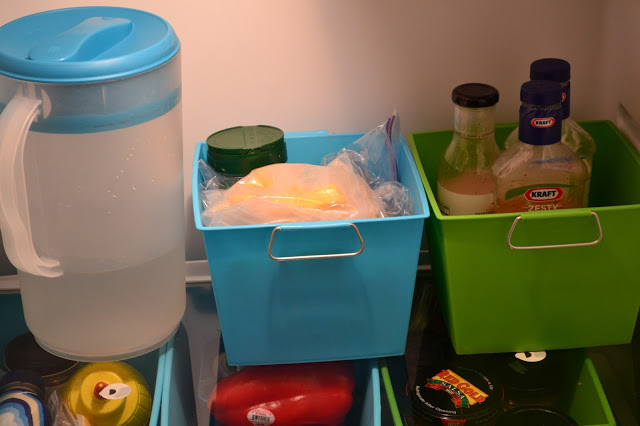 Top Shelf:
I keep leftovers, pre-made lunches, shredded lettuce, and eggs on the top shelf. I love having a designated area for leftovers, no more science experiments. We definitely eat more of our leftovers now and dispose of them right away if they aren't eaten in time.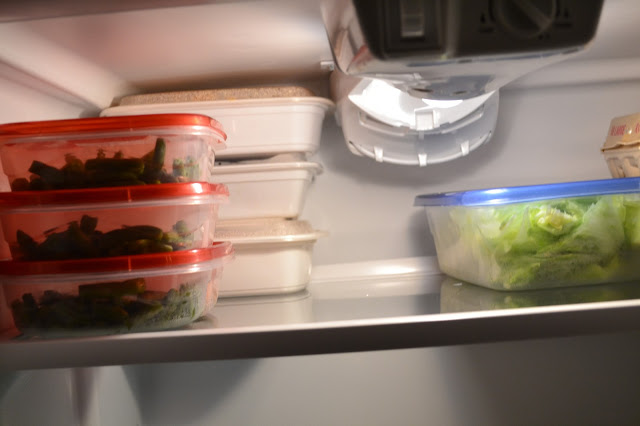 My teeny tiny freezer has a basket too. I "file" away my vegetable steamer bags here.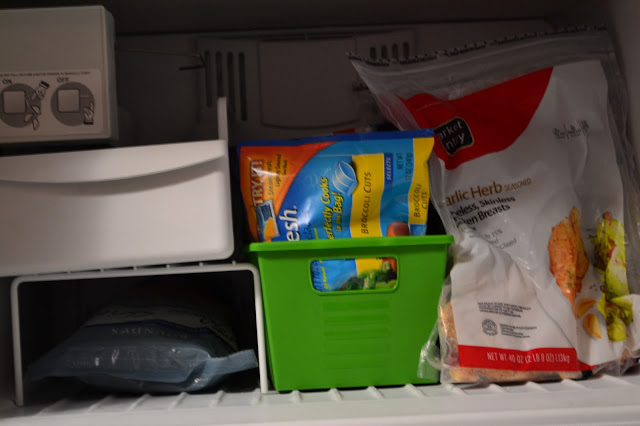 I organized this a couple months ago and it's a system that definitely works. It saves us time and frustration. AJ loves it, because he can pull out his sandwich bin and have everything out at once. No more fishing for all the ingredients when you need them.
Aliceana knows where her favorite things are thanks to these bins. She can easily find string cheese, yogurt, and juice boxes in our super organized refrigerator.
I do need to add some washable shelf liners so I don't have to wash my refrigerator as often. I love these washable shelf liners, they're a cute design and come in 3 colors.
Do you have any other dollar store organization projects in your home? Let me know in the comments below!
Written by, Brittany, the geek behind the blog. I share lots of recipes, my thoughts on the latest tech gadgets, my favorite geeky games, and snippets of life as a Work-at-home mom.