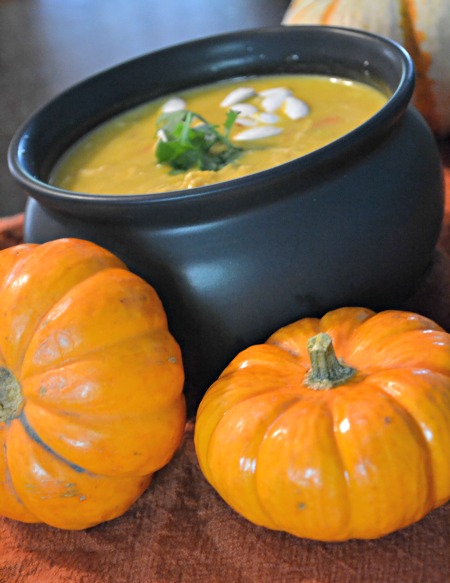 Pumpkin coffee.
Pumpkin bread.
Pumpkin cookies.
Pumpkin cake.
Pumpkin cookie butter.
Pumpkin pies.
Pumpkin cheesecake.
Yep, I think we've pretty much hit our limit for pumpkin sweetness this year, so it was time to get savory.

..and by hitting our limit, I mean that I'm definitely drinking a cup of pumpkin coffee right here, right now, while writing this.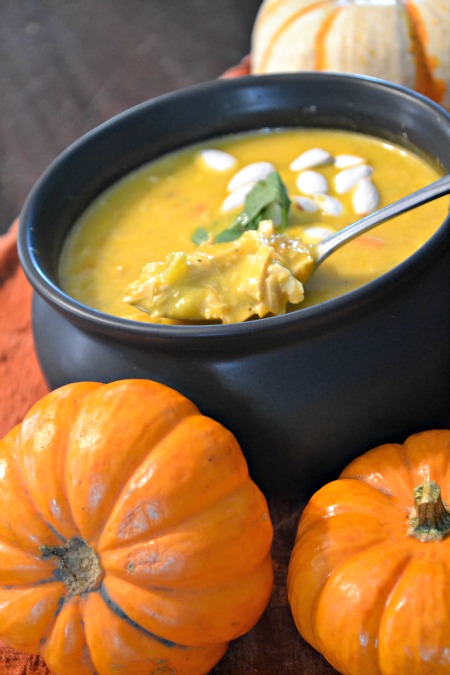 Pumpkin has such a great flavor, it's incredibly versatile, I mean, I just had a bag of pumpkin tortilla chips and they were out of this world. So I needed to make our first ever pumpkin soup.

What I couldn't do was make just a creamy brothy soup, I needed a soup that we could make a meal out of, something really hearty. Something that a three year old would eat.

So I made hearty chicken & pumpkin soup.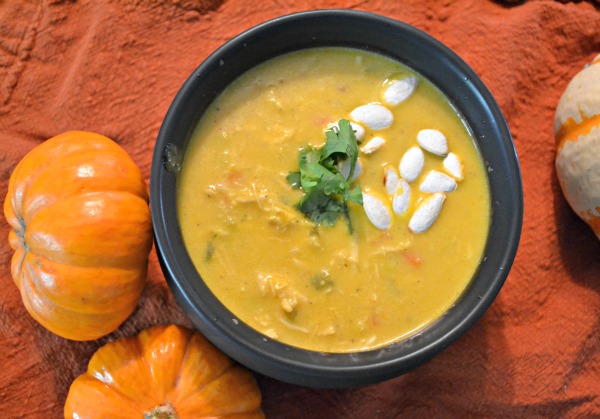 This recipe.

It's a game changer.

It's everything you love about chicken soup, with the added flavor and creaminess of pumpkin.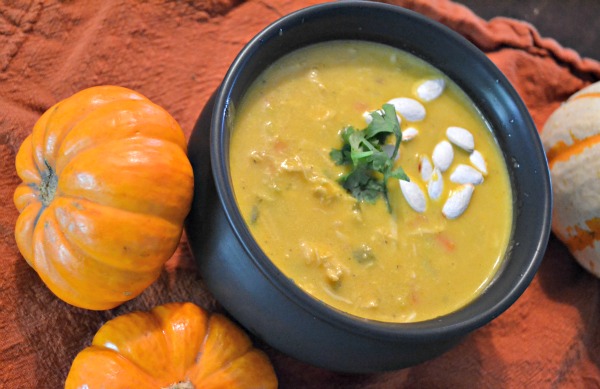 Let's embrace fall, and these adorable cauldron bowls from Crate & Barrel.

This is basically a soup that you would be found eating in the Great Hall during Halloween, then you find out a troll is in the castle, and you and your bestie go save the damsel in distress who turns into your newest bestie, who in turn saves your butt a ton of times. That will probably all happen if you make and devour this soup. Probably.

We served this with warm pumpkin bread, just the Trader Joe's box mix, nothing super fancy, but oh so good!

I think the secret to the tasty soup was the flavorful chicken. I threw a couple of huge chicken breasts into the crock pot with olive oil and about 6 cloves of minced garlic, and I let it cook all day on low. By the time I was ready to add it to the soup it was falling apart and so flavorful. (Plus, it was the super lazy way to make chicken breasts, yay!)

| | | |
| --- | --- | --- |
| Hearty Chicken and Pumpkin Soup | | Print |
Ingredients
10-12 cloves minced garlic, divided
2-3 chicken breasts
6 tablespoons extra virgin olive oil, divided
1 cup finely chopped onion
1 cup diced celery
1 cup diced carrots
32 ounces chicken broth
15 ounce can pumpkin puree
½ cup heavy cream
salt and pepper to taste
¼ cup finely chopped fresh cilantro
1 cup shredded cheddar cheese
Instructions
In a slowcooker add whole chicken breasts with 2 Tablespoons olive oil and 5-6 minced cloves of garlic. Let cook on low heat at least 6 hours, until chicken is cooked through and can be shredded with a fork.
Heat 4 Tablespoons olive oil in large pot over medium heat. Add onion, celery and carrots, stirring and cooking for about 10-20 minutes, until vegetables are softened.
Add 5-6 cloves of minced garlic and cook for 1 minute or until garlic starts to "speak."
Stir in chicken broth, pumpkin and cream.
Add chicken and cilantro.
Season with salt and pepper to taste.
Once soup has heated up enough to melt cheese, add a heaping cup of cheese.
Serve hot with pumpkin bread for the ultimate Fall comfort food.