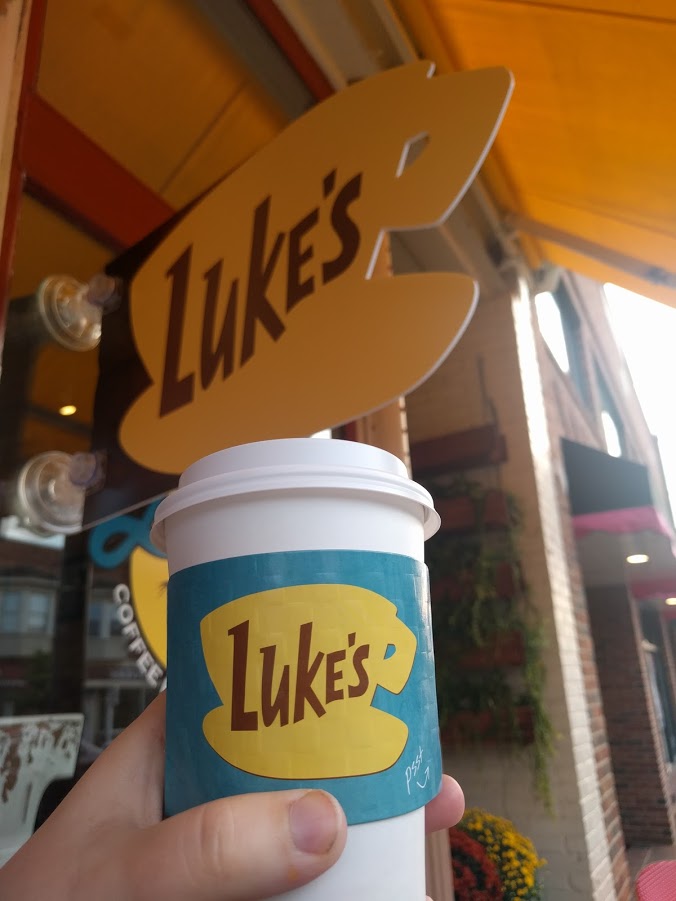 So this morning has been a heck of a morning, I first found out that Luke's Diners were taking over the world on Monday. Oh, and I'm officially a part of the Netflix #StreamTeam for a 4th year, and I'm really super excited, all opinions are my own I'm really just a crazy fan of almost everything Netflix.
After I found out about the Luke's takeover, I immediately mapped out all of the locations is Wisconsin, all of which were an hour drive away. So then I picked the location that I hoped would be the least busy, and I think I did a pretty good job of picking shops. I went to Luna Cafe in De Pere and it was such a sweet little shop, and there was definitely a line out the door, but the folks in line were the sweetest and so excited. The lady behind me even snapped a picture of Aliceana and I, and then Aliceana chatted with her about her outfit, because that's what Aliceana does.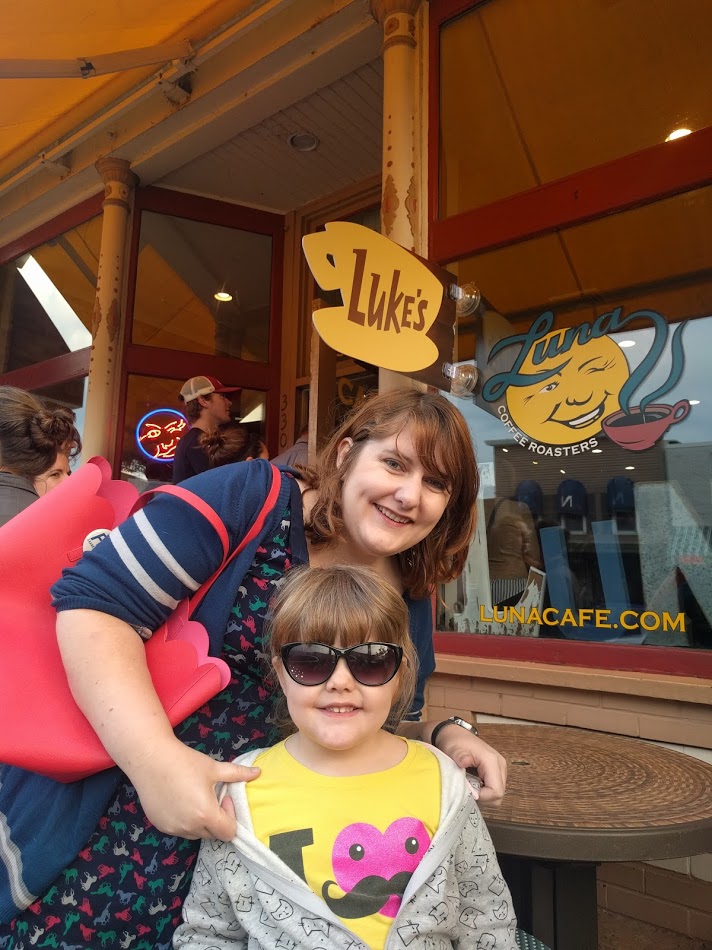 I was obsessed with the little details, the baristas outfits were perfect! Flannel and backwards caps! They even had no cell phone signs, that everyone was ignoring. Selfies were everywhere, don't tell Luke.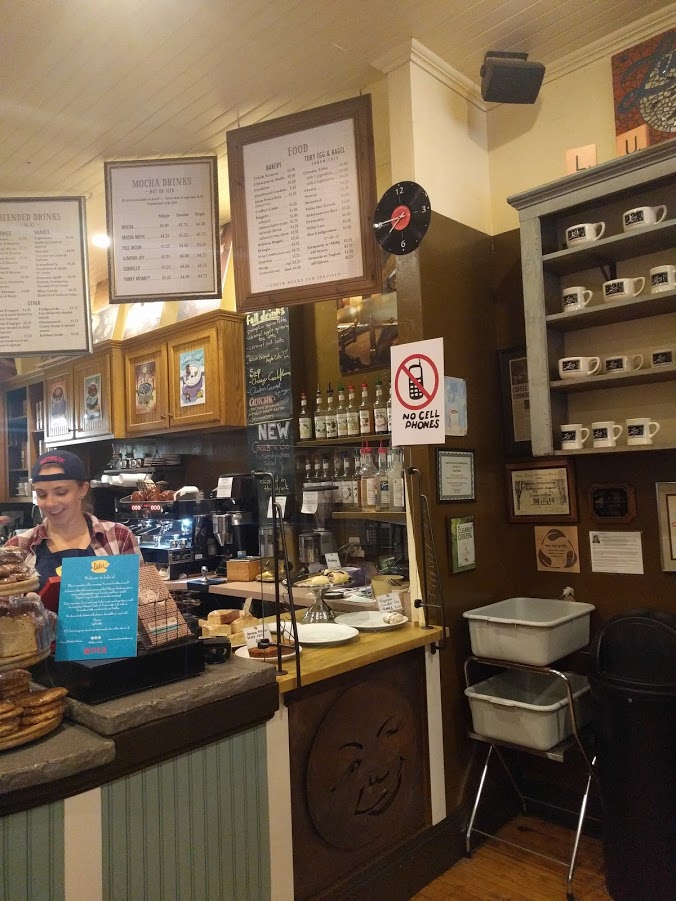 They had some signage, and I definitely recommend checking out the Stars Hallow blog, it's "updated by Kirk" and absolutely hilarious, plus tehre's a section that celebrates Gilmore Girls fan art, I think that's super awesome!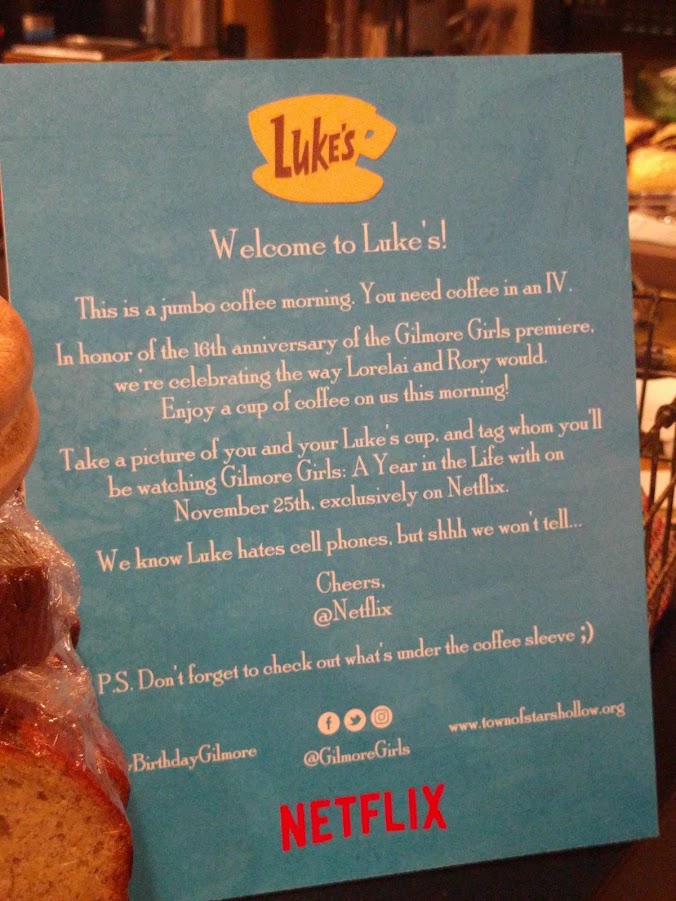 To get to Luke's in time, I woke up at 5, had my first cup of home brewed coffee, got ready, then woke the sleeping beast (Aliceana) a little before 6 so we could hit the road. It was an hour drive, and Aliceana was so amused at watching the sky go from pitch black to shades of grey, pink, and orange, then our usual sunny cloudy blue. We also were listening to an odd mix of music, and I feel we had a Gilmore Girls moment. I was being that mom obnoxiously belting out Seal's "Kiss from a Rose" with one handed obnoxious hand gestures, then I turned the music down and talked to her about the song.
"Did you know that song came out when I was your age Aliceana? That was so long ago! It was such a great song."
She instantly replied with, "Wow, and now it's really bad."
I'd like to think that's what the Gilmore Girls were like when Rory was 4, I mean, probably, right?
I bought Aliceana a cookie the size of her head for going along on this early morning girls trip. I think that made her day.
The cups all had coffee quotes on them, I saw a few variations, the one I got is pictured below.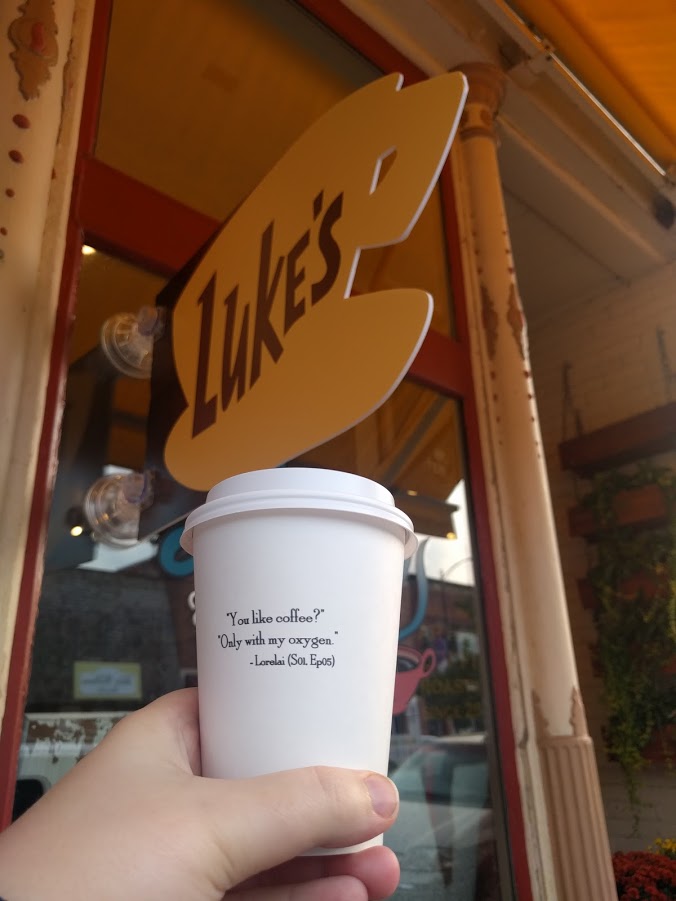 Make sure to check out Gilmore Girls: A Year in the Life only on Netflix November 25th, if you need to catch up or want to re-binge all seven seasons of the original show are available to stream on Netflix now.  I've embedded the new featurette below, beware, it totally made me cry, but that's probably just me. I cry at everything and I can not wait for Gilmore Girls on Netflix!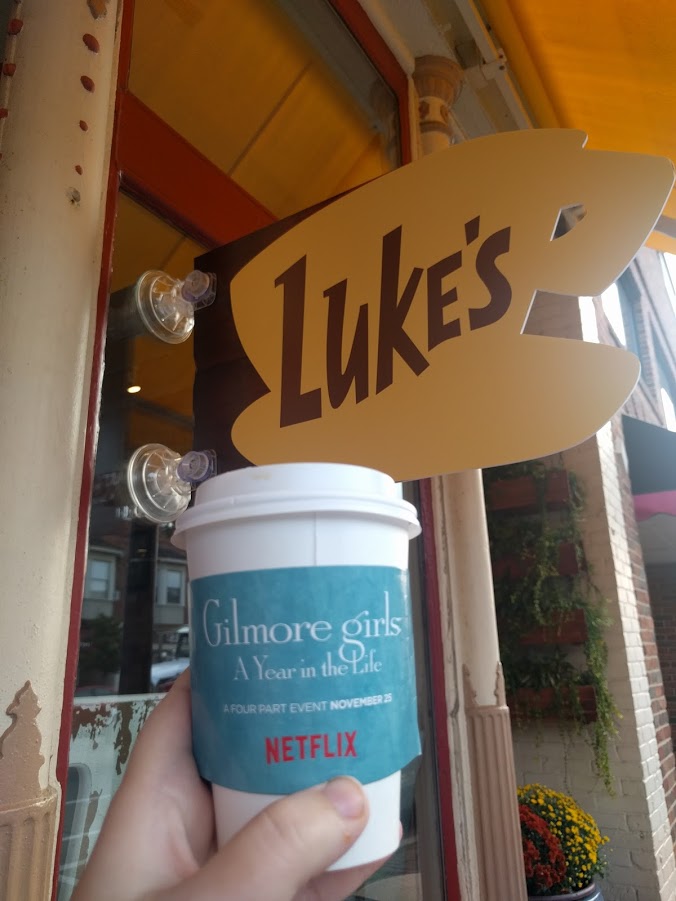 Psst, let me know if you cried too. 😉
Written by, Brittany, the geek behind the blog. I share lots of recipes, my thoughts on the latest tech gadgets, my favorite geeky games, and snippets of life as a Work-at-home mom.